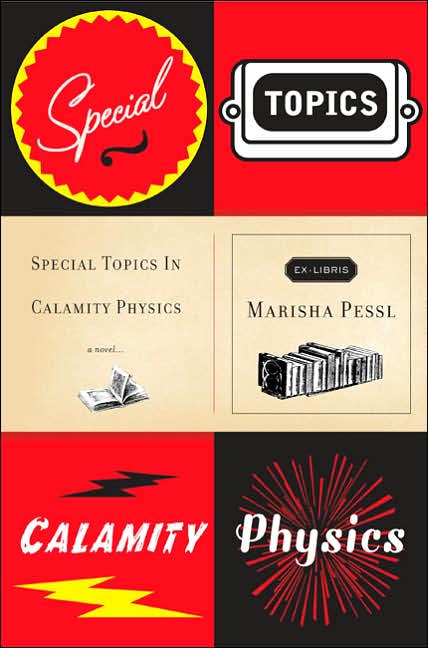 The hottest new novel to hit the bookshelves right now is Special Topics in Calamity Physics by Marisha Pessl and I was unable to resist it's siren call. Sure,you hang around the book review sections long enough and you can start to recognize the usual signs of a critics' darling by their "innovative" style,plus other terms of endearment that create a need for a thesaurus,stat! However, I was intrigued,not only by the positive reviews but some of the negative vibes as well(I'll get to that later)so I went out on the internet and ordered a copy.
I haven't finished STICP yet but can say that it's a damn good read so far. The plot focues on Blue Van Meer,a quiet,brainy girl who has been traveling from one college town to another with her widower father,Gareth(a man who seems to love the sound of his own voice more than anything else in life),a love'em and leave'em type of professor. Blue's last year of high school is spent at St. Galway's School,where she is reluctantly initiated into the Bluebloods,the top of the clique food chain.
The Bluebloods are united by Hannah Schneider,an Intro to Film teacher at St. Galway's who seems to cultivate an air of mystery about her. At one point in the story,Hannah is found dead,hanging from a tree limb and how that happened causes quite abit of chaos.
Much has been made of how the novel's been written;it's told from Blue's p.o.v. and she formats it like a Required Reading syllabus,with chapter titles taken from classic books and use of references and "visual aids". There's even a Final Exam at the end,sort of an open book test on the whole story.
That may scream "pretenious" to some but it does play well and fits the characters like a well made glove. Reading this book is like watching a season of Gilmore Girls that was written and directed by Wes Anderson. It's that smart,quirky and quite willing to entertain a dark side of the moon. I do intend to finish STICP,it really seems to be that rare gem that few truly find in the arts;something that actually lives up to the hype. The biggest complaints about Pessl's debut is that it's very similar to Donna Tartt's The Secret History(which I never read)and that Marissa is getting alot of attention due to her good looks. That is so Heathers-I don't deny that attractive features can give some folks advantages but I honestly don't think that Pessl sent out headshots with her manuscript when submitting for publication.
Speaking of Heathers,there's a new collection of short stories out called This is not Chick Lit,edited by Elizabeth Merrick who regards"literary" women writers as under siege from "piles of pink books" that keep readers from discovering them.It's even inspired another anthology entitled This is Chick Lit(that I will be reviewing for the blog very soon)put together by Lauren Baratz-Logsted. This made Merrick quite cranky and she shot back at it online(please click the title link to read her
written wrath and see the response from one of the TICL contributors,Rachel Pine).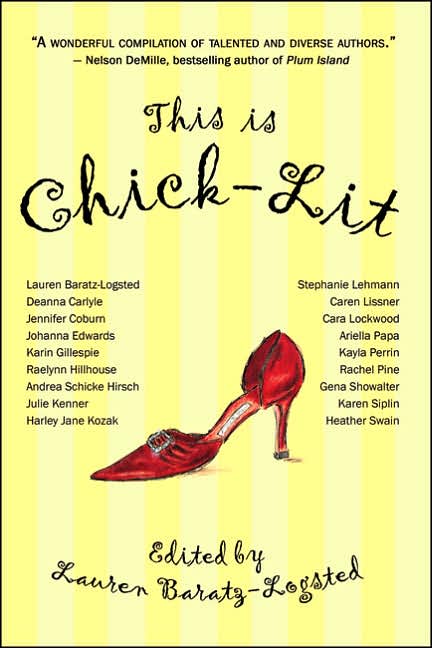 I've been on the side of the Chicks in this ongoing feud and am sad to see all this infighting on both sides. What makes me favor the Chicks? Well,for one thing,if the Lit Girl theory is correct,a book like Water For Elephants by Sara Gruen shouldn't be climbing bestseller lists across the country(including the NYT and PW) and titles like Night Watch by Sarah Waters wouldn't be on the long list for the Man Booker Prize but,yet they are! How can that be,if all those icky pink covered books with their"stock protagonist with a designer handbag and three boyfriends" are storming the shelves,holding back those bold"pushing the envelope" tomes? Give me a bloody break,please!
Also,the Chicks are way more self-confident. They generally are saying"Look,some of us write for fun and some people read both our stuff and yours. Some readers just go for one or the other. Why can't we be friends?" In the index of This is Chick Lit,the contributing authors recommend titles by writers"across the aisle" such as The Outside World by Tova Mirvis,Turtle Moon by Alice Hoffman and At Home in the World by Joyce Maynard,all of which I've read as well. Sounds to me as if some gals are more well rounded in their reading than others who are more interested in saying what they're not than what they are.
Gloria Steinem also added her two cents by endorsing TINCL with this amusing little blurb that appears on the back of the book:
" This Is Not Chick Lit is important not only for its content, but for its title. I'll know we're getting somewhere when equally talented male writers feel they have to separate themselves from the endless stream of fiction glorifying war, hunting and sports by naming an anthology This Is Not a Guy Thing."
You know,if there was a book out called This Is Not A Guy Thing,it would sell. It also would unleash a massive wave of Beavis and Butthead like snickers in bookstores and libraries everywhere. Maybe Gloria should've gone into Marketing-missed your calling there,Ms. Steinem!