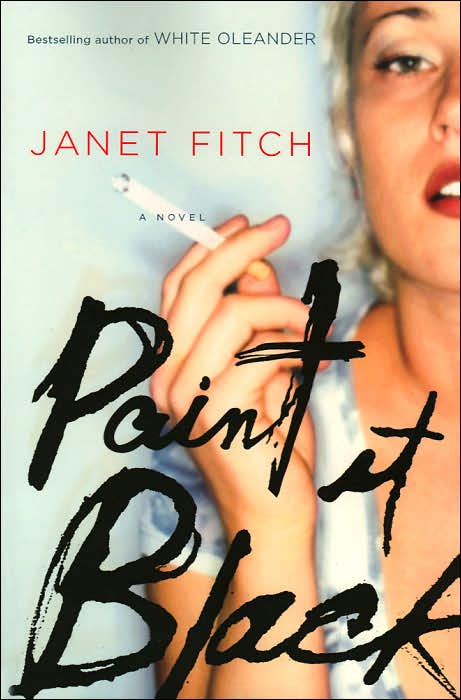 In Janet Fitch's Paint It Black,we go back in time to 1980's L.A. punk rock world where Josie Tyrell,a Jill-of-all-trades in the art world,recieves a call from the police that her painter boyfriend,Michael Faraday,has killed himself in a hotel room. His method of suicide was similar to his grandfather's,which further compounds the grief of his mother,Meredith Loewy,a world renowned pianist.
The duel mourning of both these women in Michael's life is shown thru Josie's eyes,as she struggles to deal with the aftermath of life without him. Meredith openly repells her at first,even trying to choke Josie at graveside. The two of them then avoid each other,with Josie turning to her usual retreats of booze and drugs to cope,until the mutual pain of Michael's loss draws them together. It's an on-again,off-again love/hate relationship,not unlike the one Josie had with Michael who ,it turns out,told her a mixed batch of secrets and lies about his past.
Fitch's follow-up to her previous Oprah endorsed book,White Oleander,proves that her talent for creating beautifully sad portraits of family ties and loss is not a fluke. She expertly weaves an emotional tapestry that holds her characters in place and yet doesn't let them fade into the background. Josie and Meredith may not be the most likable ladies at times but you still can't help but root for and against them as much as they do for themselves.
In an interview for BookPage,Fitch compares the style of PIB to Edgar Allen Poe's "Fall of the House of Usher" and the gothic overtones of the story are not unlike any of Poe's darkly compelling tales of tragedy. Josie is as spellbound in her grief as any heroine of a Val Lewton film cursed by forces beyond her control.
Paint It Black is a book of sorrows but it will lighten your spirits by it's captivating descriptions of reimaging your world without a certain person being by your side and becoming stronger for it. This is one of the best books you'll read,this or any other year(please click the title link for more info)and make you eager for more of Janet Fitch's powerful prose.