December 16 is an important date for Jane Austen fans as it is the date of Miss Austen's birth,back in 1775. Many will be celebrating in small gatherings or quietly on their own with one of her novels,some appropiate music and a favored film adaptation or two. I was wondering if there are still some current representations of Jane's beloved romantic couples(not including those who are openly meant to be mirror images of Austen's work)in pop culture.
After much thought(or as much I can muster up overnight),I think that there are a few yet unrealized JA inspired lovebirds fluttering around on the big and small screen. See if you agree with me here:
Pride and Prejudice=Veronica Mars: Let's look at the basic premise of P&P-clever but financially disadvantaged girl unexpectedly strikes up a romance with wealthy but emotionally reserved man. While girl is attractive and full of verbal wit,not to mention blessed with strong relationship with her father,she is plagued by the follies and scandals of her nearest and dearest. In the end,she gets her man and both realize the mistaken notions they've had about each other.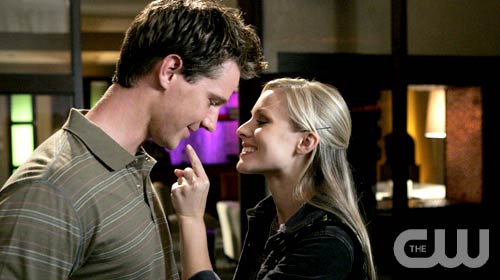 Now,doesn't some of that apply to Veronica Mars? You could argue about who's more of a Darcy,Logan or Duncan but both fellas fit the bill rather well. True,Veronica is an only child but friends like Wallace and Mac certainly could sub for a couple of the Bennet sisters and Dick Casablancas makes an excellant Lydia,if Lydia was a vulgar frat boy. As for follies and scandals,Neptune High and now Hearst College is ripe with just such offerings.
Emma=Gilmore Girls: While Emma is not one of my favorite Austen novels and Gilmore Girls has become one of my must-watch shows,I do see some connection between the two.
The plot of Emma is all about a favored daugther who feels she's the most clever person she knows and seeks to improve the lives of others for her own amusement. Time and time again,she is brought back down to reality by the down-to-earth family friend who can't help but fall in love with her. Both of them live in a small town made up of charming yet eccentric neighbors who are a key element in the atmosphere of the story.
To make things simple,I'm using the Luke & Lorelai storyline as a basis for comparision here(getting into the many loves of Rory would take up too much time).True,Lorelai is not exactly the apple of her parent's eye at times but she does have that streak of headstrong self-confidence and wit that defines Emma Woodhouse to a T. Lorelai can be snobbish in her own way,mocking those who don't get her tastes in pop culture but always a good natured person who will do what's best for all concerned as Emma does in the end. If's there another fictional town that is a better version of Highbury than Stars Hollow,someone please show me where it is!
Mansfield Park=The Office: This may seem like a stretch but work with me,people. The leading lady of MP,Fanny Price,is a shy young woman who is put upon by her oblivious and self centered relatives but has a deep kinship with her cousin Edmund that blossoms into a secret love for him. He becomes more interested in an outsider,the stylish yet amoral Mary Crawford,who also becomes friends with Fanny as a way to advance her relationship with Edmund.
The current Jim/Pam/Karen storyline on The Office has some similarities-Pam is very much a passive soul,put upon by her co-workers(especially Michael Scott)and her love for Jim is as strong as ever. While Karen hasn't yet shown any of Mary Crawford's cold hearted moral code,she is quite the more bold rival for Jim's affections. Not to mention that Angela's a perfect Aunt Norris. Not sure what that would make Dwight tho.
Persuasion=Superman Returns: Persuasion is my all-time favorite Austen novel but not that many non-JA readers are familiar with it. The story is about Anne Eliot,who is forced to break up with the man she loves,Wentworth,due to pressure from her family. Wentworth is a naval officer and goes off to sea for several years,returning to Anne's society as a captain of his own ship with a nice fortune. Both he and she are not certain if the other still has feelings for them but find a way to connect thru a well worded letter.
Superman Returns has the Man of Steel coming back into Lois Lane's life after several years in space,seeking what's left of Krypton. His re-entry into her life both as Clark Kent and Superman is fraught with apphrension,especially now that Lois has a new love and a son who may or not be his. While there's no ultimate romantic rebonding between Lois and Clark,a more deeper connection is made here and the words of one father are passed on as a blessing to another son:
"You will be different, sometimes you'll feel like an outcast, but you'll never be alone. You will make my strength your own. You will see my life through your eyes, as your life will be seen through mine. The son becomes the father and the father becomes the son. "
Well,that's all I could think of. I hope this helps you find the Jane Austen vibe in whatever you enjoy watching.