There was a slight reality show crossover this week as one of the judges on Top Design was chef Tom Colicchio,the Simon Cowell of Top Chef. The designers were asked to create a "chef's dining room" for one of Tom's new restaurants. The style guidelines given to them were these:arts and crafts look,mid century design with touches of natures and mixed materials such as stone and wood. The most important detail was that the room had to look high end.
Andrea won the challenge and her room did look great but I didn't like the chairs. They just looked way too stiff for me. Carisa was up on the chopping block this time and as much as I like her,the room she put together was a mess.
It was basically a huge space with a tiny looking table in the center. The chairs had these awful plaid fabric slipcovers that just screamed "itchy"! Carisa blamed some of the room's probelms on a fight with her carpenter(this girl can't keep a carpenter happy ,I swear!)which didn't endear her to the judges at all. Get it together there,Carisa!
Michael was sent packing this week,finally,after his dining room diaster;having three sets of mismatched chairs(none of which looked comfortable),a carpet that seemed more appropiate for a Vegas airport and no place to put neccessary dinner items like napkins(which Michael "disagreed" about with Judge Kelly) was not as clever as he insisted on. Also,he was very stand-offish when all of the designers were asked"which dining room would you NOT like to eat in?". Michael just pushed up his glasses and said"I refuse to answer that." twice. He really is Cousin Oliver.
My favorite dining room was Matt's,with it's leather paneled floor. Goil put together a good room,too but his floral chandelier did resemble something out of Sigmund and the Sea Monsters(that's what it reminded my little sister of,anyway).
The winner of HGTV's DesignStar,David Bromstad,had his show ColorSplash debut on Monday and since I'm on a Heroes hiatus(thanks alot,NBC!),I was able to catch the first episode. The basic premise is that David does a makeover on the one room in someone's home that they're not happy with and the theme is based on color.
David is the perfect interior designer-he's charming,tasteful and considerate of his client's needs. For the first room he did(a couple's bedroom),all the husband wanted was for his wife to be happy and to have his TV set in a better place for him to watch it.
Most design shows seem to hate TVs,especially if it's in a bedroom. Not David,he just picked up a flatscreen and had it mounted over the fireplace that was there. Cool move,man.
My only complaint is with David's assistant,Danielle. She acts real dippy and is a bit of a Repeat-O Girl;everytime David mentions a concept or an idea about the room,she parrots it back for the viewer later on. Other than that,ColorSplash looks top notch. The second season of DesignStar is due to start on July 29 and maybe some of the people behind Top Design should watch and see how it's supposed to done.
American Idol took on the British Invasion this week,with Peter Noone and Lulu as guest mentors. Sanjaya survived yet around round and for the second week in a row,I must give him the Singalong Screwup Award. Despite the tear stricken fangirl in the audience,that performance really showed that Sanjaya don't know what he's doing:
SANJAYA'S SOB STORY
THE KINKS KNOW WHAT TO DO
Let's do some positive compare and contrast;two of the ladies took on Shirley Bassey tunes(Lakisha and Jordin) this week-did they do them justice? I think so but you decide:
DIAMONDS ARE FOREVER
I WHO HAVE NOTHING
Glad to see a decent performance from Chris Sligh(keep it up,buddy!)and Melinda Doolittle was lovely,singing "As Long As He Needs Me". Stephanie went home this week after a lackluster version of "You Don't Have To Say You Love Me",which is a shame. Sometimes in this show,it only takes one bad performance to kick you off. Why that hasn't happened yet to Sanjaya is anyone's guess at this point. Oh well,let us enjoy the goodness,shall we?
MELINDA
CHRIS SLIGH
Random Notes:
TAR/All Stars: Charla and Mirna were Team Number One,for the first time ever! Pretty cool and smart of them to pick the nail polish roadblock over that coal packing task. Danny and Oswald chasing Phil around the Pit Stop was so damn funny and I don't blame Phil for not wanting to get coal dust on his jacket,not at all.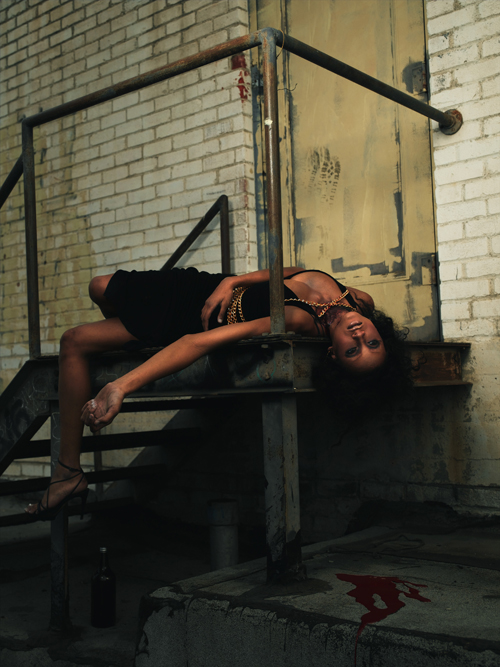 America's Next Top Model: The photo shoot theme this week was CSI:Fashion Victims,as the girls made gruesomely gorgeous faces of death. Felicia was told she looked "too dead" in her eyes,but in a way that really enhanced the photo in my opinion. This shot reminded me of a scene from Dario Argento's Deep Red(the classic elevator decapitation bit that I wish I could find on YouTube). Most of the pictures had a very giallo look to them.
Felicia went home but whiny Renee stayed,to complain some more about how all the other girls hate her. I guess it's a staple of ANTM to have a resident bitch on board but it can get annoying. That whole crying over the phone to her husband to take her home after she lost out on the diamond bracelet came off like a spoiled brat whimpering how she doesn't want to play anymore,since she's not winning. Sorry you and your hubby are in debt,hon,but who asked you to get married so young and run up a stack of bills there? Beauty fades,dumb is forever-watch some Judge Judy there!
Ugly Betty: Marc's mom(played by Patty LuPone)comes to visit and Betty is forced to be his beard. Should be fun! Speaking of fun,that rubber dress Amanda paraded around in last week was hilarious,even without the hat. The Betty and Marc kiss is a comedic highlight that I'm eagerly looking forward to: