I know that most folks around this time of year are scrambling to stock their kids up with school supplies before end of Labor Day,not to mention grabbing a few goodies at summer clearance sales along the way. However,you should not overlook the need to upgrade your current reading as well. It's just as important to spruce up your mental wardrobe as it is your physical one,in my opinion.
Here to give you some suggestions is my list of What To Watch Out For At A Bookstore(or library) Near You. Think of this as a Literary Coming Attractions;I'd be reviewing most of these titles(one I have already) next month and if the feedback is good,I'll be giving a preview of my October and November picks later this fall.
SEPTEMBER SLEEPER HIT
I'm in the middle of reading Caspian Rain right now and this is one book that you really need to keep an eye for,because it is amazing.
Gina B. Nahai
's fourth novel takes place in Tehran before the Revolution,where twelve year old Yaas is recounting the sad marriage of her parents who come from two different social classes of Iranian Jews.
Things are bad enough in Yaas' household to begin with but when her father falls in love with a well to do woman from a Muslim family and wants to get a divorce to be with her,more than just the world around them is falling apart. To top everything off,Yaas becomes seriously ill and takes it upon herself to keep her family together.
I'll be giving a full review of Caspain Rain soon but I can safely say at this point in my reading that you won't want to miss out on this. If you're looking to surprise your book club with a fantastic topical read that is brimming over with universal themes of love and family,this novel is like the porridge that Goldilocks chose. The book is due to be released by September 14(it may be available as soon as September 7,since I don't think it's a hard sell date)and please give it the chance it deserves.
TEEN READS
Robin Brande's Evolution,Me and Other Freaks of Nature is just hitting the stores now and while I gave it an
early rave review
here,it never hurts to add a reminder,especially since the whole theme of the novel is very appropiate for back to school discussions and a fun read to boot: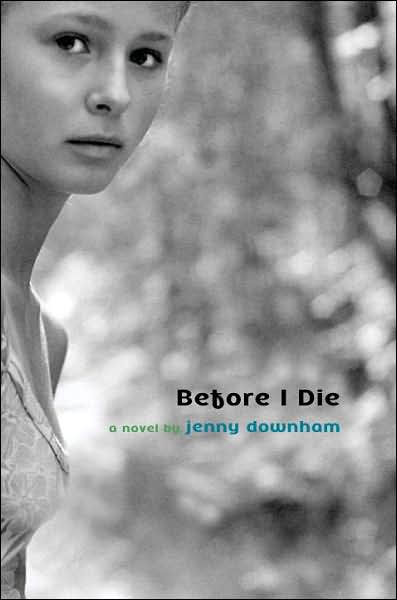 Another major book for the teen market is Jenny Downham's Before I Die,a first novel that did well in the author's native homeland of England. The plot centers around Tessa,a sixteen year old girl who is slowly dying but wants to complete her To Do Before I Die list while there's still time.
I know that sounds grim,but from what I've been hearing,it's more of an uplifting experience for both the characters and the reader. Also,this may be another one of those great crossover to the realm of adult reading books from some of the
advanced word
that I've read,we may have this year's Lovely Bones and/or Curious Incident of the Dog in the Night Time on our hands here. Before I Die is set to come out on September 25,and I'll try to have a review of it up before then.
WANT TO SEE SOMETHING REALLY SCARY?
Heartsick is a first novel by
Chelsea Cain
that tells the twisted tale of Archie Sheridan,a police detective who was captured and tortured by the beautifully evil Gretchen Lowell for ten days. Archie managed to convince her not to kill him and she surrendered herself to the authorities but still haunts Archie,even behind prison walls. Now,Archie has no choice but to go to the devil he knows to hunt down another devil he doesn't .
I have to admit that I just grabbed this book on whim at BEA,but the more I've heard about it,the harder it's become not to just toss everything aside and gobble this bad boy all up in one shot. I think I'll save it for Labor Day weekend instead;Heartsick hits the stands on September 4 and should make quite a splash. I also have to admit that Gretchen really creeps me out. Take a look at these promos and tell me if you don't agree that she gives
Catherine Tramell
a run for her money:
MEET GRETCHEN LOWELL
TALK ABOUT A BAD FIRST DATE!
A COUPLE OF LADIES ON THE LIGHTER SIDE
Jane Porter
's Odd Mom Out has Manhattanite Marta move her advertising business and nine year old daughter Eva to Seattle,to be closer to her ailing mother. Marta tries to fit in with the PTA moms at Eva's school but that tight knit group refuses to let such a free wheeling and thinking mother in their midst. It's due out on September 27 and looks like it might be the best way to help those still bereft
Gilmore Girls
fans out there cope without another season to watch this fall.
Lorna Landvik
's latest novel,The View From Mount Joy,gives us a reunion between two former high school sweethearts,Joe and Kristi,who have taken very different paths in life since then. Joe is now a mild mannered grocer while Kristi has become a peppy religious radio personality who wants to run for President.
Kristi's renewed presence in Joe's life has him looking over his and wondering if he's been Mr. Nice Guy for far too long. The View From Mount Joy should be out by September 4 and if you've never read a Landvik novel before,take the time to do so right here. You won't regret it,I promise.
Hope this highlights a few good reads that you might not have known about and gives you some pleasant mental moments during this busy time of year. Enjoy!