Along with back to school supplies,another retail sign that autumn is fast approaching is the sheer abundance of 2008 calendars everywhere you go. With so many items on the pop culture plate ripe for the plucking,it's hard for a fangirl to select that special one to mark those important dates for next year,such as the premiere of "Heroes:Origins" and opening day for Batman:The Dark Knight.
Fortunately,my needs are simple. I only require a wall calendar of the standard size to chronicle my meager comings and goings. I've tried the whole datebook/page-a-day deal and have learned two things;one,that it's easier to use Post-it notes and two,expired page a day calendars can be reused as phone message pads.
So,let's go over some of the pop selections for '08 and see if we can find the perfect theme to start the new year off right:
TV SHOWS
Some of the TV calendars are still in pre-order mode,like
Ugly Betty
or
Lost
,while others are available now. NBC is selling an
official Heroes calendar
thru their website and I'm pretty tempted to put it on pre-order. It's a sixteen month calendar and the monthly pages look pretty sweet. If Sylar is the pin up boy for October,I'm putting my money down now.
You really have to be committed to a TV show to have it displayed on your wall,every month for an entire year. I think it's best to pick a show that has a full year run rather than one that's only on for a limited time. Otherwise,you may feel out of tune with an American Idol calendar during the summer or a
Dancing With The Stars
by the time Thanksgiving Day rolls around.
MOVIES
You can go with a general collection of film posters type of calendar or select an old school fav like
The Wizard of Oz
,but those brave amongst could throw caution to the wind and settle on an upcoming blockbuster film like
The Golden Compass
to decorate their wall while the trailer is still making the rounds.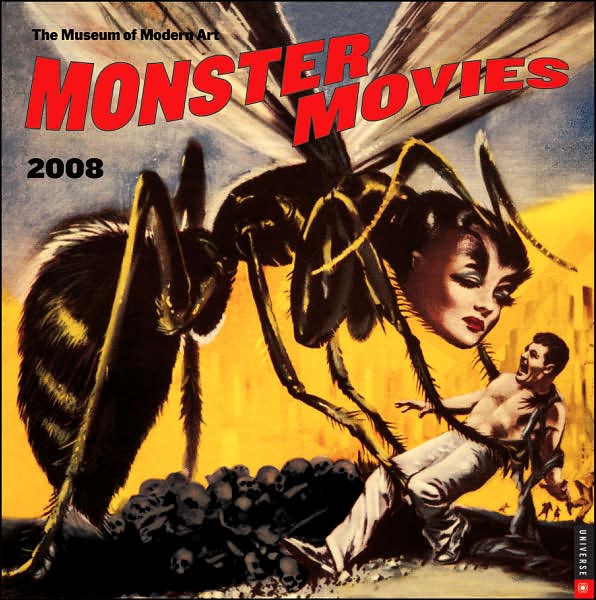 Quirky might be the way to go,and there are loads of cult genres to indulge in,like this
Monster Movie
calendar or
Nightmare Before Christmas
or even a
Rocky Horror Picture Show
to keep you doing the Time Warp again and again. You could also grab a current summer movie one but will you really want to be reminded of The Transformers in March or Ratatouille in February?
LITERATURE
This is a tricky catagory since most books don't lend themselves to the calendar format easily unless there's a movie tie-in or based on a coffee table type of tome. Children's books are much more adaptable and one of the best combos of kid lit and large scale interactive book in recent years has been the "Ologies" series from Candlewick,starting with
Egyptology
and currently into
Wizardology
at the moment. The books are beautifully made and the calendars should be just as cool,too.
Jane Austen fans may want to keep an eye out at
The Pemberley Shoppe
to see when their 2008 JA calendars will be available. The calendars are pretty popular items and there's plenty of other Austen related delights as well for you to do your holiday shopping for that Regency reader in your life(or to bookmark in hopes that your nearest and dearest get the hint about what you'd like to add to your Jane Austen shrine this year).
Well,I hope this gives you all a few good ideas and that you wind up with the perfect calendar that not only suits your needs but brightens up your wall space as well. Let us all pray that no one decides to put out a Delores Umbridge Pretty Pink Kitties calendar with 3D moving eyes and mewing sound chips that go off at the slightest touch. Not a good inducement to keep track of things there!