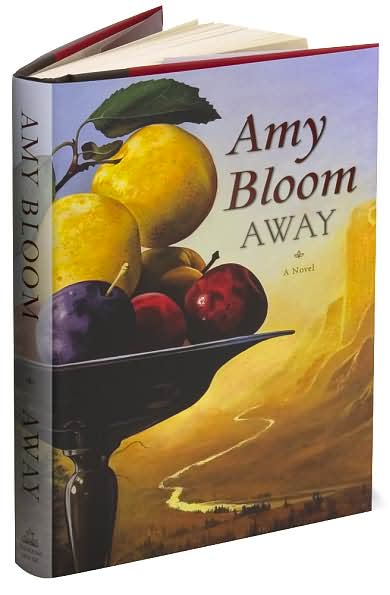 In
Amy Bloom's
new novel,Away,we begin our journey in the Lower East Side of New York during the mid-1920s,as Lillian Leyb seeks work as a seamstress for the Goldfadn Theater company. Lillian is a recent immigrant from Russia,fleeing the haunting memories of her family who were brutally slaugthered during a pogom on her village. She was the only known survivor of her household,her young daughter Sophie having not been found yet assumed dead.
Lillian not only gets the seamstress job,she also winds up becoming the duel mistress of the leading man of the company,Meyer Burstein,and his charismatic father,Reuben(she's more of a beard to Meyer,who has other interests in romance that are not socially acceptable in that time period). Her commitment to both men is casual and yet somewhat more passionate when it comes to Reuben,who is fine with this arrangement but would prefer to keep his life as neatly compartmentalized as possible.
A newly arrived from the old country cousin of Lillian,Raisele,takes up residence with her and drops quite an emotional bombshell in her lap;Sophie is alive and may well be living in Siberia with former neighbors of her's,the Pinskys.
This news lights a fire in Lillian's soul and she sets out to find her daughter alone. With no help from her lovers and alittle from a friend who is more emotionally shut down than she is,Lillian makes her way across country and her first pitstop is in Seattle,where she takes work as a maid to Gumdrop Brown,a savvy prostitute planning to be more than just the favorite girl of her pimp cousin,Snooky Salt.
There are other memorable characters that Lillian encounters on her journey,from grieving widower Arthur Gilpin,who has her sent to a women's detention center in Prince Rupert,Alaska"for her own good" to Chinky Chang,a fellow inmate and leading lady in her family's traveling grifter show and even to a house in the wilderness where three young children can barely tend to each other as they wait for an adult to come home to take over where their deceased mother has left off. Despite such opportunities to make some new bonds,Lillian refuses to give up on her ultimate goal of seeing Sophie again.
This is the first time I've ever read anything by Amy Bloom and it turns out that every good thing that I have heard about her writing is true. She has a poet's way with words,invoking a myriad of images in less than two or three sentences at a time.
Bloom's book is not a lengthy one,yet the impact of the story and the amazing depth given to even those you could call bit players in this piece(entire concluding storylines of certain folk are added in to create a comforting,but not always happily ever after,closure that in another author's hands,would spin off into several other books of their own) is truly magical. This is the kind of writing that could intimidate a would be writer with it's power and assuredness,but Bloom's energy and spirit is more inviting than off putting. One can take inspiration in such clarity of vision and verbal beauty without indulging in pangs of needless envy.
Away is due to be released this week,and a more perfect way to prepare yourself for some serious fall reading,I'm having a hard time imaging. Bloom's brillance is not just limited to the literary world,she is one of the co-creators of the new Lifetime series,
State of Mind
,starring Lili Taylor as a psychiatist trying to get her own life back on track.
The show has been getting some very positive feedback and it's nice to see some smart and stylish writing offered up here to showcase the talents of a talented yet not always appreciated actress(like Kyra Sedgwick in The Closer,which shares one of it's producers,Michael M. Robbins,with SOM and now Holly Hunter in Saving Grace). Bloom's talent is clearly big enough to spread round such a bounty of storytelling riches to both readers and viewers the world over.