On Heroes,as Wonder Twins Maya and Alejandro get further along in their travels with Sylar at their side,things are starting to get rather hot and bothered in all sorts of ways. Sylar's sinister attraction is working on Maya bigtime(clearly her brother is the brains of the pair)and altho this is not the first time we've seen her willingly use her lethal black eyes as a means of escape,Gabriel's encouragement is just fuel to a potentially worse fire yet to come. If I were Alejandro,I'd get some English lessons on the double since Sylar is slick enough to have a Plan B that involves his sis:
In other plotlines,Mohinder refuses to de-activate Monica simply for the sake of science,Papa Bennett and his good Haitian buddy are back to their old tricks and Claire is coming down with a serious case of the stupids with her new flyboy West. Granted that the bitchy Cordelia running the cheerleading squad deserved a smackdown but faking a murder with superhuman abilities is a tad much there!
My danger signals started going off when West was saying stuff like"You have a power...that,by defination, makes you better than her." and "I can fly...parental guidance is pretty much a non issue." All I'm saying is that if Magneto was looking around for some recruits to join the Brotherhood of Evil Mutants,West would definately be tapped on the shoulder and offered a pamphlet. Why is it that guys who can fly on this show are also the biggest jerks as well*cough*Nathan*cough?
However, that Hiro in feudal Japan business is fortunately moving ahead with some love triangle troubles as Yaeko realized who romanced her with those cherry blossoms earlier. I hope Kensai can get over his jealousy and disappointment,not to mention do a reversal on that betrayal of Hiro since the future reprocussions of that could be nasty. Speaking of nasty,next week has a chilling vibe as Peter and Caitlin zap to the future and find a wasteland that's literally plagued.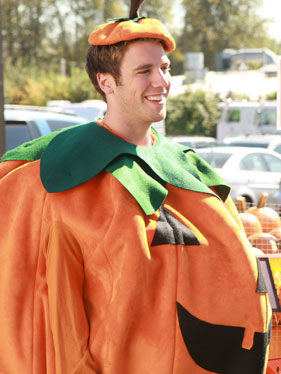 Reaper had a Halloween themed episode this week,and it was the best one I've seen so far this season. Having Patton Oswalt guest star as one of the escapees from Hell who manages to charm Sam's best buddy Sock into letting him loose certainly was a plus but the characters are truly gelling together on their own,which is key in keeping a core audience. I also liked seeing Sam get more confident in his dealings with the Devil and Andi(who really needs to make the first move in that relationship).
Glad to see that Christine Willes is a semi-regular cast member(she makes a great DMV demon)and that one of next week's guest stars is
Harmony Kendall
herself! Nice to see a Whedonverse face around the place.
Nip/Tuck started season five off right,as Christian and Sean are open for business in L.A.,but nobody's buying until they hook up with Lauren Hutton as their savvy PR woman who not only gets aging romcom actress Carly Summers(Daphne Zuniga,the first of Christian's Cali conquests)to sign on for a "feather lift" but gives the boys a shot at major stardom as medical consultants on a TV drama called Hearts N' Scalpels. The fellas fanagle their way into getting some onscreen time but Sean becomes the hot new sensation which makes Christian all mopey and jealous-my man,green is so not your color,seriously.
I think that this season looks to be alot more fun,with tons of Hollywood cliches to smash upon the satirical rocks. Julia,Matt and the rest of the regulars will be showing up at some point but hopefully not too soon. The boys need some alone time for now:
Random Notes
Ugly Betty: I really like where this season is going,but I hope Justin's rebellous streak cools off soon. It looked that way last week,with Hilda finally taking notice of how he's been dealing with Santo's death. Don't get me wrong,both of them fully deserve their grieving time but Justin is in serious need of parental guidance here:
The Amazing Race: the new season kicks off on Sunday,and I already have a favorite team to root for; the Goth couple whose names I can't even spell! Just watching to see how long they can keep up the black and pink hair/makeup thru several countries will be interesting to say the least: