Buying gifts for family and friends is tricky enough but during the holiday season,the stakes are even higher. To relieve some of the pressure,I like to imagine what presents I would be giving to some of my favorite characters from books,movies and TV. The budget is unlimited but the gift itself should be a proper reflection on the true nature of the person getting it.
RORY GILMORE
For Stars Hollow's biggest reader,an entire library of her own would be the ultimate dream gift but I suspect that she would modestly either turn it down or open it up for all to enjoy. Perhaps a more compact yet oddly bibliophile themed item would be a better idea,plus something small enough to make a really cool stocking stuffer.
Therefore,I do believe that a
Jane Austen action figure
would be just the thing. She comes with her own pen and a copy of Pride & Prejudice and would look great on a bookshelf or as a city news desk accessory for her future journalist job.
Jane wouldn't have to all alone-you could get her a nice Algonguin roundtable of like minded literary companions such as
Shakespeare
,
Oscar Wilde
,
Charles Dickens
or Edgar Allen Poe. Maybe even a pair of Poes,to fight over who gives the best public recitation of The Raven.
MRS. LOVETT
Okay,I haven't seen any full version of Sweeney Todd just yet but I adore Mrs. Lovett already. How can you not appreciate such a practical businesswoman who only wants to help out a friend by taking some of his leftover work burdens off his hands and make a few extra pennies in the process? Girl's gotta make a living and folks gotta eat!
Fortunately,Food Network has a goodly number of pie pans(like this nify
pie crust shield
)and cookbooks to enable a thrifty piemaker to turn a decent profit from her wares,especially with the questionable quality of ingredients that she has to use as filling:
PETER PETRELLI
Our favorite superpowered multitasker is quite the good hearted soul,but he does seem to have trouble in not only dealing with his abilities but spotting the bad guys around him(the ones who aren't directly attacking him or his friends at the moment). A good way to fix that might be a bit of learning and with Claude the Invisiable Mentor on the run, Peter needs some serious self education.
With that in mind,a good item to put under the Petrelli tree would be a copy of
The Superhero Handbook
by Michael Powell,which gives plenty of tips to the up and coming crimefighter with fashion statements to help you put together the right superhero suit.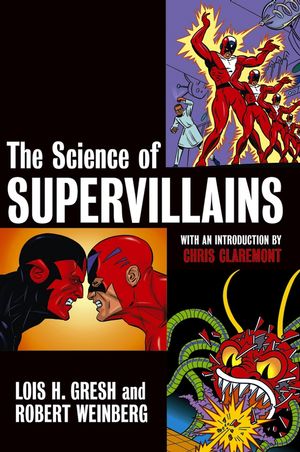 As the old saying goes,keep your friends close and your enemies closer and for Peter to do that without getting too confused about what side he's one,Santa should also bring him
The Science of Supervillians
by Lois Gersh.
This handy dandy guide book could give him a real advantage in defeating any future foes or taking on The Company. Just ask Sylar-how else do you think he managed to master his brain snatched abilities so quickly? They don't have an Evelyn Wood course for that,you know!
JO MARCH
One of the most spunky and determined American literary heroines is the feisty Jo,second in command of the March sisters who dreams of using her talents for storytelling to raise the fortunes of her family as well as become a world famous writer in her own right.
A good gift to help her reach that noble goal would be this lovely
fireproof storage box
,to keep those precious stories that she's been working on safe from harm and vengefull younger sisters. After all,the last thing any author would want to do is have their novel thrown in a lit fireplace!:
Well,those are just a few of my personal picks. Maybe they'll help you out as well with your real gift lists this season. Maybe not. Atleast you're better off than a certain
writer
who actually has to restrain herself from buying presents for all of her characters. Sorry,but when there's actual money involved,that's when the wacky line has truly been crossed.