After alot of back room fussin' and fighting,it was announced that the Golden Globes ceremony for 2008 would be canceled and replaced with a
"press conference
" version on NBC that lets everyone know who the winners are.
This new development is in due to the ongoing Writers' strike,which was planning to picket outside of the theater where the awards were to be given out. A major snag in the GG saga was a show of support from SAG(Screen Actors Guild),who said that none of their members would cross the strike line and attend the show.
Since there's no point in having a Hollywood awards show without any celebs attending(especially the Globes,where half the fun is seeing just how of the winners had a few drinks to loosen their tongues before hitting the stage),so the Hollywood Foreign Press Association and NBC came up with this compromise.
To be honest,I'm really not that bummed out about this and I usually adore watching the Golden Globes. The nominees this year haven't thrilled me(particularly in the TV categories,which ignored Heroes)and while I do hope that Sweeney Todd picks up a few awards,it's not as important as the writers getting a fair shake from the studios. For SAG to be so supportive(and yes,I do know it's partly for their own benefit and their next round of contract negotiations)is a lovely thing to see.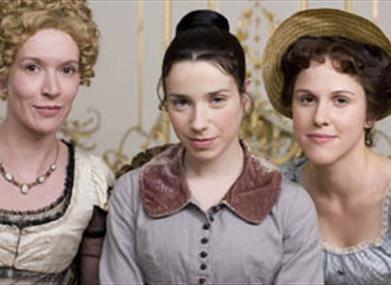 It also makes it easier for me to watch the first film of Masterpiece Theater's "Complete Jane Austen" series,which begins this Sunday with a new version of
Persuasion
. This new take on my favorite Austen novel was not adapted by the incomparable Andrew Davies(it does have
Buffy's favorite Watcher
as Sir Walter Eliot,very nice indeed!)but Davies' hand is in play for Sense and Sensibility,not to mention his long awaited Northanger Abbey. From what Davies has described in this interview clip,S&S seems to have a bit of extra spice to stir up the viewers this winter:
My viewing preferences aside,there are many who will be disappointed over the loss of the Golden Globes on TV this year. A big concern is the fate of the Oscars-despite the insistence of producer Gilbert Cates that the show will go on,what's happened here with the GGs is not a good sign of thing to come.
The stakes are much higher with the Academy Awards,since the presentation has become a worldwide event over the years with huge advertising dollars and even more pricey egos on the line. Also,it would almost be like canceling a national holiday for those of us who feel like the Oscars are the entertainment world's equivalent of the Super Bowl. Let us hope that the studio folk soak in what has happened to the Golden Globes here and realize that the WGA is more than willing to play some serious hardball with them. So far,the writers are proving that old adage about the pen and the sword: