The stakes on Project Runway have gotten higher;not only was immunity officially yanked away as a prize for the rest of the season,this challenge resulted in a double elimination. The remaining designers were teamed up with their former colleagues to make an avant garde outfit based on the astrological sign of one of them.
In addition to the regular runway portion of the show,the designers had to display their looks at a Planetarium party,with past PR contestants attending. Folks like Christian,Jay and Kara voted on who would be the winner of this challenge,with the usual Gang of Four at the Judges' Panel picking the losers.
Lovable Leanne got to work with Emily and they created an interesting Scorpio dress. Emily was concerned at one point that it might be taken as too literal an interpretation(and it was her sign,too)but I think that the two of them pulled it off nicely and were as compatible as a Gemini in their partnership.
Korto and Kelly did a great job as well,with this dreamy looking Aquarius inspired gown. A good portion of this dress was pinned together,even by the time that everyone had to be on the runway,but you wouldn't know it without being told it was,now would you?
The big winner here was Jerell,for his Sagittarius ensemble that he created with Jennifer. Tim Gunn had his doubts about it at first,saying the skirt appeared to be a schoolmarm's overcoat that was being turned into a couture outfit. However,Tim did see some potential in it and Jerell managed to make that baby work.
At least Jerell's dress had a zodiac feel to it,unlike Kenley and Wesley's Aquarius
entry that looked like a bad costume that
Tom Petty
would insist upon not coming around here no more.
Kenley got really mouthy with the judges,telling them that her dress was an ideal Aquarius and sniping at Michael Kors(when he compared the top and bottom halves of the dress to different designers)that she didn't "pay attention to other collections." Way to keep up on and with your chosen industry there,hon!
The first one to be dismissed was Blayne and his Libra suit,who only added on those straps to this walking disaster in order to give his partner Stella some leather to work with,in my opinion.
Kors brought up the "pooping fabric" look to the back of this thing that Nina Garcia called a "one legged monster"(glad to see her back!). To me,the outfit's weirdness wasn't even up to the level of Cirque de Soleil standards and it looked like a Victorian brothel house girl who had escaped from bondage by crawling through a pile of cotton candy.
Terri also got the axe,not just because her Leo inspired dress was sub par(even the model laughed when Kors called it a "voodoo princess from hell" number)but for the way she treated her partner,Keith.
Keith was moody but more than willing to work with Terri on this challenge but she rebuked him at every turn. She ignored his suggestions(which were seconded by Christian at the party)and refused to give him anything to do,saying he could help by "picking up the pins (that she might drop)off of the floor."
That was rude and completely unnecessary;what did the poor guy ever do to you,Terri? That bad attitude came forth during the judging,where she grumped about Keith not helping her out before the runway show(he went into another room and took a nap and I don't blame him). Terri,you didn't want to work with him in the first place and made him feel as welcome as a leper,so why gripe about Keith not working with you at the last minute? You're lucky he even showed up at all,the way you acted.
While Blayne's wackiness will be missed,Suede is still around to provide that in abundance and I am officially sick of Kenley. That girl is insanely over confident and if she really wants to win,she needs to both put up and shut up.
Double Elimination Fever was also active at Top Design,where teams of two had to decorate fallout shelters. The key goal was to showcase your own style while creating a cohesive look. Practicality was important but style was pretty much the main focus for the judges.
Nathan and Wisit wowed the judges with their elegant minimalist look,which made the bunker appear very inviting and cosy. Nathan's plan to exchange one of the two beds provided for a sofa paid off and Wisit's hanging of fabric on the ceiling gave the space a more relaxing texture.
Eddie and Andrea were the winners,however,for their county garden design. Those two got along great,which helped a lot in making this room work. Plus,that wall painting of trees was a nice touch-it could've turned out very hokey but Eddie did it just right.
Ondine and Preston were friendly to each other but their room didn't reflect that at all. That shiny wallpaper they used for the ceiling was terribly tacky and the floor seemed to be unimportant to them. The overuse of wicket baskets for storage really put Jonathan Adler off and the whole room had a cluttered vibe to it.
The most disharmonious bunker was the one from Jennifer and Robert,who literally set up a dividing line between their spaces. Jennifer felt that Robert didn't want to listen to her and Robert felt that she was unfocused(that guy came off pretty tightly wound from the get-go). Since the judges felt that they were both responsible for such a lackluster room,the two of them were sent home.
Next week,the decorators have past designers from Project Runway as their clients,including the infamous Santino. That should be something to see!
Another something to see was the premiere of HBO's new vampire series,True Blood,based on the Sookie Stackhouse novels written by Charlaine Harris. High hopes were held for this show by fans of the books and followers of Alan Ball(best known for Six Feet Under and American Beauty). The reviews were mixed but I think it's too soon to tell just yet about how good or bad this will be.
Anna Paquin made a great first impression on me as Sookie,the mind reading waitress who longs for love and is instantly attracted to Bill(Stephen Moyer),the new vampire in town whose thoughts are the only ones that she can't hear:
While the show is bloodier and bawdier than the books are(we didn't need all of the gory details of Sookie's himbo brother Jason's sex life),there are some lively elements of social satire and a simmering southern atmosphere that makes True Blood worth a few more tastings before deciding whether or not to keep it on my viewing menu this season:
RANDOM NOTES: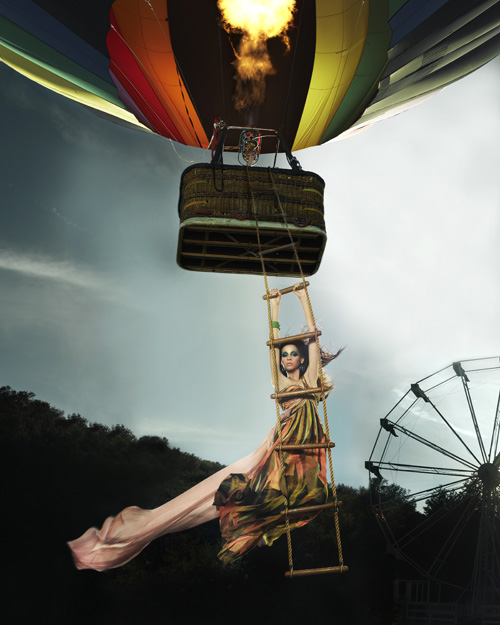 AMERICA'S NEXT TOP MODEL: I caught up to ANTM this week,to check out Isis,the transgendered contestant on this current "cycle"(still don't get that whole thing).
She seems like a nice enough girl(I do agree with judge Paulina P. that her arms were too stiff during this balloon ladder photo)but the big tension came from Hannah,a gal from Alaska who thought Isis was getting too close to her in the hot tub and shoved her away.
Apparently Hannah's been giving off a negative vibe to the other girls in the house regarding race and a few of them asked her about it. Since I didn't watch the season premiere,I can't tell if there's a consistent pattern of behavior here for the others to bitch about,but for Hannah to compare that experience to "gang violence" is pathetic,to say the least: