Coming once again this February,the
New York Comic Con
will be showcasing the latest in not only comic book related media but several other sci-fi/fantasy genre offerings as well.
Several panels will be devoted to current and upcoming TV shows,films and a good number of novelists are on the line up as well. Part of the fun in attending an event like this is having the chance to hear about all the behind the scenes goodness and creative insight that bring your favorite forms of entertainment to life(not to mention that getting to see celebrities up close and personal really sweetens the deal).
One of the big names expected is Joss Whedon,who will be promoting Dollhouse and signing autographs for folks(I may try to get one,if the line isn't too insane and doesn't quite stretch out all the way to Terre Haute). Other famous faces include Milo Ventimiglia( Peter Petrelli from Heroes),Seth Green(Robot Chicken)and Amber Benson( Tara from Buffy the Vampire Slayer).
Amber is appearing as a literary guest,to talk about the Ghosts of Albion series that she co-writes with Christopher Golden(who I did meet once at Horrorfind and he was a great guy who didn't laugh at my lame drawing that I did for his Spike and Dru novel,
Pretty Maids All in a Row
).
Many of the literary folks are familiar faces from the bookshelves,such as
Kim Harrison,
Tamora Pierce
,
Sherrilyn Kenyon
and F. Paul Wilson,and some are ones I'd like to know better like
Vicki Pettersson
and
Carrie Vaughn
(more about her coming to this blog soon-watch this space!).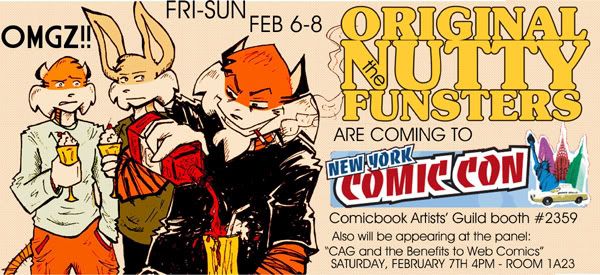 However,even with all the celebs hanging about,it's important to be on the look out for the up and coming crowd of artists who will also be featuring their wares at the Con.
My sister,Stephanie O'Donnell,will be attending the show again this year and have a number of books and merchandise on display from her webcomic,
The Original Nutty Funsters
,including her first collection of strips titled "A List of Grievances",a Best of 2008 mini comic version of it called "Another Shot at Failure" and a limited edition set of two new posters that are well worth buying up to save for that big E-Bay auction in the future when she gets rich and famous.
She'll be at a couple of CAG panels as well,with other promising artists,particularly at the webcomic panel on Saturday at four in Room 1A23(see,you have no excuse for not finding it!).
Hopefully,the weather will be reasonable and plenty of people will be able to go to the New York Comic Con,despite what these characters say( It's Just Some Random Guy,the creator of these clips,will be there,too):
ADVICE FROM HEROES:
WARNINGS FROM VILLAINS: