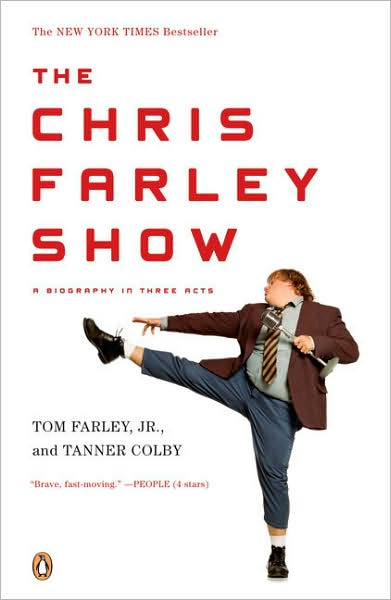 As someone who grew up watching Saturday Night Live during it's heyday,it's all too easy to get blinded by the glow of celebrity that surrounded those Not Ready for Prime Time Players,especially John Belushi.
That was the first death of a celebrity that really hit home to me;for years,I kept a file with clippings about his demise,plus a special memorial issue of People and a newspaper that had his tragic overdose as the front page story.
I suspect that many people will want to check out
The Chris Farley Show
expecting to read a Belushi:The Next Generation tabloid tale. They will be surely disappointed,since this is a candid and thoughtful look at the life and times of a talented comedian who was never able to see his true worth as a human being.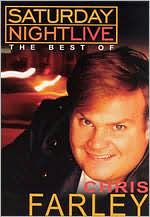 Co-authored by Tom Farley,Jr(Chris' older brother)and Tanner Colby,the book is mostly an oral biography that uses interviews from Farley's family and friends as well as the actors and writers he worked with over the years. It begins with his childhood days in Wisconsin,where Chris first developed his humor skills but didn't take to the stage until his college days.
At one point,he did try his hand at working in the family business but it soon became clear that his boisterous nature and comedic skills would be better served outside the corporate world:
Chris moved on to Second City and then Saturday Night Live,along with other up and coming funny men like Adam Sandler,Chris Rock and David Spade(who teamed up with him onscreen for Tommy Boy and Black Sheep). He wound up turning into one of the show's best loved stars,growing in stature from popular ensemble skits like The Super Fans to creating memorable characters of his own:
A fan favorite character was Motivational Speaker Matt Foley,named after a real life friend of Chris' who entered the priesthood. Fr. Foley is one of interview contributors to the book and was truly flattered by Chris honoring their relationship in this way:
The Chris Farley Show does more than chronicle the rise and fall of an SNL gone Hollywood star;it shows the reader the other side to Farley's funny man facade,the devout Catholic who worked hard on staying connected to his faith as well as the charitable acts of volunteerism that he did,some of which was unknown to even his closest friends.
While Farley's open generosity to just about everyone he met is highlighted,there is no sugar coating about his struggles with food,drug and alcohol addiction. As much as Chris sought out help at various treatment centers and received plenty of encouragement to do so(along with tough love) from those around him,it was his denial of his true inner demons that lead down the similar sad path towards the fate of John Belushi,who he admired greatly.
The Chris Farley Show is an openly loving look at a man who never got the chance to achieve his real artistic potential,despite all of the fame and accolades given to him. It gives a warts and all impression of Farley,tempered by the sorrow that he is not with us any more and great respect must be paid to his brothers,Tom in particular,for having the emotional strength to make their sibling's turbulent times known,along with his kindness and compassion for others.
The book is now available in paperback and is definitely worth checking out,not for morbid purposes but to truly mourn a bright light in the comedy world that shines no longer,in order to fully appreciate the loss: