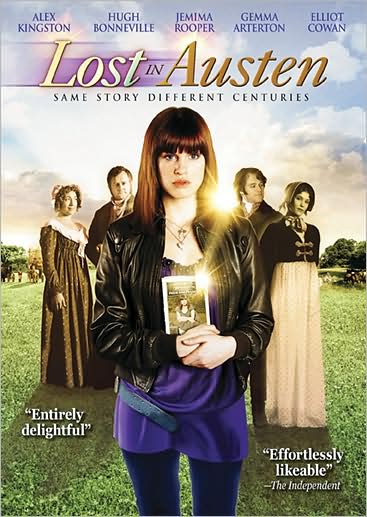 No doubt a number of Jane Austen fans here in the U.S. have discovered the delights of the 2008 British mini series
Lost In Austen
and know that plans are in the works for a Hollywood remake. For those who haven't seen the original just yet,I implore you most heartily to add it to your Netflix queue straight away to savor this offbeat beauty of a film for yourself.
Lost In Austen stars Jemina Rooper as Amanda Price,a modern day Londoner who escapes from the dreariness of her life by constantly rereading Pride and Prejudice. Her friends and family often chide her for overindulging in such literary daydreams and Amanda starts to wonder if they're right when Elizabeth Bennett starts showing up in her bathroom: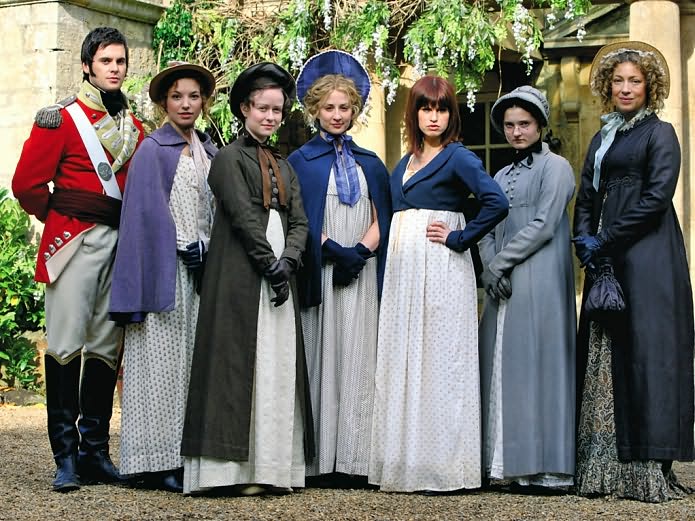 Amanda winds up changing places with Elizabeth(who thoughtfully arranged for her family to receive an unexpected visitor)and while spending time in a Jane Austen novel appears to be a dream come true,Amanda's presence causes quite a bit of chaos in the story line.
She does her best to try and keep the plot essentials on track,even to the point of being engaged to Mr. Collins briefly(as a means of ensuring that Jane and Mr.Bingley get together)but Amanda can't help being the unintentional fly in the ointment or occurring the dislike of Mr. Darcy(Elliot Cowan):
Of course,some of her interference is rather warranted at certain key moments and amusing,despite being ill timed: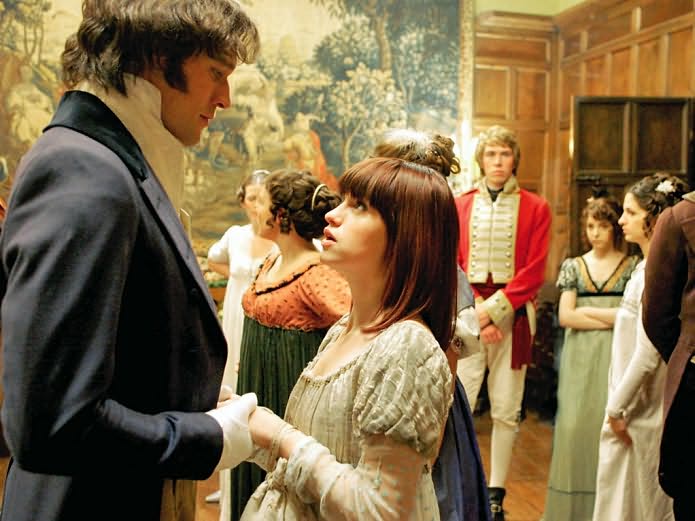 Things become even more desperate when the wrong people wind up together and other radical developments cause the original mold that the P&P plot was in to be broken in so many ways that Amanda fears it can never be properly prepared. To make matters worse,she finds herself falling in love with Darcy. That definitely puts a kink in her plans to keep him at arm's length until Elizabeth comes back.
This whole film puts a major league metafiction spin on P&P and much to my surprise,it works brilliantly. A good part of that is due to the apparent love of Austen's books,that the screenwriter Guy Andrews has in abundance and the snappy yet sentimental when needed direction given by Dan Zeff.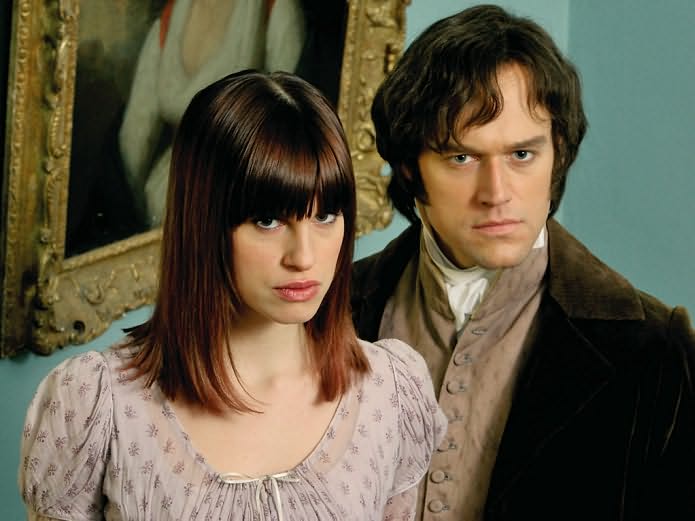 Despite the twists and turns torn at the characters(both the "real" and the Austen created ones),everyone brings a true sense of themselves to the situation at hand. You can readily believe that these representations of the well known folks from P&P are authentic and possess more layers of personal intrigue than Jane Austen ever intended to reveal.
The chemistry between the actors is just as lively,with Rooper and Cowan making such a compelling couple that even a determined Lizzie and Darcy fan would root for their love to succeed. While they may not replace
Colin Firth and Jennifer Ehle
in the hearts of diehard P&P lovers,these two surely make quite a splash of their own:
Other great casting coups include Alex Kingston and Hugh Bonneville as Mr. and Mrs. Bennett,Gemma Arteron as Elizabeth and Tom Riley as Wickam(who is not as caddish here as his literary reputation makes him out to be). There are plenty of wonderful novels that have blurred the lines between Austen's world and our own for the postmodern pleasures of readers and with any luck,a few of them may get the good fortune to be brought to life on film as lovingly and lively as Lost In Austen was for viewers.
I truly dread any attempt at an Americanized retelling,since this miniseries is available on DVD and can be enjoyed by Jane Austen fans in the U.S.A. in it's original form. If you're in of an Austen fix or simply wondering what all the fuss is about,let yourself be Lost In Austen. It's a humorously romantic journey of the heart and mind: