While I did spend only one day at Book Expo America this year,the ground that both me and my sister covered was extensive enough to break my coverage up into two parts. Today is all about the books,baby.
Even with the reduced amount of giveaways,there were still plenty of interesting books being handed out to eager attendees. A few of them were titles that have been buzzed about,others were surprises that many wanted to discover and enjoy(not to mention spread the good word about).
The books that will be featured here in this post are merely a handful of the literary delights that I managed to pick up;a good portion of the rest will be highlighted in future Book Preview posts:
KIDS IN AMERICA
In addition to a double set of upcoming Alex Cross novels,James Patterson made a big splash at the Hachette booth with another new fantasy adventure series for young people.
Witch & Wizard
,co-authored by Gabrielle Charbonnet,tells the tale of the New World Order that 15 year old Whisty and her younger brother Whit have been seized by and imprisoned for unknown reasons. During their time in captivity,they developed strange new powers that may not only help them escape but might even save their parents and the world.
This sounds like a fun read for fantasy readers of all ages;hopefully Whisty and Whit get along better than most brothers and sisters do,especially with magical abilities at hand. That could definitely raise the stakes on sibling rivalry there(December 14):
I was fortunate enough to meet Matt De La Pena,who was signing Advance Copies of his third book due out in October called
We Were Here
. The story is told thru the eyes and journal of Miguel,who must tough things out in a group home for a year after being arrested for an act he doesn't want to talk about.
Miguel makes a couple of friends who help him break out of Juvi and the three of them plan to cross the border into Mexico. However,things get more complicated than any of the boys expected and running away from the past only brings more trouble to the present. Again,not just a book that suits teenagers but is relatable to former members of the disenfranchised youth movement as well:
PAST IMPERFECT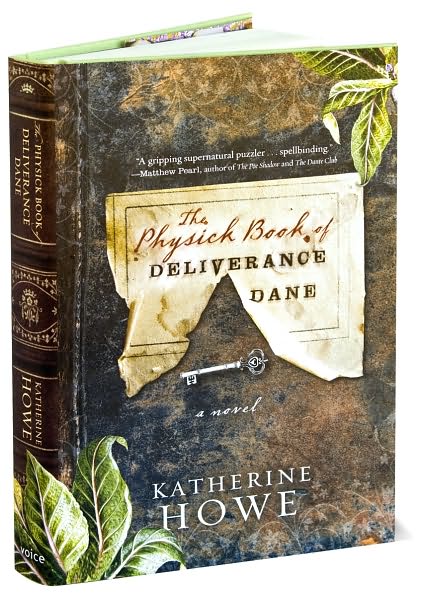 Hitting the shelves by June 9,
The Physick Book of Deliverance Dane
by Katherine Howe starts off with Connie Goodwin,a Harvard graduate student looking for material to research for her dissertation.
During her summer vacation,Connie takes over the sale of her grandmother's abandoned house in Salem,Mass and finds a mysterious key tucked into a 17th century Bible which is wrapped in a parchment with only the name Deliverance Dane written upon it.
As Connie searches for answers,she discovers some dark secrets regarding the Salem witch trials and wonders if she may have a deeper connection to those events. Interesting how the subject of women under scrutiny by society has a rather timeless quality to it:
Shandi Mitchell's debut novel,
Under The Unbroken Sky
,takes place in Canada during 1938,where Ukrainian immigrant Theo has been released from prison after two years for stealing grain that was originally his. Theo reunites with his wife,Maria and their five children(who have been living with Maria's sister Anna)and hopes to rebuilt the life they once had together.
That plan begins to pay off slowly but surely,yet is threatened by the arrival of another missing in action family member. Anna's husband Stefan comes back into their lives and brings with him a whole bag of trouble that could lead everyone down a very dark path of destiny indeed. This book is set for a September release and sounds like the ideal back-to-school read.
A SLICE OF SAGA,ANYONE?
It's great to find fabulous new books,and a wee bit extra satisfying to come across one that won't be out and about until next year.
Roses by Leila Meacham
is a steadfast saga that spans the twentieth century and concerns the rising fortunes of two industrious families in Texas,the Tolivers with their cotton empire and the Warwicks who are giants of the timber realm.
The heads of these clans,Mary Toliver and Percy Warwick,had the chance to unite once via marriage but that option was not taken,leaving the next generations to struggle with secrets and lies as a result. Roses will be on sale by January of 2010 and seems to be something really worth waiting for. It's been awhile since we had a good old fashioned family soap opera on the scene and high time that we did:
Another author that I was lucky enough to get a signed copy of his upcoming work was legendary crime noir writer James Ellroy(more on that tomorrow),whose latest entry in his current cultural trilogy is called
Blood's a Rover
(due out this September).
This book takes place during the late 1960s and the early seventies,with such real life luminaries as J. Edgar Hoover and Howard Hughes mixing into the plot about a trio of low level thugs and strong arm men whose fates collide due to their search for Red Goddess Joan.
Ellroy's books are elaborately written,making them a tad tricky to get into. However,I am willing to give this one a try. His innate sense of chaos that verges all too closely to the regular flow of society than most folks are or can admit is alluring and fits right into more than one genre:
Part Two of my BEA coverage will be about all the people that both my sister and I ran into and had the pleasure of chatting with. This was a very successful outing,in my opinion,and partly due to the energy and spirit that New York brings to this event. Yes,my bias is showing but there's a real artistic and emotional vibe that NYC gives to events like this,making them that much richer to enjoy: