This past weekend,my sister Stephanie and I went to
MoCCA Fest
,which is an independent comic art show. She was there to meet and greet her fellow artists,as well as promote her work and I came along for the ride.
MoCCA(their full name is the
Museum of Comic and Cartoon Art
)supports comic artists of any stripe,whether they're in print or on the web. Steph's been a member for some time now,but this was her first big event with them and it went off pretty well.
It was held at the Lexington Ave Armory,which had tons of space for all of the folks displaying their creative wares. Steph was set up at the Comicbook Artists Guild table,with not only her
Nutty Funsters
book and the first issue of
Cookie Bear
but a special mini comic preview as well.
One of her most recent projects has been a collaboration with writer
Greg Carter
on an online graphic novel called
Perfect Agent
. Perfect Agent is(in Hollywood pitch terms)a Bourne Identity meets Alias with a touch of Burn Notice added in for flavor.
The story follows the adventures of Tara,a gun for hire type of gal who is trying to keep up with the maddening pace that comes with her professional wetwork as well as her emotional identity. This is a bit of a new venture for Stephanie and it is definitely an interesting path that many of her regular readers(as well as new ones)will care to follow.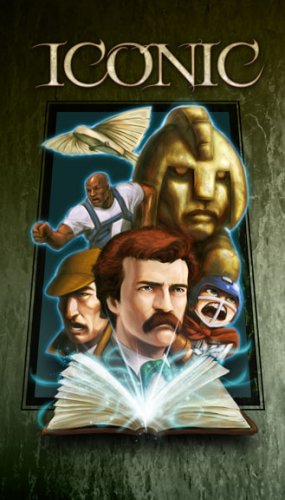 Another prominent item at the CAG table was a new anthology of reimagined history and folklore titled
Iconic
. The book has a Princess Bride set-up,with a mysterious grandfather reading aloud to his jaded video game addicted grandkids stories that feature such familiar faces as John Henry,Sherlock Holmes and Ebeneezer Scrooge.
There's even a St. George vs. the Dragon tale that is told with a Calvin and Hobbes tone to it(my favorite one in the collection). The book is reasonable family friendly and has some interesting local history mixed,such as the story of Gustave Whitehead who,believe it or not,did achieve flight before the Wright Brothers. Iconic is a great way to discover some new flights of fantasy but to also check out the work of some of today's up and coming artists.
Speaking of up and coming artists,Steph and I had the pleasure of meeting Spike,who writes,draws and puts out her own series called
Templar,Arizona
.
The plot is set in an alternative universe version of America,with the main focus being on Ben,who settles down in this offbeat,out of the way town to escape from some of the problems of his past. While his own troubles still haunt him,they seem rather tame compared to the challenges faced by his eccentric neighbors.Templar,Arizona is smart,sassy and compelling reading for anyone wanting a fresh new look at life.
MoCCA Fest also gets an international following,which made it possible for Steph and I to meet Becky & Frank,who make charming artwork and comics with a 1950's children's illustrated book style called
Tiny Kitten Teeth
(I love that name!).
They are based in New Zealand and are currently in the States to promote their work and best of luck to them(yes,they do speak with Flight of the Conchords accents and are just as sweetly funny):
I did discover a web comic(that is also in print via college newspapers)that shares my love of pop culture mania. Doug Bratton has been putting out
Pop Culture Shock Therapy
for several years now,skewering the best of movies,TV,music and celebrity gossip with a nod to the Far Side and Calvin and Hobbes(who has also been a loving target of his satire).
I bought his latest collection,Funny..But Deadly!,which showcases five years worth of PSCT strips by category(which Doug was kind enough to sign and sketch an Elvis in it for me),one of which is Star Wars,a ripe subject for fan based laughs,especially if you've ever watched that infamous Christmas Special:
A few of the bigger names in indie comics were out and about at MoCCA Fest,including Vertigo who gave out free first issues of a new series entitled
The Unwritten.
Tom Taylor is the son of a beloved children's fantasy writer who disappeared without a trace years ago,leaving him as the spokesman for his boy wizard books whose main character shares his name as his son.
Tom has grown to hate his father's legacy and the demands of keeping up with it but things take a radical turn for the worst as allegations about his true identity and a strange conspiracy involving the power of storytelling threatens to tear him apart. I read the book on the way home and it's a great read,particularly for literature lovers.
MoCCA Fest draws quite a crowd and I can see why. It's a great way for indie comic creators and fans to get together and form new following and friendships. Hopefully,they won't have too many arguments about the secret meanings behind classic comics or other misunderstandings that can't be cleared up with a friendly game of darts. The best thing about shows like this are finding folks who are not as far away from your mindset as you might think: