Jacqueline Carey
is one of the leading ladies of fantasy fiction,with several stand alone books that have gathered a following yet she is best loved for her Kushiel series of trilogies.
The Kushiel books(starting with Kushiel's Dart in 2001)are set in an alternate version of the ancient world of France,Greece,etc,where the kingdom of Terre d'Ange is ruled by those who follow the mystical teachings of Elua,a deity that mixes sensuality with spirituality.
The heroine of the first trilogy,Phedre,is marked by one of the divine acolytes of Elua at birth and uses the unusual gifts granted to her thru such a dubious honor to not only save her people from conquest but to rise up in social status as well.
The second trilogy deals with Imriel,Phedre's adopted son and his struggles with life and love,starting with Kushiel's Scion and ending with Kushiel's Mercy. One of her new books is set in the Kushiel world but has a very different heroine at the center of the action.
Naamah's Kiss
introduces us to Moirin,born in a more rural section of the country who discovers that she has magical abilities that have been long denied her people due to an ancient betrayal. She also learns that some of her powers originated from her absent father,a D'Angeline priest in the service of Naamah,Elua's divine consort.
In her search for the proper purpose of her powers,Moirin must travel to lands far from home and find a way to help save another kingdom very different from her own. Carey has also a new stand alone fantasy title in a more recognizable reality,
Santa Olivia,
which has a genetically mutated orphan girl using her heightened strength and senses to help an isolated border town fight oppression from government forces.
Both books are being released nearly back to back,so I was very fortunate in getting the chance to ask Jacqueline Carey a few brief questions about her current books and some of her future literary plans:
1) Your new novel, Santa Olivia, is set in futuristic yet more modern day times than most of your other works-how intentional a choice was that?
Oh, it was entirely my choice! The Kushiel's Legacy series, and now the coming Naamah Trilogy, are so vast and intricate, and contain so much historical research. As much as I love writing them, I need to take a break between major projects and write something completely different. Santa Olivia, with its near-future dystopian setting and foul-mouthed orphans, was a refreshing break for me.
2) Naamah's Kiss starts off a new trilogy in the world of your popular Kushiel series. Can someone's who is unfamiliar with those books easily get into this one?
Absolutely. There are a few hints regarding events that have passed before, but this is a fresh start, and I didn't want my new heroine Moirin's tale burdened by too much backstory.
3) Are there any plans for a follow-up to Santa Olivia?
I have a sequel in mind; something a bit more light-hearted, more of a caper novel. How and when it comes to fruition will depend to some extent on how the first one fares, so we'll see! I've already had a lot of readers ask about it, which is a good sign.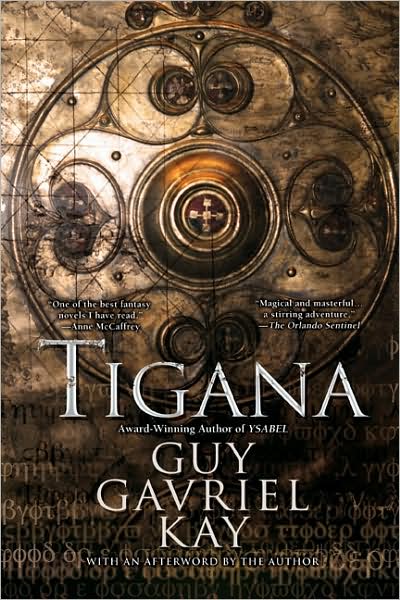 4) Who are some of your favorite fantasy writers?
Many of my favorites remain books I discovered when I was younger, from classics like C.S. Lewis and Lloyd Alexander, to the lyrical writing of Patricia McKillip and the gritty world-building of Richard Adams. A writer I admire and most often recommend to fans of my work is
Guy Gavriel Kay
, who draws on history, mythology and culture in a way that really resonates for me.
5) If one of your books was to be adapted by Hollywood,which would you prefer-a made for TV film,a cable miniseries or a major motion picture?
I'd opt for a major motion picture, so I could attend the premiere wearing a fabulous gown! In all seriousness, the format of a cable miniseries might best suit the sprawling narrative of any of the Kushiel or Naamah books, though budget is an issue considering the various epic battle scenes. Santa Olivia, on the other hand, would lend itself easily to a film adaptation. Some day, maybe! It's fun to dream.
Naamah's Kiss is due out in hardcover on June 24 and Santa Olivia is now available in paperback. My thanks to Jacqueline Carey, not just for taking the time to share her thoughts but also for bringing forth more strong female characters to both the literary and the fantasy world. Readers really appreciate having such fiercely independent heroines strut their stuff and swordplay(when necessary):