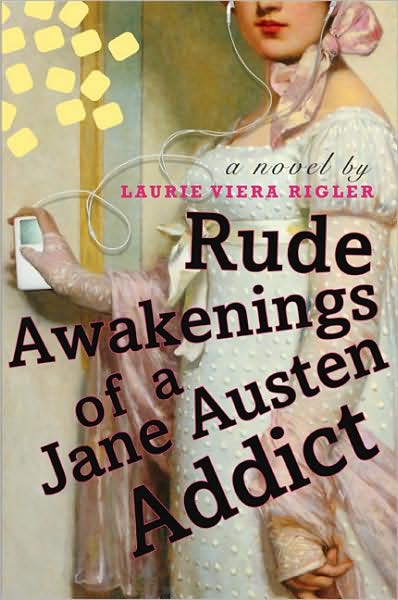 Awhile ago,Laurie Viera Rigler made her first splash in novel waters with
Confessions of a Jane Austen Addict
,which had modern day Courtney Stone trading places in time with Jane Mansfield,a young woman of the Regency period in England. Despite their very different ways of life,both ladies had romantic troubles that they soothed by rereading Pride and Prejudice.
We followed Courtney's journey in Confessions and now in
Rude Awakenings of a Jane Austen Addict
,Jane Mansfield takes center stage to show us her side of the story.
After falling off her favorite horse(just after seeing her intended husband Edgeworth in a compromising position with another woman),Jane is given a real culture shock when she wakes up in Courtney's bedroom in 21 century L.A.,surrounded by strange objects called "computers" and "cellphones" and clothes that would be considered very immodest in her day(except for a long white gown that turns out to be Courtney's intended wedding dress).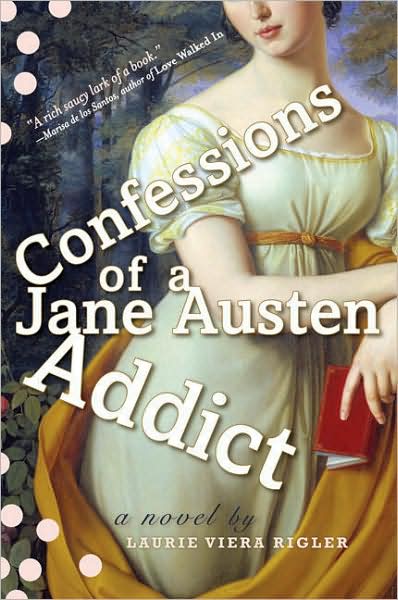 She is pleased with the "television" that shows moving pictures of her favorite book,Pride and Prejudice,not to mention discovering more of Jane Austen's work that she has not yet read. Jane tries to adjust to her new situation with the help of Courtney's friends,who reluctantly accept her lack of memory from Courtney's similar injury in a swimming pool.
The most eager to help of Courtney's friends is Wes,who is also buddies with Frank,Courtney's former fiance who truly did cheat on her. Jane wants to trust in his goodness but is hesitate for many reasons,one of which has to do with Wes' role in hiding Frank's affair from Courtney.
Jane manages to fit into her strange new world,reveling in the freedom and privacy that she never had back home. However,despite how many things have changed for the better in this exciting era,some problems still seem unsolvable,love being one of them:
Jane's mind and manners may be old fashioned but some of those quaint traits turn out to be useful in fixing some of the messes in Courtney's life and she begins to open up her mind about a lot of other things,including her quick judgments about Wes and Edgeworth as well.
As in her earlier Confessions,Rigler blends the fantasy and the folly of wishing to go back or forth to a supposed "better" world where all of your current worries can be easily mended. She also employs the same sharp social satire and high drama of romance that Miss Austen used to entertain and enlighten her readers that holds strong no matter when or where they are:
Even if you haven't read Confessions,Rude Awakenings of a Jane Austen Addict is a delightful look at our modern day manners and rules of love,which are just as overcomplicated and confusing as they were in Austen's day. It's also a charming tale of discovering not only your true love but your true self as well.
Rude Awakenings is due out on June 25 and is definitely worth pre-ordering at either your local bookstore or library waiting list. It's a celebration of life,love and Jane Austen,the perfect way to start your summer reading off right. It's also a way to really appreciate the independence that many of us modern women take for granted and that Lizzy Bennet herself would adore: