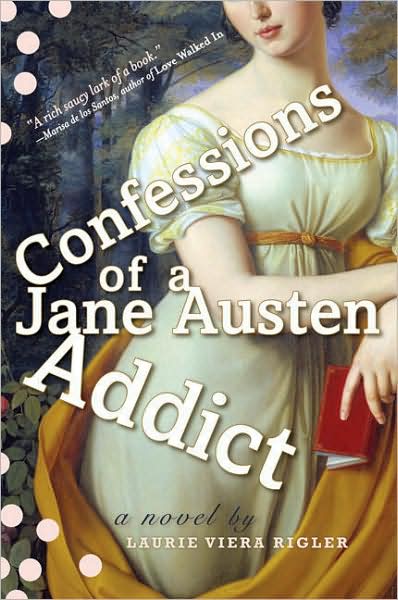 Since my blogging week started with sharing the thoughts of
Laurie Viera Rigler,
author of Confessions of a Jane Austen Addict and Rude Awakenings of a Jane Austen Addict,it feels so right to end up getting the privilege of sharing her wonderful novels with two of my readers.
Before I announce the winners,I'd like to thank Laurie for her time and generosity with the interview and the JAA giveaway,plus the good folks at Win A Book/West of Mars for spreading the good word here.
Okay,let's get started with Confessions of a Jane Austen Addict(multiple spotlights dance around the stage as drum roll gets louder)..and the winner is...ALYCE!(applause,she is handed a bouquet of roses and given a gold sash with "JANE AUSTEN ADDICT" written in silver thread to wear)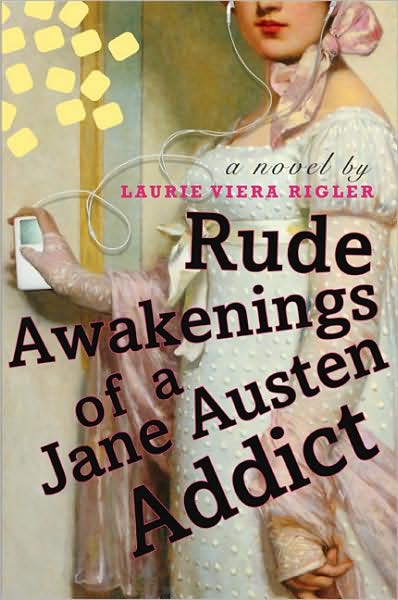 Congratulations,Alyce and joining you in the winner's circle with a shiny new copy of Rude Awakenings of a Jane Austen Addict will be(more drum roll and spotlights,hopeful contenders clutch each other's hands)....LEXIE!(more applause,she gets a tiara set in her hair and a sparkly specter to hold as she takes her victory walk on the runway)
Congratulations,ladies and to claim your prize(sans tiara and sashes,I'm afraid),please e-mail me at livingreadgirl@yahoo.com with your mailing addresses,which will be passed on to the proper parties.
My thanks to everyone who entered this contest,and while I can't give out more books,there is something that I am able to provide as a consultation prize. For your entertainment and amusement,fellow Austen addicts,here are a few choice video clips from your favorite film adaptations.
Many people expressed a fondness for Sense and Sensibility,particularly the renowned 1995 version adapted by Emma Thompson(who played Elinor beautifully,in my opinion)with Alan Rickman as Col. Brandon.
Being an admirer of Brandon myself,it was wonderful to have an excuse to look him up. First up is the scene where he first lays eyes upon Marianne,as she plays and sings "Weep You No More Sad Fountains"(Kate Winslet has a lovely singing voice,btw. She should use it more often):
Later on in the course of the story,Marianne finally starts to appreciate Brandon's charms,especially in his poetry reading:
However,as Sir John Middleton might say,we must not let Miss Marianne get all of the attention from her suitors here. Elinor deserves a moment or two of romantic glory and she gets it very nicely(along with some much needed comfort)in this early bit of business with Edward Ferrars,who is most eager to be of use to the Dashwood ladies in any capacity,even as an badly treated servant:
The latest adaptation of Northanger Abbey received some praise,particularly for J. J. Feild as the delightfully teasing Henry Tilney.
Henry Tilney may not get as much clamor as Mr. Darcy does,but he does have a devoted fan base amongst Austen admirers. One of the reasons for that can seen in this clip,as Mr. Tilney encounters the newly arrived Catherine Morland and Mrs. Allen and endeavors to make an excellent first impression,with his keen fashion sense and flirtatious manner on the dance floor:
Speaking of Darcy,we've had more than one request for him. While I haven't seen the 1980 P&P miniseries with David Rintoul courting Elizabeth Gravie's Lizzie Bennet,it does seem like the two of them stir up quite a bit of chemistry together,judging from this pivotal dance at the Netherfield ball:
As for Colin Firth,there are so many great moments with him as Darcy that only a tribute video would do to satisfy all of us(yes,the lake scene is included as well):
I hope all of you have a lovely weekend and will come back to see what else is brewing on the pop culture horizons. As for me,I plan to spend some quality Austen time with my DVDs,plus finishing my reread of S&S into the bargain. The heights that Jane Austen's words can take your imagination to are a dizzying delight indeed: