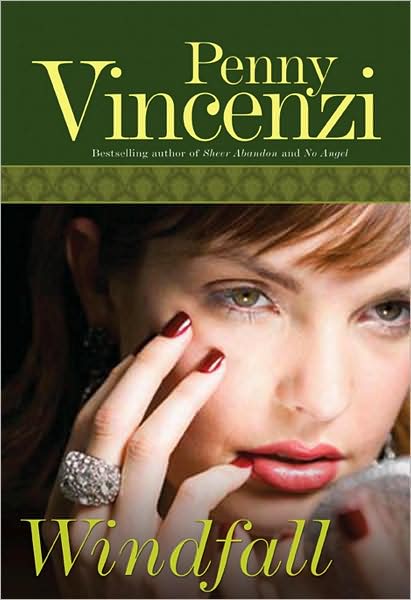 As some of you may know,I'm a fan of the old school style of saga novels,preferably the ones written with women in mind(not that the fellas can't enjoy them,too). Be they
steadfast or sexy
-or a hybrid of both-those gorgeous glossy stories of love,loss and what they wore are literary catnip to a girl like me.
With that in mind,you can imagine my joy when Bookreporter.com chose me as one of their ten readers to receive a copy of Windfall,the newest novel by Penny Vincenzi to come to America. That's right,I don't just hold contests,I enter them,too! Since I've already given my feedback to the good folks at Bookreporter about Windfall,it seemed only right that I should talk about it here as well.
The novel is set in the England of 1935,where the growing affair between the Duke of Windsor and Mrs. Wallis Simpson is slowly stirring in the background. Our leading lady is Cassia Tallow,a country doctor's wife and mother who long ago gave up her own promising medical career in order to placate the fragile ego of her husband Edward(not to mention that she was also pregnant at the time).
Cassia gets word that her wealthy godmother Leonora has died in Paris and left her a huge fortune of a half a million pounds. At first,she's dazzled by the freedom this money offers to her and uses it to resume some of her old life before marriage by buying new things not only for her loved ones but some stylish clothes and a sleek sports car for herself as well:
Edward feels threatened by all of this and attempts to take control over her inheritance to no avail.The tension between Cassia and Edward rises to emotionally dangerous levels as things go on. Cassia is able to resume practicing medicine(as an volunteer for a women's clinic)and even takes a small house in London to make the commute easier.
Edward tries all sorts of ploys to keep Cassia from moving ahead in life and even stoops to emotional blackmail and payback involving their children. Even when an opportunity arises for Cassia to work along side her husband at their home,he blocks her path and insists upon her being the
traditional country doctor's wife
.
The other factor in Edward's motivation for holding Cassia back is jealousy. Her new found wealth puts her back into circulation with the elite social circle her godmother introduced her to,including Harry Moreton,a distant cousin of Leonora's who never approved of Edward and Rupert,an old actor friend of the family who Cassia had a crush on during her youth. At first,Cassia has no intentions of being involved with any other than her husband,but things change,due to more than the money:
Other concerns about the money crop up as Cassia starts to wonder just how her godmother could manage to leave her a small fortune when she was a chronic gambler and by certain accounts,died while living in dire straits.
As more questions than answers remain after some inquiry,Cassia decides to seek out the truth about this on her own. What she does discover has quite an impact and even before she sets off on that journey,other choices that she's made due to this money cause Cassia to reexamine many of the major decisions that she's made over the years.
The beauty of a Penny Vincenzi novel is the layering of characters throughout the story,showcasing one supporting player's struggle with a marriage looming under the shadow of a husband's secret love affairs with men while highlighting the desperate terrors of another who's afraid to get medical treatment that might reveal a past abortion to her spouse. The building of such an intricate world for all those who inhabit the pages creates a thoughtful flavor profile for the reader to sink her teeth into.
Windfall is a lush chocolate box of a read,with the mystery about the origins of the money being a cherry on top of this succulent sundae. While it does give readers plenty of substance to chew over,the main appeal of a story like this is the inside peek at the lifestyles of the rich and famous and in that,Vincenzi definitely delivers the goods. If you're in need of a smartly written soap opera with all the luxury trimmings,then step right up,folks and enjoy the show: