When it comes to Halloween(or the horror genre in general),many folks tend to think that any intellectual approach to the subject is pointless. After all,the theme is fear and that's more of a gut response,no brainer type of deal,isn't it?
To that I say,not true,my friends and fiends! While this may be a great time of year to blow off some scary steam,it's not an excuse to go completely brain dead(however that may help you to repel zombies from munching on your cerebral cortex). To prove my point,let's look at this quartet of tasty tomes which pack some frightening food for thought within their pages: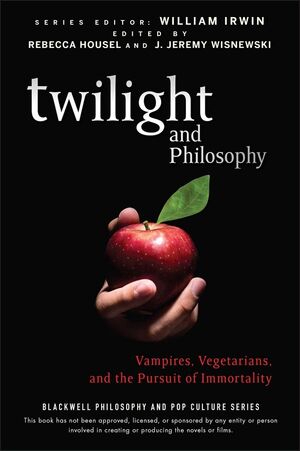 TWILIGHT AND PHILOSOPHY
I'm currently reading this latest entry in the Blackwell Philosophy and Pop Culture series and so far,so good. As the lengthy subtitle suggests(Vampires,Vegetarians and the Pursuit of Immortality),one of the topics of discussion here is the ethics of eating choices for both human and nosferatu characters in the Twilight saga and how that relates to the current debate over diet today.
There's also essays that deal with the intensity of Edward and Bella's relationship,the spiritual themes that crop up within the storyline and what impact does Bella have upon female readers as a role model.
While I'm not sure if I agree with everything being said here(one essay has a comparison of Bella with Sarah Palin,which sounds like apples and dump trucks as my sister would say),I am intrigued to read on and know more,as many other Twilight fans will most likely want to do to:
THE PHILOSOPHER'S APPRENTICE
This offbeat novel has tons of interesting notions and literary sci-fi references from the Island of Dr Moreau to Frankenstein but the heart of the story has to do with a young woman's search for identity and the man assigned to give her one.
Mason Ambrose is a rising young star in the world of academics who has self sabotaged his career when he receives a summons from the reclusive and wealthy Dr. Edwina Sabacthani. Her daughter Londa is in need of an education in moral behavior,allegedly due to an accident that caused some memory loss and violent acting out.
The origins of Londa's mindset, and her existence itself, turn out to be more bizarre than Mason could have imagined and his interest in expanding her horizons changes life for all mankind. A satirical cautionary tale that proves not only is a little knowledge a dangerous thing but that mentoring was meant to be a two way street. Woe to the soul that forgets how quickly the tables can turn:
VAMPED
How do you safely raise a human child in a world that has truly become a vampire? That's the dilemma facing Marty,a bored with existence bloodsucker who stumbles across a little girl named Isuzu,one of the few remaining humans left unclaimed by the vampire hordes that now rule the earth.
Torn between feeding on this unexpected mortal morsel or making her a child vamp,Marty decides to take care of Isuzu until she's old enough do so on her own. Almost against his will,he winds up bonding with her in a father and daughter like fashion which gets more complicated as she gets older,something a few of Marty's fictional vampire contemporaries can identify with all too well:
MARY REILLY
Valerie Martin's take on the Jekyll and Hyde legend does more than just provide a new twist on the tale. The title heroine is a newly hired housemaid in the Doctor's house whose presence causes a stir in more than one quarter.
The dangers facing Mary include the tyranny of servant politics,the limited role of working class women in Victorian society and the dividing line between the classes.
Jekyll's interest in Mary begins with the examining of some old bite scars on her hands that reopen a few emotional scars as well and also lead Mr. Hyde towards taking up a taste for her company later on. The terrors of Mary's life reflect the dark choices both Jekyll and Hyde make in their experiment and it's up to the reader to decide which is the more frightening:
If you choose to take up one of these fearsome four,I hope that you'll enjoy some mind chilling as well as spine tingling sensations in your reading corner. Not too mind numbing,I hope,since keeping your wits about you is essential to survival in any scary situation,fictional or otherwise: