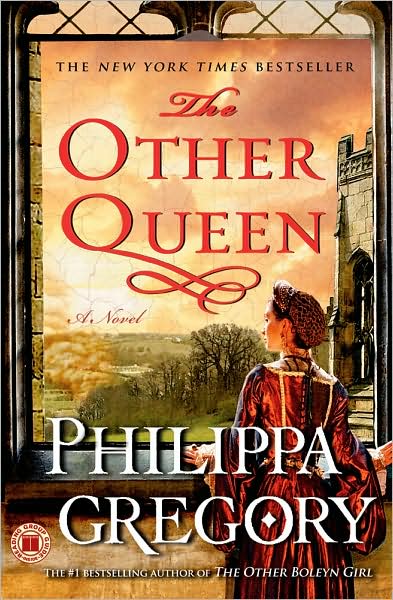 It's no secret that I'm a huge fan of Philippa Gregory's historical novels,especially the ones regarding the Tudors from Henry the VIII to Elizabeth the First. So,having The Other Queen, her latest in paperback arrive at my door,courtesy of Booksfree(it's the
Netflix of books
),was a great delight and it's been my constant companion over this past holiday weekend.
The alternate monarch of the title is Mary,Queen of Scots who has just been overthrown in her homeland and now takes refuge in England,hoping for support from Elizabeth in regaining her throne. Instead,she fights charges of murder and adultery and is forced to become the "guest" of the Earl of Shrewsbury,a man feeling honor bound to obey his queen and cousin but torn in his loyalties to the enchanting young woman who may or may not be the next ruler of the realm.
Another major player in this story is
Bess of Hardwick
,the Earl's wife who has managed to rake a rather large fortune of her own from her first three husband's estates and is determined to keep that wealth at all costs.
Bess is also very aware of the attraction her husband has for their most unwelcome guest and fears that his softhearted approach to the increasing dangerous situation with Mary under their charge will lead to their ruin,not to mention a beheading or two.
That's what I like about Philippa Gregory's books,her focus on strong female figures from the past who strive to endure despite whatever circumstances and limitations are placed upon them. She also tries to make the outcome of certain historical events feel fresh and alive with tension,with the possibility of what else might have been brimming in the minds of the characters as motivation for their actions:
I'm still reading the book as we speak,but am intrigued by all of the plots within plots as Mary struggles to be as free as she can be with many friends and enemies surrounding her in equal numbers,along with Bess's grim resolve to keep her money safe no matter who wins in the end.
Since my knowledge of Mary,Queen of Scots begins and ends with her execution and the highly disputed fact that
she and Elizabeth never had a face to face
,I decided to remedy that by watching a couple of classic films on the subject. I know,I know,movies are not always the most accurate when it comes to delivering the goods here,but it's definitely a fun excuse to catch up on old school flicks about ye olden times.
First up on the block is the 1971 version of Mary,Queen of Scots that stars Vanessa Redgrave as Mary and Glenda Jackson as Elizabeth. Casting two major divas of the English stage was quite a coup and the whole thing seems to play out like a royal soap opera,which should be entertaining indeed:
After that,Mary of Scotland from 1936 is next on my list. Katherine Hepburn plays Mary,with Frederic March as her second husband,the Earl of Bothwell and Florence Elderidge as Elizabeth. The movie was actually a major flop at the box office in it's time but has gained some critical recognition over the years.
Interestingly enough,Hepburn was related to an ancestor of Bothwell's and his given name(James Hepburn)wasn't used in the film in order to quash any talk of favoritism in the casting. Katherine Hepburn always did have a regal bearing onscreen and off,so it's not completely surprising to find out that it was passed down to her via bloodline:
There's several other films about this regal rivalry but I think that just rounding things out by finally watching Elizabeth: The Golden Age(which has been on my Netflix queue for awhile now)will do the trick nicely.
Some revived interest in Mary,Queen of Scots surfaced over a year ago,with talk of Scarlett Johansson taking on the role in a remake of the 1971 film,however that project doesn't seem to have gotten the greenlight so far. If she or any other starlet out there does have the chance to bring Mary back to the big screen,I do hope that they make the most out of that opportunity. While her reign may have been short and sharply cut off,Mary's legend in both art and history is elaborately lengthy for good reason and deserves to be prominently featured on both fronts: