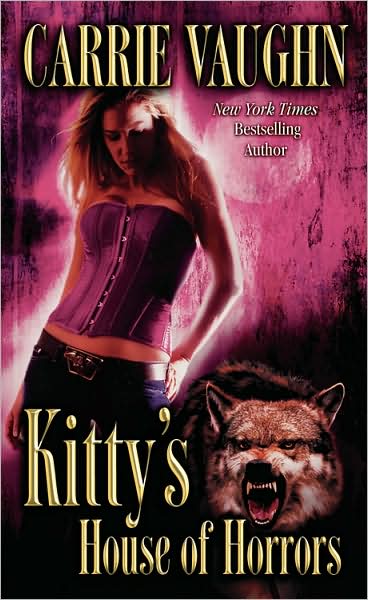 Kitty Norville has had her share of dubious claims to fame,due mostly to her celebrity status as the only werewolf/talk radio DJ in America,and while she's naturally inclined to accept a little unwanted attention every now and then,this latest publicity opportunity being offered to her is close to her ultimate nightmare.
A couple of Hollywood producers want Kitty to be a member of their reality show cast,along with a few old friends of hers such as mysterious Vegas magician Odysseus Grant and Tina McCannon,a sweetheart of a psychic who uses her talents for a ghosthunters TV series.
Plus,there are a few unfamiliar faces included in the mix like Jerome Macy,a boxer turned pro wrestler due to his lycanthropy,Anastasia,the winner of the first vampire beauty pageant and professional supernatural debunker Conrad Garrett. The premise of the show is to prove to Conrad just how real supernatural beings are,by having all of them live together for two weeks in a remote lodge in Montana.
Despite her initial doubts,Kitty decides to go along for the ride,hoping that the experience will be more like a vacation than work. As is the way of these things,this gathering of strangers slowly simmers into disaster:
At first,the usual getting-to-know-you routine between Kitty and the rest of her fellow cast members is hampered only by dealing with the demands of the show's producers who want to draw out the tension for dramatic purposes(not to mention that Odysseus and Anastasia are instantly on their guard around each other).
Then one morning,Kitty wakes up to find that most of the production crew has been murdered,along with one of their house mates,and that all power and communication with the outside world has been shut down or cut off completely.
Whoever has planned this set-up knows the weaknesses of his enemies well,with carefully planted booby traps and barbed wire fencing laced with silver meant especially for Kitty and the other weres in their midst.
As more bodies start to pile up and suspicions about who's behind this and who to trust start to rise as well,Kitty has to take command of the situation before they reach the point of no escape for them all. This romp into the wilds of reality TV has become an all too real woodland tour of terror:
Kitty's House of Horrors
is the seventh book in
Carrie Vaughn's Kitty Norville series
and it's as fresh and engaging as the first one. The closed room mystery plot line of the story is not a watered down PG-13 but neither is it a needlessly gory R rated fear fest.
Vaughn skillfully manages to make the newer characters in this book just as well rounded and compelling to root for as those who we've seen before,plus ramp up the action smartly and swift in this fast paced but never rushed urban fantasy delight.
There are at least three more Kitty Norville books planned in this series and unlike many other paranormal based continuing titles,these books keep getting better and better as they go along. Those of us who are already Kitty fans will be thrilled with this latest entry while the rest who have yet to discover the path to Carrie Vaughn's neck of the woods would be strongly urge to pick one up and see what a little moonlight can do for the imagination: