One thing that you can always count on in the realm of escapist entertainment is that most of the fantasy/horror goodies are set out on the table for taking during either the hottest or the coldest times of the year.
August has become an infamous launching pad for genre flicks which the studios have their doubts about and so has January/February as well. A good example of that is the release of Daybreakers this past weekend,a vampire film with a rather interesting premise involving civilization being overrun by bloodsuckers to the point of total annihilation of both humans and vamps:
The movie managed to take a spot in the Top Five of the box office take and while many vampire fans rejoice,there are some of us out there who can't afford to use what little extra do-re-mi available in our budgets for a night out at the movies. Not to fret,folks-there are plenty of B movie delights and top notch terror fests to be found within the pages of horror and urban fantasy books at a bookseller or a library near you. Just as good to the last drop with frightful and imaginative fun,plus you can pick your own brand of popcorn to munch down on during the scary parts:
My personal pleasure reading at the moment is the latest Rachel Morgan title from Kim Harrison's Hollows series in paperback,
White Witch,Black Curse
.
Rachel's plate of woes has always been full but this time,she gets more than a third helping of hell on earth as tensions mount from trying to find out who did kill Kisten(her lover who also dated her living vampire partner Ivy)as well as a growing reputation for being a black magic witch,something Rachel is definitely not,despite her reluctant but necessary demon spell castings.
Things get even trickier as she and her friends join the search for a banshee who is determined to protect her deadly offspring at all costs and the arrival of an unexpected ally from Rachel's past stirs up more than one hornet's nest of concerns. Harrison's novels are always
a compelling read
and this one is a true page turner in the best sense of the term:
Next on my hit parade is
Kitty's House of Horrors
by Carrie Vaughn,the new entry in her continuing Kitty Norville series. It's in paperback,easier on the wallet as well as transportation purposes(purse size books are the best,in my opinion).
Our favorite werewoman radio DJ takes another dubious step in her career by agreeing to be a member of a reality show cast made up of vampires,shapeshifters and psychics in the grand tradition of The Real World,Big Brother,etc(pick your pop culture poison here,folks).
The situation gets a little too real when everyone arrives at the remote mountain lodge location and bodies start to pile up. The phrase "kill or be killed" takes on a whole new meaning,not to mention a certain Stealer's Wheel tune seems fearfully fitting here: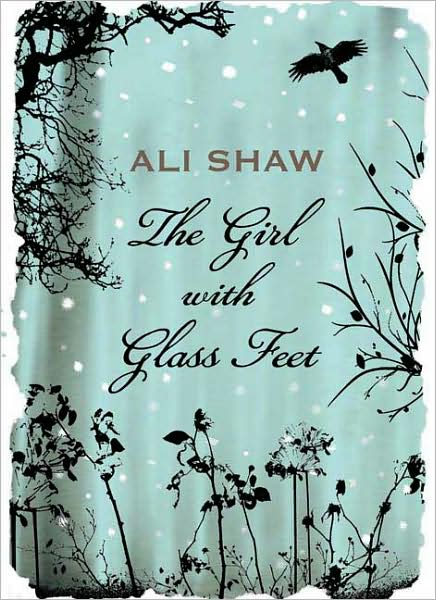 The Girl With Glass Feet
,Ali Shaw's debut novel, is in hardcover,but with such
great reviews
coming out for it,you may want to spend the extra cash or put it at the top of your reserve list.
This fanciful tale of a woman seeking the cure to a strange ailment caught from a visit to a place that has a very different sense of reality from the rest of the world and the young local man who assists her on this quest appears to have the tender tones of offbeat doomed romance that were laid down by the likes of The Time Traveler's Wife and Here on Earth.
I haven't read this yet,but am getting seriously swayed by the music of praise flowing forth for this book to put it ahead of everything else on my TBR pile:
Those are just a few of the many juicy genre titles out there waiting to be picked up and devoured by readers craving some sizzle for their literary steak. Of course,entertainment seekers cannot live by book alone,so it's good to add in a few fun flicks if you can at a reasonable price(Netflix comes in handy for that).
If you plan and save your pennies carefully,a good way to splurge might be pre-ordering the urban fantasy hardcover of your choice(
Black Magic Sanction
by Kim Harrison is due out in February)or seeing Legion on opening weekend. The wild rides are open,people-it's up to you which ticket to buy: