As we are heading for the better part of spring,with summer only a few short steps away,the time has come to start selecting those all important vacation books for your warm weather reading. Even if your prime cooling off spot is at home under the A/C,having a good read on hand is invaluable to your mental relaxation mode.
We do have quite the array of genre goodies to choose from,as well as a couple of crossovers that stand out from the pack. Whichever way that you go,be sure to keep a couple of proper bookmarks along side the sunblock(bending back page corners is just plain wrong,in my opinion),you won't regret it: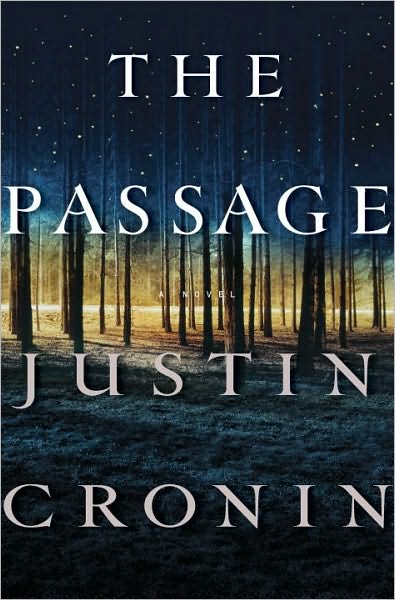 BLOODY GOOD BEACH READ
Thanks to the folks at Good Reads,I was able to read an Advanced Copy of Justin Cronin's
The Passage
and my only qualm about that is not having the opportunity to be introduced into this amazing book's engrossing world of imagination for the first time.
This book is meant to the first of a trilogy and the wait for the next two volumes should be more intense than it was for both the Harry Potter and the Twilight series combined. Don't be mislead by that statement,folks;this is a grown-up book all the way but a savvy teen could enjoy the epic journey started off here as well. I've
said plenty
about The Passage,now it's up to you to take that first step(
June 8
)
MORE VAMPIRE CHRONICLES
Speaking of Twilight,Stephenie Meyer is coming out with a new story about one of the supporting players in the series,just a few weeks before the latest film adaptation of the Twilight saga hits theaters.
The Short Second Life of Bree Tanner
focuses on one of the newborn vampires created by Victoria,who decides to build an army in order to raid both the Cullens and the werewolves in Forks who stand in the path of her vengeance.
Bree does have a brief moment in the sun,so to speak,during the action packed showdown in Eclipse but no doubt,the highlight of her story will be the emotional struggles she faces as a newly powerful being with unchecked bloodlust. A portion of the proceeds from this book will be donated to the Red Cross(which is rather fitting)and should give those waiting in line for the midnight preview of Eclipse something fun to kill the time with(
June 5
):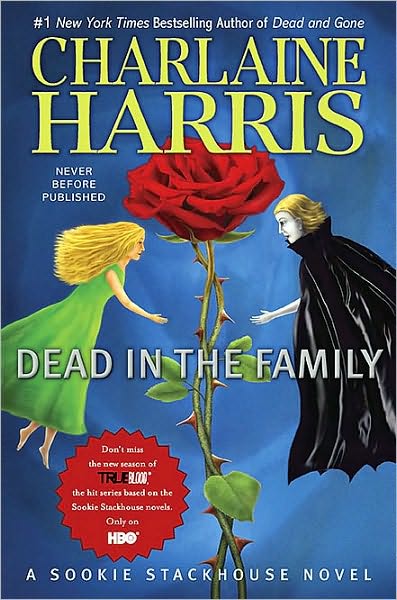 Another popular vampire series that we're eager to see back on screen is
True Blood
(which returns to TV on
June 13
)but for those of us following the adventures of Miss Sookie Stackhouse in print,Charlaine Harris will have the next book in stores well before then.
Dead in the Family
has Sookie mourning the loss of a long-lost and newly found relation as she struggles to maintain peaceful relations with her vampire and were connections. To make matters even more complicated, some of the Fairy folk whose feathers Sookie ruffled the last time are not totally gone from the scene.
While it may be awhile until some of these details make their way onto the show,Sookie is one interesting gal who has truly earned her fan following in all guises,making her one to watch wherever she goes(
May 4
):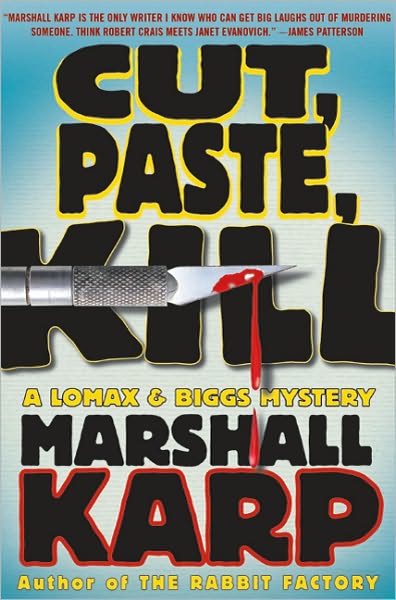 MURDEROUS MYSTERY TOUR
The fast talking team of
Lomax and Biggs
strike again this spring with another mystery title,courtesy of Marshall Karp.
Cut,Paste,Kill
gives the pair of L.A. police detectives quite a challenge as they hunt for a serial killer who has an elaborate signature.
Each of the victims has a personalized scrapbook left by their body,detailing their bad deeds which seems to be the motivation for this spree of vigilante justice. While there appears to be more than one helping hand eager to assist in solving this case,Mike Lomax and Terry Biggs both know better than to trust an all-too-willing source.
In addition to this growing series,Marshall Karp is also collaborating on a mystery tale with another big bestselling author,James Patterson. While I look forward to seeing how that turns out,it'll be great to see more Lomax and Biggs books coming down the pike. Karp is one of those nice guys you hear about that deserve to finish first(
June 8
):
Unfortunately,we won't be getting more from Stieg Larsson due to his untimely departure from this earth but at least his literary legacy seems to be taking firm root with readers. The final book in his Millennium trilogy,
The Girl Who Kicked the Hornet's Nest
,is set to be released by the end of May.
As investigating computer hacker Lisbeth Salander lies in a hospital bed,recovering from a gunshot wound to the her head,she plots her strategy in not only dealing with her injuries and upcoming legal actions against her but in getting the last word with the forces that made Lisbeth so vulnerable to attack. While Hollywood plots to remake their own versions of these books,the
original film adaptations
should be made as widely available as their print counterparts.
No need to fix up something that works right in it's intended format,just to resell to the masses. I suspect that if Stieg were still with us,that would be his take on the matter(
May 25
).
WOMEN ON THE VERGE OF A PERSONAL REVOLUTION
Brunonia Barry made a dazzling debut last year with The Lace Reader and returns to the literary forefront with
The Map of True Places
,which has another female lead dealing with the ghosts of her past. Zee Finch is given a sorrowful reminder of her mother when one of her therapy patients that resembles her greatly makes the similar choice to end her own life.
Zee leaves her practice and goes home to Salem,reuniting with what's left of her family and seeking a route to reclaiming her happiness. Barry loves to set her stories in Salem and blends some of the local history into her narratives,adding a touch of historical spice to her intimate tales. Her first book was quite a heady brew and flavorful to boot,making her work definitely worth having a second cup of storytelling tea with(
May 4
):
Sally Gunning's new novel
is an out and out period piece,with quite a bit of spunk and sparkle growing within it's heroine.
The Rebellion of Jane Clarke
takes place in Boston during the early days of the Revolutionary War,as Jane goes to live with her ailing Aunt Gill and is exposed to some of the tensions and violence that is sprouting up all around her due to the debate over who should rule the American colonies.
Things come to a head when Jane is a witness to the infamous Boston massacre(which had five men die at the hands of British soldiers)and must openly choose where her loyalties lie. A number of true life historical figures make appearances in this book and bring some authentic flair to an engaging narrative that showcases what life was like for a young woman of that time caught in the crossfires of social and political change(
June
):
RUSSIAN REMIX ROBO-ACTION LIT
The gang at
Quirk Classics
is still on the warpath with more literary remixes,this time tackling a hallmark of Russian literature with
Android Karenina
. Sense and Sensibility and Sea Monsters' co-author Ben Winters adds his vivid imagination into retooling the timeless romance of Anna,Vronsky,Kitty and Levin as part of a high tech world of robot butlers and literally out of this world settings.
The love story aspects of the book have to compete with the rise of the machines against their masters,which should make for some interesting scenes on page. It does make sense in a strange way to ramp up the robot action here,since as the old saying and Pat Benatar song goes,love is a battlefield(
June
):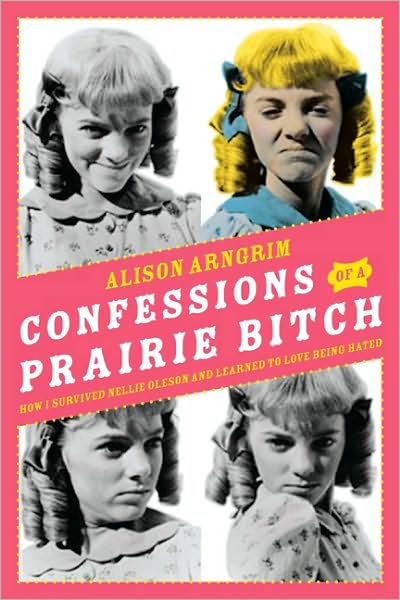 LITTLE HELLION ON THE PRAIRIE

Actress
Alison Arngrim
is best known as Nellie Olson,the mean girl rival of Laura Ingalls on the beloved family show Little House on the Prairie.
Instead of bemoaning her fate as a former child star,Alison has embraced her claim to fame with a humorous one woman show and now a memoir due out this summer,
Confessions of a Prairie Bitch
,which goes over her adventures in Hollywood and beyond.
It's truly refreshing to see someone celebrate her status as a love to be hated character with such good spirits and witty bluntness. Even if you've never watched Little House,Alison's book promises to be a breath of freshly fierce air on the TV nostalgia circuit(
June
):
Hopefully,a few of these books should be a welcome relief from the doldrums of summer movies and TV that may be full of hot air hype instead of solid popcorn entertainment.
Then again,if you really want some movie magic this season,another singalong release of Grease is scheduled to hit the multiplexes,complete with subtitles for the song lyrics,which is sort of like reading. Even without words on the screen,Grease is still the word which will allow a sweet summer soundtrack for beach reading: