The big celebrity book release of the week is Kitty Kelley's
Oprah,A Biography
,an unauthorized look at the talk show diva's life that has many media folks shunning Ms. Kelley in fear of the fury that may be unleashed upon them for promoting it.
Kitty Kelley is no stranger to controversy when it comes to her biographies,which have skewered movie stars,politicians and even the royal family of England. Her books have been hot button topics of debate,particularly regarding the accuracy of her research but she's never been sued for libel(so far,anyway).
I remember hearing so much about her books when I was growing up that I never felt the need to read them,since all of the salacious secrets she had packed in between the covers were revealed through interviews and articles with and about Kelley's latest target.
In some circles,her name is still considered synonymous with trash journalism and tabloid writing-in fact,she became so notorious that someone actually did an unauthorized biography on her,a twisted compliment to her literary fame there.
As I write this,many of the gossipy goods about Oprah that Kelley dug up are spilling over into the vast pit of the internet info machine and with there being some truth to that old saying about there being no such thing as bad publicity,her Oprah book should sell rather well for a while. Even with the lack of major media exposure,Kelley knows how to play the PR game to her advantage:
She wasn't the only tough tomato on the unauthorized biography beat back in the day;Albert Goldman and his scathing looks at music icons Elvis and John Lennon made Kitty's books seem like sedate tea parties. He wasn't much of a charmer when it came to talk about the veracity of his research either.
Like Kelley,Goldman wasn't hit with any lawsuits for his harsh revelations about his subjects(he openly admitted to disliking Elvis' music)but was reviled by both fans of the artists and book critics alike. I never read his books either but do believe that whatever truths he might have brought to light were buried by his haphazard work methods and abrasive personality:
The one big tell-all celebrity bio I did read was
Wired by Bob Woodward
,having more of an interest in learning more about John Belushi,someone who I had watched for years on SNL and later his movies and his sudden death had quite an impact on me. He was the first media star of my generation who left the stage all too soon.
Woodward's credentials as a writer and journalist were head and shoulders above Kelley and Goldman but that didn't prevent people from being outraged at the depiction of Belushi as a crazed drug addict and some of Belushi's family and friends who had been interviewed for the book felt betrayed by the end result. The film version of Wired did even worse with audiences and while the book is currently out of print,you can't deny that it was quite an eye opener: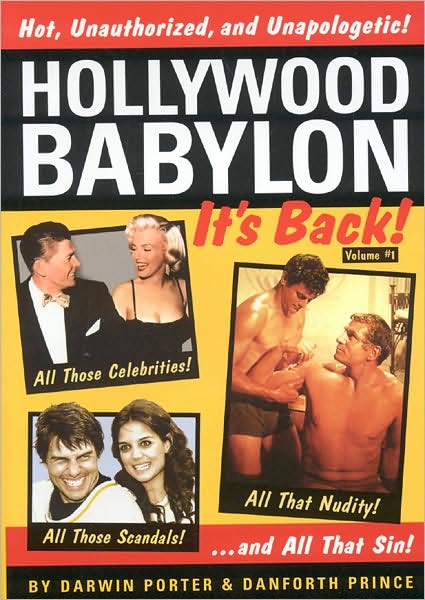 Even with another Kitty Kelley unauthorized book hitting the stands,I truly wonder if the impact of tell-all tomes has any resonance in today's media saturated world. With daily coverage of celebrity scandals like the Tiger Woods affairs and the Sandra Bullock/Jesse James saga,not to mention that there are not whole shows but entire TV networks and websites devoted to exposing the dirty little secrets of the rich and famous,how much weight does a book like this have anymore?
Frankly,the last couple of unofficial bios about Michael Jackson and Tom Cruise weren't as revealing about their eccentric behavior as the documentary Jackson paraded himself around in or the contentious interviews Cruise gave on Oprah and the Today Show. Also,we have numerous reality show "stars" who are jumping up and down to tell us every minute detail about their existence and if that entertains you,fine with me but I doubt the cast of The Hills or The Jersey Shore will be inspiring any aspiring authors to pen their life and times.
Time will tell,I guess. Celebrity gossip is like a little black dress,it never really goes out of style yet should be used sparingly. As with most bad pennies,it tends to turn up when least expected,so keeping a sharp eye on sources is a smart idea. People tend to believe in what they see in print most readily,so perhaps this gaudy genre will survive to scribble about scandal using a new set of magic tricks up it's sleeve: