The gang at Quirk Classics,best known for their monster mash take on Jane Austen,have tackled both a new author and subgenre for their latest release. Ben Winters,who charmingly morphed sea monsters into Sense and Sensibility,takes the reins of
Android Karenina
,a steampunk version of Leo Tolstoy's timeless tale of forbidden love in pre-revolutionary Russia.
The new remix of the novel begins with a revamp of the book's classic opening line about happy families-"Functioning robots are all alike;every malfunctioning robot malfunctions in its own way"-and then picks up the thread of the regular story,set in a world where robots of all sorts are part of everyday life,from Class I that do most of the dirty work to Class III companions that are given to those in the best society(and even remain with them when they fall into the worst company).
Love triangles start to form,as Levin pines for Princess Kitty,who is experiencing her first young love with Count Vronsky,a dashing officer not looking for a long term relationship of any sort but enjoys the attentions of Kitty as much as those of his robo-wolf,Ludo.
However,when Kitty's enigmatic sister in law Anna,and her equally as alluring Class III robot Android Karenina enter the picture,everything changes. A spark more powerful that the groznium which fuels their machines ignites when Anna and Vronsky meet each other,again and again.
As Levin leaves to bury his unrequited love at his groznium mining farm and Kitty goes off to Venus with her family,Anna fights her feelings for Vronsky but not even the comforting presence of her silent cyborg companion can stop the burning passion brewing between her and Vronsky,who has fallen in love for the first time in his life:
This unexpected romance does not go unnoticed,particularly by Anna's coldly reserved husband Alexei and his metallic Face feature,which happens to be a secretly installed artificial intelligence directly connected to the mind of it's host. The balance of power between machine and master is in jeopardy,as The Face uses Alexei's jealousy to slowly take over his body and act on it's own agenda.
This development is disturbing,as there are sinister forces at work who are using deadly advanced robots and other illegal technology to stage a rebellion against the government(who may or may not be in league with extraterrestrial life forms planning to conquer Earth). Love is truly becoming a battlefield here:
Meanwhile,Kitty's broken heart is on the mend despite the sad setback of seeing one of her new friends blasted into space for her controversial spiritual beliefs. As she returns to Earth,another chance for Levin to offer her his love is there but will it be accepted?
If so,can these two crazy kids get it together before their world is overrun by the forces of UnConSciya(the collective of mad scientists types trying to seize control)or other even more deadly mechanical foes waiting in the wings for their prime moment to activate their prime directive? Even with all of the glories of technology at their fingertips,finding true happiness is still a hard row to hoe in Tolstoy's re-imagined realm: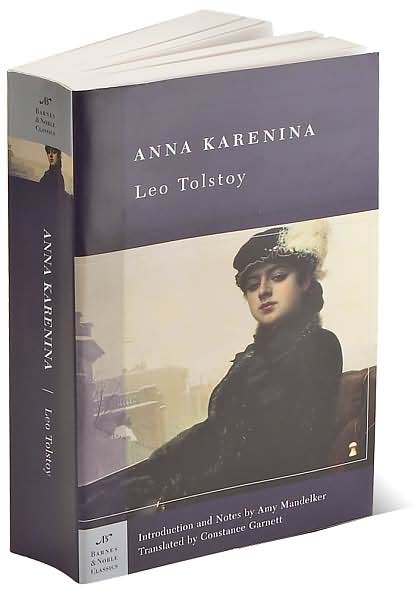 Having never read Anna Karenina before,I chose to read the original along side the Quirk Classic edition(it helps that I have the Constance Garnett translation,which Android K uses as it's launching off point)and it's a fun way to be introduced to the novel. While Anna K. has a higher page count than Android K.,you can still keep up with the themes of love and indecision about life that hold steady throughout both stories.
Ben Winters' use of the robot companions as background listeners to the woes of the characters(which were written as interior monologues)is truly inspired and the blending of steampunk sci-fi into the carefully orchestrated social patterns of such an elite repressive society clicks together like cogs in a well oiled machine.
Tolstoy is quite a huge leap for the literary remix genre to take,but Winters and Quirk Classics really hit a home run with this one. Android Karenina is a nifty combo of required reading and escapist fun that should rocket Russian literature to the top of the charts.
Now,if you would like to win a prize pack of goodies from Quirk Classics that includes an Android K. poster,a Pride & Prejudice & Zombies journal and other Quirk titles like How to Survive a Horror Movie by Seth Grahame-Smith,just follow
this link
and mention this blog when you post your entry into the
Android Karenina Blogsplosion
contest. The deadline is June 17,with twenty five chances to win and I hope a couple of my readers end up in the winners' circle,so good luck to all!
As for the book,all systems are go for another runaway hit here. Love and logic are opposing forces that are destined to clash with each other,as Tolstoy's novel has proven to us for many years now. Android Karenina backs those fictional files up with amusing automotive angst that packs an emotional punch: