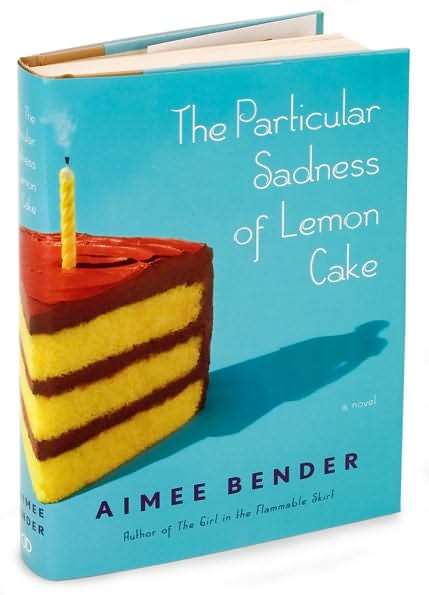 Food related fiction has become a steady genre that also comes with it's own set of cliches and easily recognizable formats. However,new twists upon the same old recipes happen both in the kitchen and on the bookshelf rather frequently and here are a pair of new novels that deliver those goods with very different flavor profiles.
In
Aimee Bender's
The Particular Sadness of Lemon Cake
,we first meet out heroine Rose at age nine,where she first discovers an unappetizing empathy with food as she tastes her mother's emotional neediness in the birthday cake specially made by Mom for her.
After some outside experimentation(with help from her brother Joseph's best friend George),Rose realizes that her ability to feel the emotions of whoever prepares her meals is not limited to home.
Adjusting to this new way of eating has her relying on factory processed fare and keeping some unsavory secrets that occasionally crop up during mouthfuls at the dinner table. Over the years,Rose learns a few hidden details about her family that are not discernible through her psychic sense of taste and that she is not the only one suffering in silence from unwanted extraordinary abilities.
Ultimately,Rose has to decide whether she will be ruled by her unusual senses or have them work for her as a means to discovering her true path to joy in life.
This story may sound like a culinary version of Heroes at first,but it's really more of a tale that has the slow simmer of inner family disharmony along the lines of American Beauty or The Ice Storm. Bender skillfully crafts the scope of one family's implosion and how each of them chooses to walk away(or not)from the wreckage is bittersweet yet lovely with it's subtle haunting tones and compelling portrait of a young woman searching for her own inner self to savor.
While Rose may not have a super power that requires a cape and costume,her insights into the emotional make-up of others transform her in ways she could never imagine or expect at times,such as tasting a wonderful onion soup that helps her to cope with a strangely sad experience in her life. The Particular Sadness of Lemon Cake has a offbeat flavor that brings both the reader and it's narrator a sense of a brighter discontent which makes the bizarre nature of life a little easier to live with: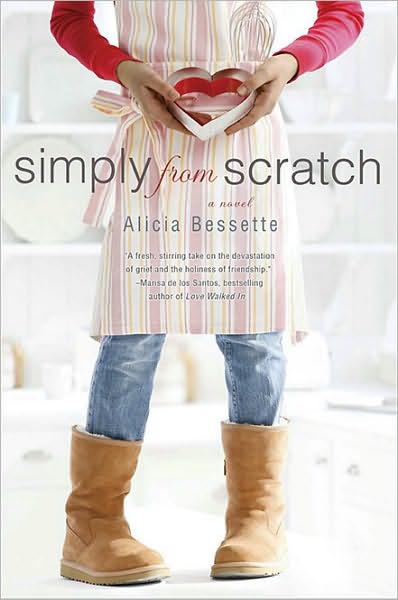 Alicia Bessette's
debut novel,
Simply From Scratch
,starts off in a blaze of glory as Rose Ellen Roy(known to her friends as Zell) has her small town of Wippamunk's fire department save her house from the fire she accidentally set in the kitchen.
Zell was never much for cooking,that being one of the tasks her husband Nick used to take care,before he died while on a trip to help build new homes in post Katrina New Orleans.
She's still deeply mourning him after more than a year,with only her memories and their rescued from the racetrack scene greyhound,Captain Ahab,as company. Her world expands,however,by becoming friends with Ingrid,her new neighbor who's nine years old and a huge fan of the popular cooking show hostess Polly Pinch(who she believes is her missing mother).
While not wanting to overly encourage Ingrid's all consuming devotion to Polly and her growing culinary empire but needing a new outlet on life,Zell teams up with Ingrid to enter the Desserts That Warm the Soul contest. The top prize is twenty thousand dollars,the exact amount of money that Nick was planning on raising to donate to the Katrina restoration and a chance to meet Polly Pinch in person on her new talk show. One contest,two goals that take both of these gals to destinations far and way beyond their imaginings.
Much like Zell's early efforts at baking,the book has a few unsteady moments at the beginning but progresses nicely to the point where you don't want to put it down,for fear that you'll miss out on what happens next.
After awhile,Bessette sets her story and various characters on a course that's as smoothly soulful and sentimental without sap which makes you want to
sing along
with the prose,much like the Gladys Knight songs that Zell turns to and tunes into for comfort. Simply From Scratch shows that life is anything but that at times,yet finding it's sweetness to share with others makes those bumps in the road better to handle:
The Particular Sadness of Lemon Cake is available at a bookstore near you and Simply From Scratch is set to arrive on August 5th. Both of these books are wonderful reads,especially if you're on the hunt for a novel that embraces female family ties that leave a satisfying aftertaste in your heart and mind.
While the foodie fiction genre may appear to be just literary comfort food,as in all good recipes,the richness of the completed work holds layers of flavors that need patience and persistence to be fully discovered and properly enriching to your creative palate: