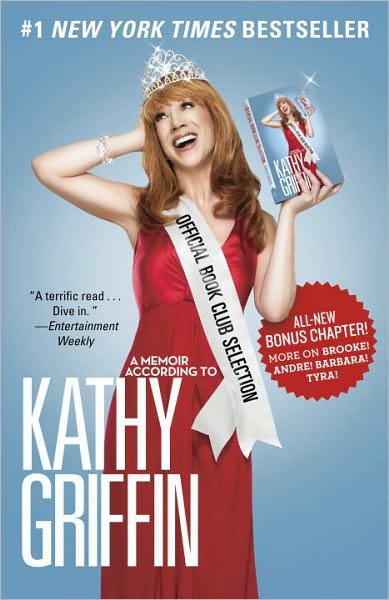 It's been awhile since I read a celebrity memoir or even a bio;those tales from famous faces were quite the literary catnip for me back in my teens and I couldn't get enough of them.
Over the decades,alas,the need for such juicy slices of backstage Hollywood in print were more sustained via countless cable TV specials and online celebrity news,to the point where I had to wean myself off of the gossip mill to make room for other fun facts to know and tell in my brain.
Yet,part of me still holds some interest in Tinsel town minutiae,why is probably why I picked up a copy of
Official Book Selection
,now in paperback,a memoir by
comedienne and reality show star Kathy Griffin.
While I don't watch My Life on the D-List(nothing against it,just not my celebrity cup of tea),her comedy specials on Bravo are hilarious must-see TV. Part of the fun is Kathy's satirical takes on stars,which this book promises to deliver the goods on and sounded like it was worth a real look.
Kathy's book does more than serve up some slams on celebs,however. She also details her struggles in show business,both on the comedy club circuit(including a stint with The Groundlings in L.A.) and trying to break into movies and TV.
With bit parts on sitcoms like
The Fresh Prince of Bel Air
and a two
episode
deal on
Seinfeld
,Kathy slowly made progress towards reaching her career goals. When she landed a part as Brooke Shield's gal pal on Suddenly Susan in the late 1990s,it seemed like her ship had finally come in.
Unfortunately,that fame was short lived as Suddenly Susan ended after four seasons,leaving her to find another steady gig. Sitcoms were starting to go on the decline but Kathy's comedy chops were being well honed as she connected with more of the bigger Hollywood movers and shakers on and off screen:
With various stand up performances and other media appearances,Kathy soon found her comedic niche and audience,which lead to her Emmy award winning reality series,My Life on the D List,now in it's sixth season and growing strong.
Her style of humor has evolved from talking about whatever is on her mind to revealing the amusing and awful truth about celebrities,some of whom have not taken kindly to her quips about them.
Whether you find her shocking or silly,Kathy's down to earth no holds barred approach to the foibles of the rich and famous on any level of star status showcases her razor sharp wit nicely(if not always politely):
Kathy's laser focus on reality is not just aimed at celebs;she also thrusts her personal life and times into that spotlight glare as well,with photos of her plastic surgery scars accompanying her horror stories about those experiences for starters.
She also discusses her family,speaking candidly about why it was necessary to cut one of her brothers out of her life(said brother,who is now deceased,was abusive to women and sexually inappropriate with young girls amongst other sad details)and her troubled brief marriage as well. Kathy's emotional honesty mixed with the ability to laugh about herself and her loved ones is just as compelling to read as it is to listen to and be impressed by:
While I'm still in the midst of reading this book,it was hard to wait until the final page to spread the good word about Official Book Selection. Fans of Kathy may take to it quicker than others,yet even those unfamiliar with her take no prisoners prose will be happy to have climbed aboard her fame train here.
Official Book Selection makes for a great summer read,but folks looking for a fresh new title for their book groups this fall should consider it as well. Not only will it give your fellow readers plenty to talk about afterward,you can easily whip up a nifty show and tell presentation for the book that if it doesn't liven up your meetings,nothing else will!: