With the month of October soon to be upon us,it's important to note that fright fests are not only found on screens big and small but can be sinisterly showcased in the most terrifying arena of them all: the human mind.
Scary stories can become even more twisted on the page,flavored with your imagination as each fearful moment unfolds chapter by chapter before your very eyes. Of course,it doesn't hurt to add a few laughs in or change up some of the set in place dynamics of your genre in order to add a little extra spice to the scare sauce there.
So,for your reading pleasure,here are a handful of sinister suggestions to get you in that Halloween state of mind well before the costume party begins. All of these titles are in paperback,by the way,to make them slide into your trick or treat bag that much easier:
DOUBLE ZOMBIE TROUBLE
Fans of the living dead have a couple of fun titles to munch on this year,starting off with
Night of the Living Trekkies
by Kevin David Anderson and Sam Stall. The plot of this new Quirk Classics novel has a band of intrepid Star Trek fans going forth to attend GulfCon,a major Trek convention in the Deep South,only to find that their fellow Klingon and Captain Kirk devotees have turned into an army of ferocious flesh eaters.
Naturally,they do what any red blooded fantasy follower would do:use their arcane knowledge and mock combat skills to attack this invading force that grows faster in number and threat than Tribbles ever would. Zombies and Star Trek may appear to be an odd pairing but just think of this as a hilarious hybrid of Shaun of the Dead and Galaxy Quest,folks,and you'll be fine:
Jesse Peterson takes a slightly
more down to earth
approach to this material in
Married With Zombies
. Combative couple Sarah and David are too busy fighting with each other to notice the rise of the undead around them until a visit to their marriage counselor ends in a literal bloodbath.
Now,the stakes are even higher for this pair of all out of lovebirds,as they struggle to survive both the zombie apocalypse and each other. Combining romance with the living dead is certainly a new twist,one that could make any future film versions more of a true date night there.
Much like a long term marriage,the zombie genre does need to keep things interesting and a little love can make the undead madness fresh and fun for everyone involved,indeed:
AND NOW FOR SOMETHING COMPLETELY DIFFERENT
Gail Carriger's
Parasol Protectorate
series introduces the reader to Alexia Tarabotti,a sensible spinster in a Victorian era London where werewolves and vampires are somewhat accepted members of polite society.
Miss Tarabotti is not altogether human herself,being a "preternatural"(born without a soul)which makes her less susceptible to the hynoptic influence of certain immortals.This,however,does not make her safe from the various plots and strange schemes hatching between human and inhuman forces at work alike. Armed with otherworldly allies and a trusty parasol,Miss Tarabotti seeks to bring order to chaos and find a proper time for tea along the way.
The books are a blend of steampunk sensibilities and comedy of manners,suitable for many literary tastes,with a dash of romance and intrigue rounding it off nicely. The newest book in the series,
Blameless
,has just been released but it would be wise to start off with
Soulless
and then proceed to
Changeless
before taking the third tome up.
While some of the tone in these tales is rather tongue in cheek,manners are a serious consideration for Carriger's characters. If you think about it,being properly introduced to a vampire before he or she requests to partake of your blood is a pretty reasonable social standard to uphold: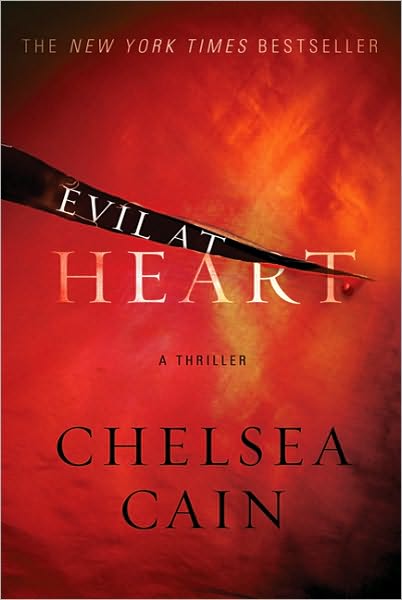 A DEADLY MEDIA DARLING
When we last left the tormented duet of Detective Archie Sheridan and beautifully evil serial killer Gretchen Lowell from Chelsea Cain's
Heartsick
and
Sweetheart
,the two of them had come to a gruesome understanding-Archie will not end his own life as long as Gretchen doesn't end anyone else's.
In
Evil At Heart
, that pact seems to be in place as Gretchen's celebrity status grows,with a legion of fans cheerfully counting off every day that she's loose on the world.
However,a string of murders that have victims bearing Gretchen's signature heart motif is causing Archie to wonder if Gretchen is back to her old tricks or is someone following in her blood soaked footsteps? The answer may be more horrifying than the questions sprouting up in this diabolical dance of death between hunter and prey: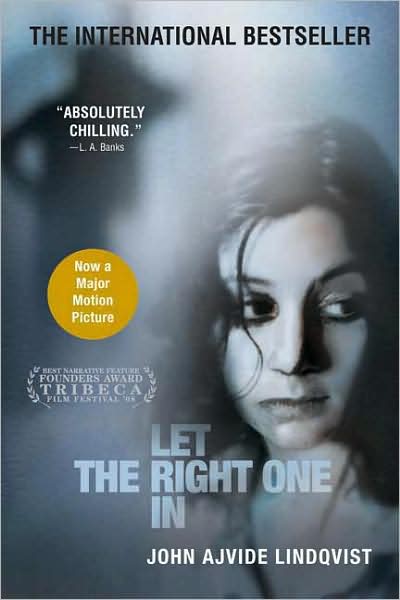 A VAMPIRE WITH REAL BITE
With the debut of the American remake of the Swedish horror sensation,
Let The Right One In
,due on October 1st,some might be surprised to know that both films are based upon a novel by Swedish author John Ajvide Lindqvuist and available to read in translation.
Whether you prefer the
new version
of this story or choose to stick with the first film that depicts the developing relationship between a bullied young boy and the alluring vampire child next door,checking out this haunting modern day fable of twisted love in it's original fictional format should be a real blood chiller:
Reading about horror may be a safe alternative to experiencing Halloween hi-jinks live and in person,but it doesn't have to hurt if you put down your book and get a taste of(tame)terror there. Halloween is meant to be live action fun and a great way to use your imagination in the interest of home grown entertainment.
You can pick your pop culture poison in many varieties but if you choose to step out of the fictional realm to create a real world prank,be sure to careful in your creativity and make sure your target audience is willing to have a laugh at their expense. Fun and fright shows should walk hand in hand on All Hallow's Eve,a great tradition to keep alive for future generations of fear fans: