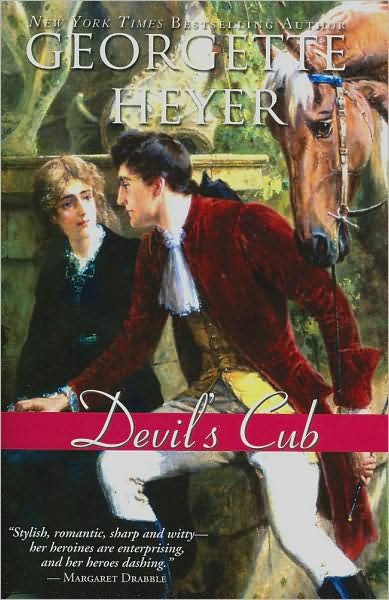 One of the joys of the month long salute to renowned Regency romance author Georgette Heyer ,that was hosted by
Austenprose
over this past summer,was in winning one of the books featured and my prize was
Devil's Cub
.
It first came out in 1932,as a follow-up to
These Old Shades
(which I have on loan from Booksfree)in which features the twists and turns of the affair between our leading man's parents and the next generation after that meets up in
An Infamous Army
,more of a historical fiction for Heyer that chronicles the battle of Waterloo.
The
plot of Devil's Cub
revolves around Dominic,Marquis of Vidal,whose devil may care attitude towards life and women has earned him the nickname boasted of in the title. Dominic is a charmer who manages to sweet talk and/or swagger his way out of scrapes but a drunken duel in a local gaming hall proves fatal for his opponent and the only way to avoid being hanged is to take off for France,until things die down at least.
Dominic decides to take a little portable amorous entertainment with him,namely Sophia Challoner a ditsy young miss on the make who believes that this trip will be the best way to trap him into marriage.
Sophia's younger sister Mary is much more sensible of how the situation will really turn out and takes her place at the scheduled pick up point. Things get far out of hand and Mary finds herself stuck in France with a man she despises and her reputation on the verge of permanent social ruin.
Dominic feels remorse over damaging the chances of a respectable woman and tries to make amends,which leads into several various schemes for righting what went wrong by more than one party.
I'm still in the midst of reading this book and enjoying every moment of excessive diversion that each page brings. When I first heard about Devil's Cub,Dominic seemed to me to be the type of character that Errol Flynn would play back in his Hollywood heyday-the dashing rogue with a heart of gold and a sense of honor regarding women. In following Dominic along on his adventures of the heart,hearing the dulcet tones of Flynn is far easier than I hoped to imagine:
Many Jane Austen fans are drawn to Heyer's works and the allure is most natural. While Heyer may not have the depth of character development and material that Austen possessed,she did capture the charms of the time period very well indeed,with plenty of social climbers and snobs jostling for prime position engaging in witty dialogue.
Finding true love that also suits your station in life is another common factor in both authoress' body of work. Heyer did quite a bit of research in order to paint a realistic portrait of the world that Jane Austen inhabited and took a few sly notes from to bring her now classic characters to life. Cleverness of mind never really goes out of style:
Heyer's novels are also sources of inspiration for many a modern day writer as well. Some of the key story elements of Devil's Cub can be seen in the third book of Lauren Willig's Pink Carnation series,
Deception of the Emerald Ring
.
Here,we have another smarter younger sister seeking to save the reputation of her elder sibling by doing an impromptu switcheroo upon discovering an inappropriate elopement. In this instance,however,spy games are the main bit of business for the characters to deal with,along with seeking a way to take to them to love.
Willig's Pink Carnation novels are fun reads,with the framework of a present day young researcher clashing up against a determined to keep any family secrets secure English man as the historical section of the book unfolds. Think of them as two great tastes in literature that go gloriously together:
Normally,I wouldn't read the second of three books first but in this case,entering the Alstair Trilogy with Devil's Cub is the best means of putting my best foot forward in Heyer's literary realm.
An Infamous Army happens to hold a place amongst my vast To Be Read piles(a little something I treated myself to over a year ago)and have a better chance of reading to completion due to it's predecessor's page turning charms.
It just goes to show that taking any genre or author for granted is only depriving yourself of an excellent time engaged in exploring all sorts of new creative vistas. Eclectic reading may not seem to be a steady use of your imagination to some but many can testify to the wonders of finding literary flair where it is least expected. Devil's Cub is just such a treasure awaiting to be unearthed at a bookshelf near you: