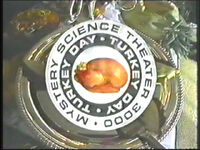 Tomorrow is Thanksgiving and as we here at LRG take a blogger's day off to celebrate this special time of feasting,movie marathons and shopping sprees that rival the running of the bulls in Spain for safety measures,it seemed like the perfect opportunity to offer up a handful of holiday hints about the most important aspect of the day.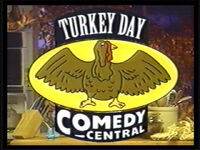 That,of course,would be the turkey. Granted,not everyone chooses to adorn their dinner table with the traditional bird but for those who are tackling that culinary challenge,help from any source can be most welcome. So,without further delay,here are our official LRG Turkey Day Talking Points to savor and smile at:
STUFFING AIN'T EASY
: An important part of the turkey prep work is the stuffing and while some recent schools of thought suggest that it's better to cook your filling outside of the bird,going old school can still be done with little risk of post-meal illness.
However,while you are cramming that mix of breaded herbs and spices into your turkey,keeping an eye on what is actually going in there is a good way to not lose your head over any unintended surprises on your supper plate as Mr. Bean did(and yes,I know this is from the Christmas special but it's not like they have Thanksgiving in England and for good reason!):
BE SMART BUT NOT SLICE HAPPY:
If your food shopping gets done at the last minute,you might have to resort to creative methods in order to make what you have on hand fit into the Thanksgiving Day paradigm. That is a tricky situation,even for experienced chefs,but with the right flavor combination and savory skill,triumph over edible adversity can be achieved.
Even if your guests are pounding the table and demanding to be fed,take your time in the kitchen and don't rush to get everything on the plate at once. Otherwise,the turkey won't be the only piece of meat that gets chopped there:
FRESHNESS IS AS FRESHNESS DOES:
The trend for seeking out and serving "substantial" food is a fine way to go when making up your menu but don't try to handle ingredients that are too raw without proper supervision. Otherwise,your main course can easily get the best of you in more ways than one:
DON'T SWEAT THE LEFTOVERS:
The best part of Thanksgiving dinner are the many ways in which you can keep on enjoying the turkey goodness days later,especially in sandwich form. Yet,getting all worked up over someone taking the last of the leftovers can be a tad much,even if that special sandwich is made just the way you like it. The taste of fear is a real appetite and companionship killer:
Happy Thanksgiving to one and all,with plenty of food and friends to share this time with. With all of the madness going on in our world on a daily basis,it's nice to step back and cherish the good things that we have in our lives,no matter how small and simple they might seem.
One of those basic joys is sharing a good laugh,so don't forget to pass the punchlines along with the potatoes. Do remember,however,that subtlety is a seasoning that flavors the most pungent of cutting remarks with salty goodness so use it sparingly and smartly: