Well,it's official,folks;the
nominations for the 83rd Academy Awards
have been announced this morning with plenty of expected and surprising names on the final list.
One of this year's co-hosts ,James Franco, has the dubious honor of being a Best Actor nominee for his performance in 127 Hours which will probably work against his chances of winning.
Also,when it comes to that category there are already two stronger contenders(more about that coming up)and the fact that Franco is still considered a relative newcomer to the field will only serve to make that envelope opening moment slightly pause worthy. Let's take a brief overview of the Oscar landscape and see what treats or tricks are in store for us:
GIVING THE KING SOMETHING TO TALK ABOUT
The most nominated film this year is
The King's Speech
,with 12 under it's royal belt. Those include Best Supporting Actor and Actress(Geoffrey Rush and Helena Bonham Carter),Best Original Screenplay,Best Director and Picture.
The best bet for a win here is Colin Firth as Best Actor. Much like Sandra Bullock last year,there is a tidal wave of both critical and audience support for him to get the award which should carry him to the stage with acceptance speech on hand next month.
Why this movie is getting the Oscar love can be broken down into at least three good reasons-
1
)backlash against technology driven films such as The Social Network(which received about 8 noms and will likely wind up with Best Screenplay as it's major prize)and Inception(Director Christopher Nolan was snubbed in the Best Director category and the film has mostly technical noms).
Plus,
2
)it's based on a true story with British royals,pure catnip for the Academy and
3
)the focus of the plot is a man overcoming a physical setback,something that Oscar folk have as much resistance to as Charlie Sheen does to a brothel with an open bar. Put that all together and you have quite the stylish award winner ready to be set on the movie mantel:
TRUE STAYING POWER
Next in line with the most nominations is
True Grit
,who earned 10 of them with Best Adapted Screenplay,Best Director(for both Coen brothers)and plum acting nods for Jeff Bridges as Best Actor and Hailee Steinfeld for Best Supporting Actress in her debut role.
Many were concerned about True Grit's chances,given that it received little attention from the Golden Globes and was doing well at the box office(some voters take a dim view towards money makers come award time). However,this film happens to be one of the few remakes that may have actually improved on the original,boosting it up to a higher status amongst it's peers.
While Bridges won Best Actor last time out for Crazy Heart,he's really the only key player up against Firth here. Javier Bardem(nominated for the Spanish language film Bituful) is already an Oscar winner and the other two fellas on the playing field(Franco and Jesse Eisenberg for The Social Network)are too green behind the ears,so to speak.
I'm not saying that Bridges will definitely beat Firth,who is on a powerful winning streak,but he is the only real chance for an upset there. Hailee Steinfeld might also be a surprise winner in her category,altho I am rooting for Melissa Leo(who won the Golden Globe for her role as the tough as bails mom in The Fighter). Given the talent assembled here and the positive reaction this movie is still gathering,it is safe to say that True Grit will not walk away empty handed on Oscar Night: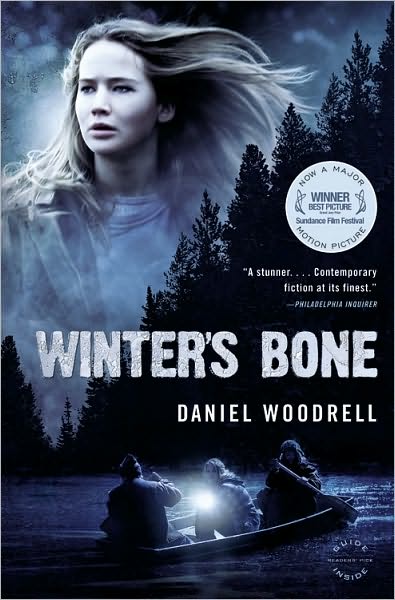 WARM RECEPTION FOR A BONE CHILLING THRILLER
One of the best surprises on this list was the growing number of noms for
Winter's Bone
,which not only has the anticipated Best Actress spot for Jennifer Laurence but a place for co-star John Hawkes in the Best Supporting Actor section as well.
The movie also is up for Best Adapted Screenplay(based on Daniel Woodrall's excellent novel) and Best Picture,which it truly deserves. This all too real tale of a young woman trapped in a dead end situation who must search for her meth dealing dad in order to save the family home is a small slice of rural Americana and a great display of storytelling prowess to boot. It's available on DVD and if you haven't seen it yet,there is no time like the present to do so:
BEST SONG COMING UP SHORT AGAIN
In the Best Song category,only four nominees were chosen and none of them were from Burlesque,which is stunning considering that one of those tunes won the Golden Globe. The songs that did make it were "Coming Home" from Country Strong,Tangled's "I See the Light" and Toy Story 3's standard Randy Newman tune.
What may probably get the gold here is "If I Rise" by Dido and A.H. Rahman from the soundtrack of 127 Hours. It's oddly melodic with a quiet quirky beat that will catch the ear of those who vote in this category. Best Song tends to be more of a risk taker these days and at least it's an interesting song:
Speculations on who will win,lose or draw are now being made but at the moment,it's too soon to tell how this movie madness will all wash out in the end.Congratulations to the nominees are in order and best wishes in particular to the most deserving.
In the meantime,there are several other film award shows to get through which might also influence the final Oscar tally so stock up on popcorn,folks. A word to the wise for those nominees who are worried about their speeches-just try to keep it simple. If Sandra Bullock can handle being an Oscar winner and a Golden Raspberry recipient within the same year,with plenty to say at each event,you can do it,too and within the allotted time period: