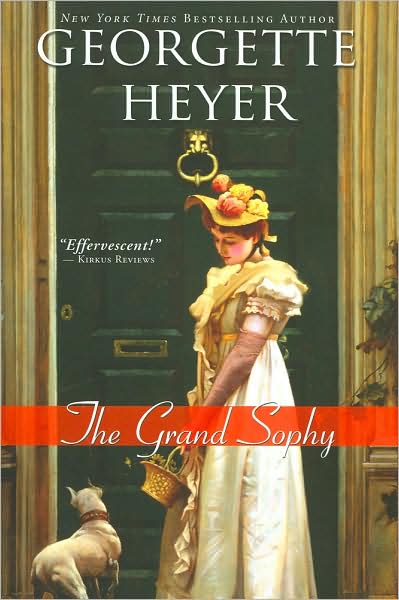 One of the first new book purchases I made this year was for a much loved Georgette Heyer novel called
The Grand Sophy
. Set during the Regency period,the leading lady of the title is a newly arrived cousin to the Omsberley family,whose fates are being determined by the stiff upper lip rule of elder son Charles.
Sophy,aka Sophia Stanton-Lacey,has early on in life been used to making her way about things and has no qualms about setting right what seems to be wrong. Her lively nature is hard to resist and even cousin Charles finds himself giving in to her schemes which turn out to be for the benefit of all.
I have heard
great things
about
this book
and as I'm still in the midst of it,Sophy puts me in mind of other engaging young heroines who are able to twist people around their little finger with a charming twirl and good intentions in their heart. As a salute to this delightfully diverting novel,I offer up a few kindred spirits as suitable pop culture companions for The Grand Sophy:
FLORA POSTE
Stella Gibbon's novel,
Cold Comfort Farm
,was written in the 1930s,the same time period that The Grand Sophy was as well. However, the theme of CCF is parody,mainly of the gloomy country side style of story telling that Thomas Hardy made so famous.
Yet,her heroine Flora Poste is more than a overseeing mocker of the trials and tribulations of the determined to be miserable Starkadder family who she winds up living with. She sees the ways and means to make everyone's life better and employs well expressed persuasion(along with various big city connections)to turn the direction of each family member's life towards the good,for their own good:
IRENE BULLOCK
Another 1930s plucky gal,Irene(played by Carole Lombard)is the seemingly ditsy daughter of a wealthy American family who hires Godfrey(William Powell)as their butler after choosing him as a found object for a scavenger hunt.
While Godfrey endeavors to give Irene and her wacky clan a bit of a reality check,Irene is also determined to make him a permanent part of her life. Granted,Irene is rather prone to getting overly emotional when it comes to getting her way but her motives are kindly meant.
Her sweetness and persistence in pursuing her goals is what makes Irene a true darling of a diva.
My Man Godfrey
is based upon a novel by Eric Hatch and while June Allyson starred in the 1957 remake,the real charm comes from Carole Lombard's original performance:
CHER HOROWITZ
Since writer/director Amy Heckerling based her 1995 teen comedy
Clueless
on Jane Austen's Emma,this feature film showcasing the moxie of silly but smart and sweet at heart Cher does have a bit of a literary pedigree.
Like her Austen template,Cher strives to share her well meaning wisdom and considerable fashion sense with those in and even outside of her social circle. While she may not be as savvy as she thinks,Cher does have a darling determination streak in her that is always in style:
ELLE WOODS
Last yet not least on our hit parade,the bubbly blonde Elle of
Legally Blonde
truly appeared to be a real flashy fish out of water as she enrolled in Harvard Law school. Like her other sassy sisters in arms,Elle displayed her mental flair along with her flair for recognizing the best methods of haircare.
What makes her so likable is her willingness to help those who really need it,such as lovelorn beautician Paulette who had to get back her beloved dog from one bad ex-boyfriend while hoping to land a much better beau. Elle's lessons on the power of the bend and snap were most useful in helping Paulette catch the eye of her UPS main man ,even when her snap was too strongly executed:
The Grand Sophy is quite a glorious read and it's relentless jolly heroine a lady worth knowing. Despite the old fashioned setting of this story,Sophy is certainly a lovable role model for future leading ladies in the romcom genre and one that would certainly be welcome in this current age of awful airheads we've had thrust upon us lately.
Maybe we should look to the Brits to save us from our lackluster heroines or encourage the ones we have to act a little more English. Then again,American gals are just as renowned for their spunk,so maybe all they need are better scripts and a little extra motivation: