With the recent release of another cinematic adaptation of Jane Eyre,most movie goers might be quick to assume that their literary based film quota has been filled.
However,we have several other flicks coming out within the next few months that happen to have a previously published book connected to them. A couple of these from page to screen sensations may be on your pop culture radar already but just in case they're not,let's look at the latest in "from the bestselling book by..." coming soon to a theater near you:
First up is
The Lincoln Lawyer
, based on Michael Connelly's novel that is due to open up this Friday. Matthew McConaughey stars as Mickey Haller, the legal eagle of the title, who does his business with dubious client right out of his car.
Haller gets a chance at the big lawyer leagues when the son of a wealthy man needs his help in proving his innocence in a rape and attempted murder case. The only trouble is,his new client might not only be guilty of this crime but may have also set up an innocent man that Haller defended years ago for a similar offense.
It's been awhile since McConaughey's been in a good movie and so far,it looks as if he and Connelly's work may be a perfect match:
Many devoted readers of Sara Gruen's enchanting novel
Water For Elephants
will be fervently waiting in line on April 22 to check it's film version.
Twilight leading man Robert Pattinson was cast as disillusioned veterinary school scholar Jacob who finds his purpose along with the love of his life(Reese Witherspoon)when he joins a traveling circus that's run by a charismatically cruel ringmaster(Christoph Waltz),which has risen an eyebrow in many a corner.
Yet,it is only fair to give Pattinson a chance to shine in this role,especially since the Twilight series is just about done and who knows,he might surprise us all in a great way in the end:
For something more on the lighter side,we have
Something Borrowed
based on the chick lit novel by Emily Griffin. Gennifer Goodwin plays Rachel,a lonely lawyer who winds up in bed with longtime crush Dex(Colin Egglesfield). As is the way of these things,Dex is engaged to Darcy(Kate Hudson),Rachel's best frenemy who snatched him away from her right from the start.
This may sound like another typical romantic comedy of errors but Griffin's books do have a nice following and this one in particular has garnered plenty of good word from readers,so we may be in for a real treat here this May:
For those seeking a bit of serious shade under the blockbuster sun this July,your golden ticket to buy should be for
Snow Flower and the Secret Fan
.
Wayne Wang,who directed another well written female friendly novel adaptation,The Joy Luck Club,brings to life on screen Lisa See's acclaimed book about the strong bonds of friendship between a pair of girls(Li Bingbing and Jun Ji-hyun)that proves to be the strongest connection in both their lives.
Hopefully this vivid rendering of a sisterly love story doesn't get lost in the summer movie shuffle. Even tho I haven't read the book myself,the movie holds the promise of a truly worthwhile cinematic experience: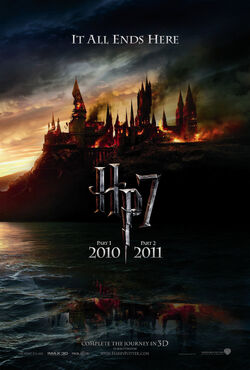 Of course,we do have a few big book based flicks to look forward to,including the second half of
Harry Potter and the Deathly Hallows
,which has more than it's share of expectations to live up to.
Some might see splitting the final Harry Potter film into two parts as a gimmick(the last book in the Twilight saga,Breaking Dawn,plans to follow suit)no better than 3-D,but if any book deserved to have as full an adaptation as possible for the big screen,this one is it,folks.
With any luck,the Deathly Hallows finale will be just as rousing an entertainment and as moving as those last pages of the book were. Given the almost magically appeal of this story in both formats,the odds on that are very good indeed,making the trailer a true promise of movie magic goodness to come: