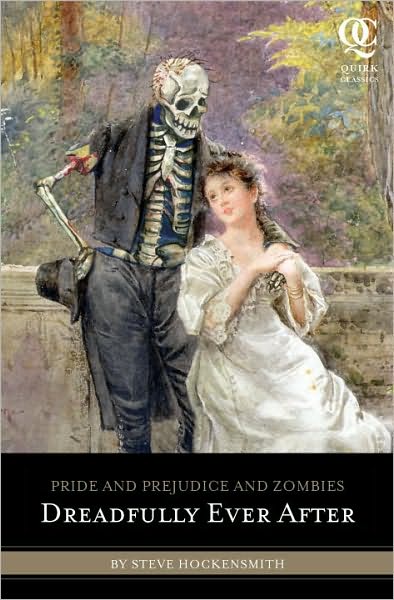 In this third volume of Quirk Classics'
Pride & Prejudice & Zombies
series,entitled
Dreadfully Ever After
,we meet up with Elizabeth and Darcy a few years into their marriage which seems to be coming to an emotional crossroads.
It seems that Mrs. Darcy regrets having to give up the joys of battle against the still threatening menace of unmentionables as part of her duties as a respectable wife. That combined with a dread of becoming a mother has caused a breech between this once loving couple just before the greatest challenge to their future is thrust upon them.
While walking home,Mr. Darcy receives a most unfortunate bite from a local boy whom he failed to realize was a recent member of the dreadful race. Elizabeth manages to keep her husband alive and conceals the real cause of his injuries for as long as possible,yet has no choice but to turn to the one person who can help him avoid joining the army of the undead- the formidable Lady Catherine De Bourgh:
Lady Catherine's plan is to have Elizabeth go into London disguised as a wealthy widow in order to seduce a nobleman who has access to the only known cure for the dreadful condition.
Accompanied by her father and sister Kitty(along with an unexpected visitor or two),Elizabeth reluctantly goes along with this scheme. While the insult to her honor is difficult to bear,the gruesome alternative of beheading and burning the body of her beloved husband is much worse.
In the meanwhile,Darcy begins a slow recovery at Rosings,with his cousin Anne keeping a scarily close watch on him. As Darcy struggles to retain his humanity,the cold comfort that Anne offers has it's charms as well as chills:
Elizabeth and company are able to make a social connection with the targeted nobleman and his foolish son,the younger catching the flirtatious eye of Kitty but not her heart.
As the Bennet clan gets deeper and deeper into the intrigue involving the antidote for the curse of Zed,which has Bedlam hospital and the re-crowning of Mad King George as pivotal points within the plot,it turns out that there is more at stake than the returning of Mr. Darcy to his former mortal state.
Opportunities of revenge and betrayal are being carried out,using the untimely timeliness of Darcy's plight as the perfect excuse. However,crossing swords with any one of the Bennet sisters,metaphorically or literally speaking, is not an occasion to be dealt with lightly: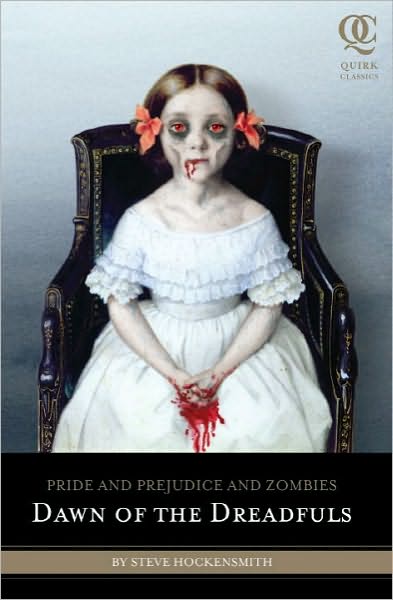 This finale to the P&P&Z saga is written by
Steve Hockensmith
,who also penned the prequel
Dawn of the Dreadfuls
that came out around this time last year. Like that earlier book, Dreadfully Ever After is more of a Jane Austen themed work rather than a literary remix of Austen's novels.
DEA is amusing,particularly if you enjoyed DOTD,and the illustrations that accompany it are delightfully grim. I especially liked how Anne De Bourgh was portrayed,both in print and picture form. She's given a giddy gothic nature here that makes her a much livelier character,oddly enough,and an intriguing one as well.
Dreadfully Ever After is on sale today and Quirk Classics is holding
a giveaway contest
in it's honor. Just click "Like" at
their Facebook page
for the book and you could win one of eight specially made "antidote" necklaces created by Carol Linn(aka
Specialmea
t)at Etsy. The prizes will be given out in April.
Also,later this week,a book trailer for DEA will be online but don't wait until then to snatch up a copy of this frightfully entertaining read. The P&P&Z series is now complete but perhaps we are not totally finished with it-there are the marvelous monster movie versions to be savored over,hopefully soon at a theater near you:
UPDATE:
The trailer for Dreadfully Ever After is now available and just as eerily entertaining as the earlier one for DOTD-bon appetite!: