While 2011 is officially the Year of the Rabbit,tigers seem to be getting more and more attention than they did when it was their turn last year and not always for the better either.
From the parenting debates over Amy Chua's Battle Hymn of the Tiger Mother to Charlie Sheen's claims about that ferocious feline blood coursing through his veins,tigers are getting a bad rep that such great jungle cats don't deserve.
To offset some of this negative pop culture PR,here are a handful of reminders,past and present,about just how great tiger imagery can be:
TIGER-IFIC READS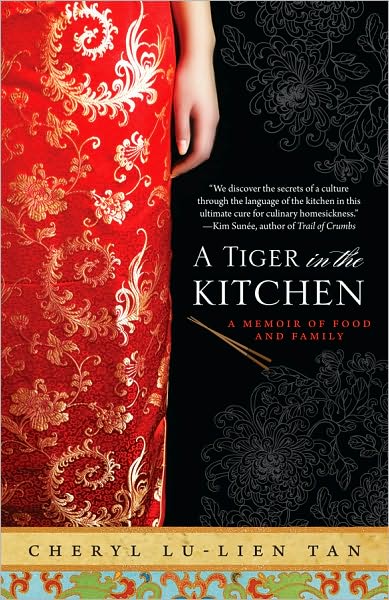 In the new foodie memoir,
A Tiger in the Kitchen
, Cheryl Lu-Lien Tan tells the story of how she went back to her homeland of Singapore,after being away since the age of eighteen, to learn how to cook those traditional dishes that brought back the best memories of her childhood.
In taking lessons with her aunties,Cheryl also learned more than she expected about her family's background and history,making her appreciate those long held traditions that tie them all together.
I was thrilled to have won a copy of this enchanting book from Library Thing and hopefully will be joining the throng of culinary readers who are savoring every delightful morsel and page. There's nothing like a good meal to bring a family together and even preparing for one can be it's own reward:
Sarita Mandanna's debut novel,
Tiger Hills
, is set on a coffee plantation in South India when young Devi seems destined to marry Devanna,the boy she grew up with. However,all that changes when she first glimpses Manchu,a celebrated tiger hunter who she vows to be with when she becomes of age.
Devi does achieve that romantic goal but finds that the price for that dream is higher than she expected and impacts more than one life. There is already quite a bit of good word being spread for this new novel and it should make a strong splash amongst book club folk as well:
CUDDLY CARTOON KITTIES
Tigers have their sweet side,too,especially Frosted Flakes pitchman
Tony The Tiger
who has been on the job since the cereal originally hit grocery shelves back in early 1950s.
The best known voice of Tony for the various TV ads over the decades belonged to Thurl Ravenscroft,whose distinctive brass vocals made the catchphrase "They're Grrrreat!" really ring out and stand out for each new generation.
Even with the passing of Ravenscroft in 2005,the dulcet tones of Tony the Tiger are still being carried on today(thanks to Lee Marshall) and charming consumers in just about every age bracket:
Speaking of sweet,an all time favorite character in the world of Winnie the Pooh is
Tigger
,that bouncy kitty who invades your space on a moment's notice but it's hard to stay mad at such a such a good natured fun loving feline.
His popularity grew with the Disney adaptations of Pooh and friends,with Tigger being a constant figure in both big screen and small productions,even becoming the star of his own film called,of course,The Tigger Movie,back in 2000. No doubt amongst the Thousand Acre Woods faithful that this wonderful cat will never lose the bounce in his step,which is good since he's the only one who can do that right:
THE TALE OF TOONDER THE MAGNIFICENT
One of the many St. Olaf related stories that Rose Nylon told her
Golden Girls
roommates,whether they wanted to hear them or not,was a fable about a tiger named Toonder the Mediocre who was granted a wish by his wife's fairy godmother to able to perform feats of magic(don't look at me,I didn't make this one up!).
The newly popular tiger changed his name to Toonder the Magnificent and while his fate didn't make a lasting impression on Dorothy,it did encourage Blanche to try and team up with Rose to write a children's book. That worked out as well for them as the conclusion of Toonder's little story did for him but it was still amusing anyway:
Hopefully,tigers will start to get good press again and let us all strive to keep happy thoughts and images about them in our imaginations as well as hearts. There are enough dubious characters out there giving these elegant creatures a hard time in the pop culture arena as it is: