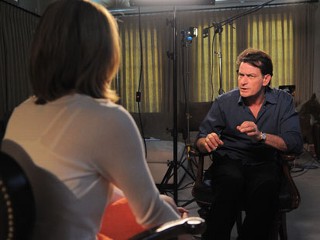 With all of the craziness going on in the world these days,it's been hard to ignore the
media madness tour
that Charlie Sheen has been on lately.
From radio show rants to TV morning show interviews and a prime time special that aired on ABC last night,Charlie is hellbent on spreading his particular brand of insanity across the pop culture landscape.
Granted,when it comes to the safety of his soon-to-be-ex wife and kids,this is far from funny(as of this writing,the children in question are now back with their mother,thank goodness) but on the other hand, Sheen's self destructive streak has turned into one of those situations where you either have to laugh or cry. As a merry musical salute to Sheen and his " special brain",let's put another dime in the jukebox and see what comes up on Charlie's insane IPod playlist:
I SAID NO,NO,NO!
Clearly,the boozy words of Amy Winehouse must be sloshing about in Charlie's head as he insists that a stay in his "Sober Valley Lodge" is the best cure for what ails him. While he and Amy most likely share different tastes when it comes to their drink of choice,it's not to imagine the two of them drowning their sorrows in sync:
TIGER BLOOD BALLAD
Sheen's boasts about his unique physical powers,such as his "Adonis DNA",and his declarations of war against CBS,Warner Brothers and his Two and a Half Men producer Chuck Lorre certainly call for a soundtrack to back those claims up.
Since he is preparing for many legal battles,a tune from one of the Rocky movies makes sense and it is fair to assume that ,with tiger blood flowing through his veins,Charlie also has the Eye of the Tiger as well: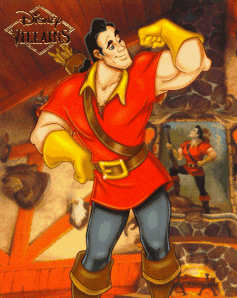 NO ONE RANTS LIKE GASTON!
With Charlie's troubles of late,many other celebs have lent their support to his cause such as Colin Farrell,Sean Penn and Mel Gibson. While to me,seeing those guys show up on my doorstep would be akin to being up on murder charges with O.J.,Phil Spector and Robert Blake on deck as my character witnesses,their presence seems to be reassuring to Sheen.
Between this bunch and Charlie's goddess gal pals,plenty of sycophantic praises are no doubt being muttered to him on a daily basis. Just substitute the name Gaston for Sheen in this Beauty and the Beast bad guy ditty and you'll have a good idea of what Charlie's choir is singing for him:
HE IS BIG,IT'S THE PICTURES THAT ARE SMALL
Despite the fact that his sitcom is in dry dock and may be gone for good,Charlie has declared that Hollywood is ready with open arms to welcome him back to the silver screen.
Given the fact that even Lindsay Lohan has trouble getting insured for film work these days,the likelihood of Major League 3 being his big cinematic comeback is slimmer than a supermodel's waistline.
His predictions of promising new projects reminds one of Norma Desmond,that deadly deluded diva played by Gloria Swanson in Sunset Boulevard. That tragic look at fame was not exclusive to film;the Billy Wilder film was made into a well received Broadway musical a few years ago, starring Glenn Close as the determined to be loved by her fans again faded star.
Maybe Charlie isn't a Broadway guy but I wouldn't be too surprised to hear him hum along with one of Norma's big numbers there:
IS THERE NOTHING THAT CAN BEAT HIM DOWN?
One of Charlie's favorite phrases recently is "Winning!",which he thinks that he is doing in all areas of his life or will be,anyway. Most of us wouldn't feel that way if we were in his shoes but then again,it takes a special set of chromosomes that are pickled just right to be like Charlie.
Sheen has called out his producer on more than one occasion to step into his "octagon" to square off against his "fire breathing fists",which tells me that either Charlie has been playing too many video games or watching the original Karate Kid movie in marathon sessions.
Most of the songs on that soundtrack are conducive to grudge matches,particularly the one about being "the best around":
In all seriousness,it would be nice to see Charlie Sheen sincerely decide to straighten up and fly right by seeking out a treatment program of some sort. I know he hates AA like poison,but they are not the only viable option out there.
While I hold very little sympathy,if any at all, for a man who insists upon relishing his downfall in public and harms both women and children(physically or emotionally)in the process,it is for the sake of his loved ones that we can hope that Charlie Sheen is not about to sing his true swan song for all of us: