The theme of
Rocco's Dinner Party
this week was the "ultimate summer party",with an extra emphasis on healthy eating. The competing chefs for this episode,Jen and Ryan, had to make appetizers,entrees and dessert that had no more than 350 calories and eight grams of fat in each dish(that also included a cocktail).
Part of this was to promote Rocco's new diet cookbook,which is fine but a little self serving there at times. He even did a diet friendly demo for the chefs and had health conscious guests attend both parties such as Fitness magazine editor Betty Wong and celebrity personal trainer Joe Downdell.
Other guests included actor Chazz Palmintieri and comedian Jeffrey Ross,who had a couple of special requests. Jeff was hoping for more hearty fare and not a fan of seafood except for shrimp and lobster. Rocco said it was fine to make the kind of dishes that Jeff wanted but they had to stick to the set requirements of the rest of the meal for everyone else.
Ryan served first,in the intimate dining room,and his decor choices were fine but guest Jung Lee(a professional party planner)thought the look was "too busy." It was a bit much but the message/menu in a bottle gimmick at the table went over well.
Speaking of going over well,Jeffrey Ross loved the chicken salad that was made for him,using yogurt instead of mayo. Both chefs were smart enough to accommodate his needs(unlike last week)which made things a bit more even.
Most of the guests enjoyed Ryan's roasted scallop with watermelon salad and the cod that he served for the main course. His dessert didn't please any palates but neither did Jen's. Both chefs went for a fruit blend type of sweet treat yet clearly this is not their best end of the culinary ballpark.
Jen chose the terrace for her party and it was much more inviting,decorating wise. While her sniping at the wait staff and slow service at the start of the meal was less than appetizing,the matzoh brie that she made for Jeff won the group over. It was large enough for Jeff to share and everyone at the table loved it.
I'm convinced that the matzoh brie gave Jen the win,particularly since her barbecue pork tenderloin with rice and beans was a bust. The sauce on the meat tasted watery and bland,with one person comparing it to unflavored ketchup. Nonetheless,Jen claimed victory and the twenty grand prize for this round.
After being coached by Guy Fieri during a group filming of Diners,Drive-Ins and Dives, the remaining ten contenders on
The Next Food Network Star
were charged to rework some classic American dishes for a Fourth of July celebration.
Each person had to do an onstage demo before serving their food at their booth and some did better than others. Vic was especially great,wearing a goofy wig on his bald head which helped bring out the sweetness in his seemingly gruff exterior.
Penny was in her usual drama queen mode,constantly taking shots at people while complaining that everyone's out to get her(gee,I wonder why? NOT!).
Jyll,at one point during the judging,had enough of her nonsense and called her out for it and I don't blame her one bit. However,it was Justin D who went home for his awkward attempts at being more of a " big personality".
The poor guy did make an effort but it really felt forced. Next week,we'll have more Penny drama(I will be so glad to see her gone)and a
food truck challenge
with Tyler Florence that steams plenty of folks up. Perhaps a real food fight will break out,stay tuned!:
As Jason is getting a rude initiation into the werepanther clan and Sookie is still adjusting to the new changes in Bon Temps on
True Blood
,the big moment this week was Eric's visit to the new witches' coven in town.
Bill sent Eric to shut them down upon learning that the power to raise the dead is within their reach(something that vampires are naturally wary of)and Tara happened to be there,tagging along with Lafayette and Jesus which made things even more dicey.
Coven leader Marnie did have the nerve to step forward and challenge Eric's right to disband her group but wasn't as ready to whip out a magical defense on command. After Tara tried to help save Marnie,Lafayette joined the power circle that resulted in Marnie being briefly possessed by the spirit of a vanquished witch who laid the mind wipe on Eric good and proper there:
That spell saved their hides but having a powerful vampire wandering around with no idea of who or what he is can only lead to trouble. Sookie stumbled across him later that evening and it may be fortunate or unfortunate for them both here. Only one way to find out(beyond reading the books,that is):
RANDOM NOTES: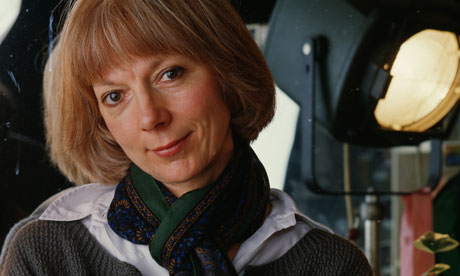 IN MEMORIAL: British actress
Anna Massey
passed away over the weekend,at the age of 73. While Ms. Massey did appear in feature films such as the cult classic Peeping Tom and the 2002 version of The Importance of Being Ernest,many of her performances were on the small screen.
Her television resume includes featured roles in miniseries such as 1974's The Pallisers,The Cherry Orchard in 1980 and 1985's Anna Karenina,along with appearances on mystery series such as Midsomer Murders and most recently on Agatha Christie's Inspector Poirot episodes.
My favorite Anna Massey performance was in the 1983 BBC miniseries
Mansfield Park
,where she played the obnoxious Aunt Norris to perfection. There are times when I read that book and can't help but hear her voice during certain passages. Part of the reason that this production is the only one that does the original novel justice is due to her presence,in my opinion.
Ms. Massey was a true gem in the crown of British acting and as we offer our condolences to her loved ones,I hope that many will seek out her work and cherish it as much as the rest of us do: