At long last,George R.R.Martin's fifth book in the celebrated Song of Ice and Fire series,
A Dance With Dragons
,has been officially released for public consumption. Like many of fans,I put in my advanced order online and have been diligently checking on the book's progress as this hefty volume makes it's way towards my doorstep.
The reviews,so far,have
all been positive
and plenty of good word of mouth is circulating all around. While I am still in the midst of book number four(
A Feast for Crows
),my yearning for this fresh addition to what may be a truly never ending story is intensely strong.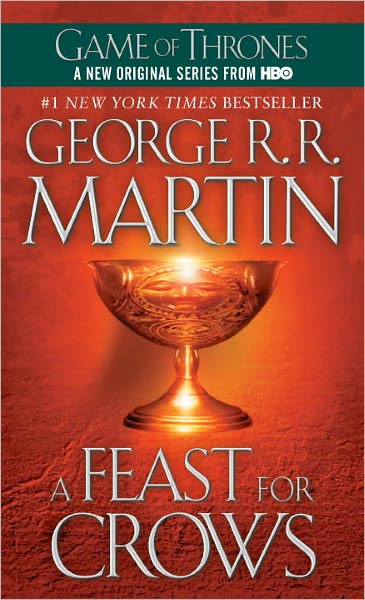 No doubt,some will see this desire as merely a grown-up extension of Harry Potter/Twilight/Hunger Games mania but that's sort of
the natural response
that sci-fi/fantasy genre material inspires in it's devotees.
Especially when there are stories set within an elaborately created yet somewhat familiar fictional world combined with characters that reflect the best and worst of human nature(even if some of those folk are not entirely human to begin with).
Also,in the incredibly harsh times that we're living in at the moment,books like these are a great way to cleanse your mental palate from the stress of coping with all too real circumstances-a good number of which are beyond our direct control. Don't get me wrong,I am not advocating a complete break from reality here but stories like this do provide a welcome shelter from the storm(not to mention an affordable vacation for those of us already triple tightening our purse strings):
While I'm waiting for my book to arrive,a nice distracting topic for discussion would be my favorite characters from both the HBO adaptation of Games of Thrones and the books themselves. As I mentioned earlier this week,
Daenerys Targaryen
is on the top of my list of fierce females from realm of Westeros,despite the fact she hasn't set foot in King's Landing yet.
Daenerys,aka Dany,is the last daughter of her House due to the uprising which lead to the death of her royal father known as "The Mad King" and most of her other blood relations.
Living in exile since birth with her nearly as insane brother,Dany has no taste for conquest but after gaining some much needed self worth and confidence from her arranged marriage to Dothraki warlord Drogo,she grows into her role as a queen in pursuit of her true kingdom. While her journey has not yet been completed,Daenerys has proven herself to be worthy of following:
Another young woman in search of her place in the world under pressure,
Arya Stark
is one of the few members of her noble family who has managed to survive the fallout from her father's unjustified execution.
Unlike her elder sister Sansa(who finds herself trapped by the very civility she was trained for),Arya has always been an independent spirit with no interest in being made into a "proper lady". She does have her fair share of emotional scars from her experiences and will probably acquire more before the last page has been written in this series. Yet,her trials and tribulations will fit into the massive framework of kingdoms won and lost in a very small but vital way,I suspect.
What ever her fate will ultimately be,there's no doubt that in the end Arya will make her first dancing master proud to have introduced her to the water dance:
Known as The Imp even to his closest relations,
Tyrion Lannister
would be the first to mock his status as the dwarf son of the proud and wealthy House of Lannister.
His
humor and occasionally bawdy wit
are more than verbal shields against a society that pays respect to him for his bloodline to his face but snickers behind his back;they are hallmarks of the sharp mind and cunning that Tyrion possesses in abundance.
Sadly,his merits are not appreciated even by his family and they're the first ones to blame Tyrion for many things that do go wrong. While he does have a few decent intentions,his dark nature does come forth at the worst moments to reek havoc upon himself and those eager to hold him back. Tyrion is loved and hated by many,especially those who know the truth of his father's vicious contempt for him:
Soon enough,I'll have my copy of A Dance With Dragons and will happily indulge in it's bountiful delights. Patience is a virtue and unlike those who have been waiting six years for this book to arrive,my place in line hasn't been quite as long.
Having something to look forward to keeps us sane amidst the daily madness,in my opinion,and I feel most assured that George R.R.Martin feels the same way: