As some of you may recall,I participated in a couple of Jane Austen themed writing contests earlier this year and won a runner-up spot in one that will publish my little sketch in a collection this fall.
That anthology is now being listed online at both
Amazon
and
Barnes & Noble
under it's full title
Bad Austen: The Worst Stories that Jane Never Wrote
. It will be available in paperback and has an on-sale date of November 15(pre-ordering is highly encouraged!).
"Hey,Lady T,are you making any money off of this?" No,but as they say on Oscar night,it's a honor just to be included and I do get two copies of the book as well. For those who are wondering what "Bad Austen" is supposed to imply,the challenge was to write a brief parody of Jane's classic novels and be as creative as you can in blending in pop culture themes or off beat ideas.
My contribution,for example,was
"Bennet Bridezillas"
,which imagined what it would be like to see Austen's most marriage hungry clan on a reality show. Other tales evoked Twilight,The Real Housewives of Beverly Hills and one even reinvented the Bennets as a family of ducks(that one was cute!). Plenty of room for unusual pairings here-I'm only surprised that Lady GaGa wasn't invited to this party: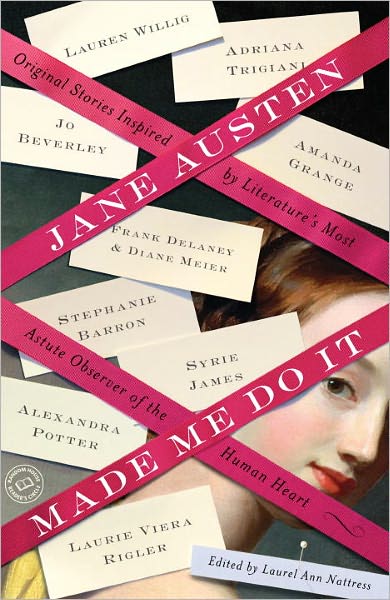 The other Austen contest that I entered has not yet chosen a winner but the book is also up for pre-order at
B&N
and
Amazon
,which I highly encourage you in as well.
Jane Austen Made Me Do It: Original Stories Inspired by the Most Accurate Observer of the Human Heart
is most fortunate to have
Austenprose's Laurel Ann Nattress
as it's editor and a batch of Austen themed stories by some of the best authors in this field out there. It will also be in paperback and out by October(more info on the book will be featured in my September/October book preview post later this month).
What's wonderful about this Austen anthology is how many of my favorite authors will be featured here,such as
Laurie Viera Rigler
whose
Jane Austen Addict novels
are a sheer delight and that I hope we will be seeing another season of it's online adaptation,
Sex and the Austen Girl:

I hope that all of you will take the time to enjoy these books and that this little spotlight on my writing efforts will expand from here. I do have another literary project in the works that I will be shamelessly promoting soon(alas,it is not Austen related but you may like it anyway)but in the meantime, I hope that my Bad Austen skit will be enough to make you want to read more of my tales,which are just as fanciful as Mr. Wickam's(if not more reliable):