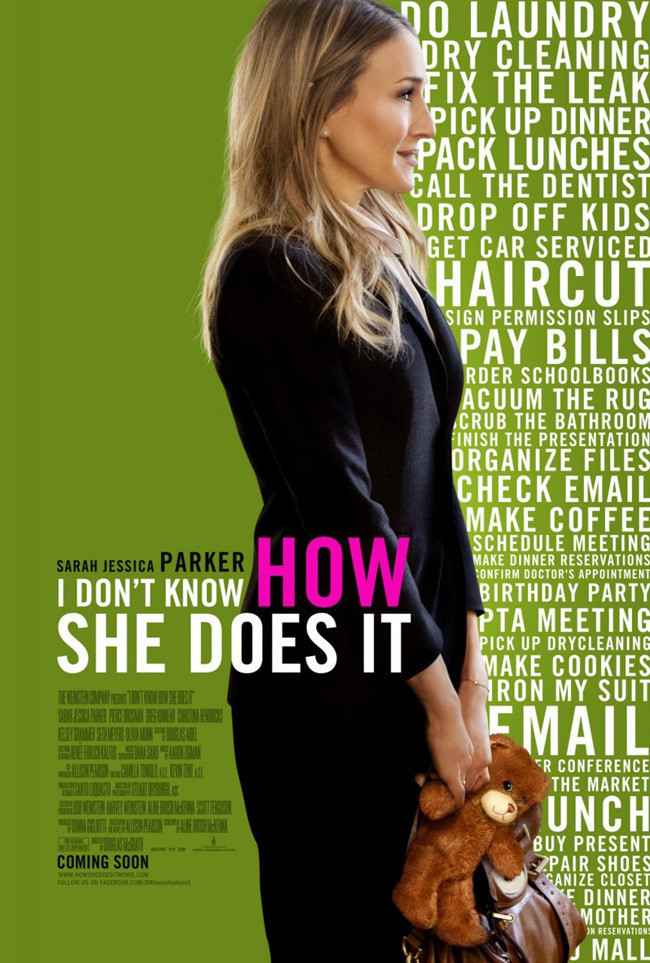 Opening up this week at a multiplex near you is
I Don't Know How She Does It
, starring Sarah Jessica Parker as Kate Reddy,a busy Boston business woman who finds juggling home and career a hard trick to manage on a daily basis. Amongst her many distractions are child care,competitive moms and the temptation to fool around with a handsome new client.
Some of the themes of this movie may sound a bit dated,partly due to it being based on a 2002 novel written by Alison Pearson. While that can be easily overlooked,the most striking change from page to screen is the nationality of the characters and setting. The source material is British and why the powers that be here felt the need to move the action to America is puzzling to me:
Perhaps in this case,it was to tailor the script as a SJP star vehicle but this isn't the first time that we've gotten Americanized versions of popular British chick lit stories. A couple of years ago,Sophie Kinsella's Shopaholic series was memorialized in film with a very Yank Isla Fisher playing the amiable addicted to spending leading lady.
While the movie was called
Confessions of a Shopaholic
,the first book in the series,the plot of the second book was merged into the script and considering that one was titled Shopaholic Takes Manhattan,that seemed to work out well there:
What gets me scratching my head over this is that part of the reason these books were optioned for the movies to start with is their popularity with readers and since the fans of the book like having their chick lit served up with English tea,so to speak,why not keep them Brit for the film adaptations?
Granted,some authors don't mind this at all such as Cecila Ahern,whose runaway bestselling novel
P.S. I Love You
was completely set in Ireland(and yes,I count that as British chick lit)but the movie started off in New York and worked a trip to Ireland into the film. Yet,I'm sure that this must perplex some of the UK readers as well as the US ones:
After all,it's not like a British version hasn't proven to be successful. Both of the Bridget Jones films stayed in England,with a fully British cast and even USA born lead Renee Zellweger took great pains to develop a proper accent for the part. She received a Best Actress nom at the Oscars that year and there's talk of a third film going around the campfire currently in Hollywood.
While
the sequel
didn't do as well with the critics and the movie going public as the original
Bridget Jones' Diary
did,it wasn't bad enough to scare away filmmakers from merry old England for good there.
A musical stage version is in the works on as we speak and not only is it in London but the likes of Lily Allen and Stephen Daldry are on board. An American Bridget just wouldn't do and I hope they never try it:
Perhaps I Don't Know How She Does It will do well,regardless of it's cultural transplant. Meanwhile,it would be nice for Hollywood to take a hint and realize that we in the States do enjoy British stories on screen that are not just set back in the past. Take a note,folks and do offer a spot of sweet English storytelling for the cinema which is in present day mode,won't you? You might be pleasantly shocked at how sweet a reception you'll be getting at the box office come Monday morning: