I didn't intend to discuss any of DC Comics characters twice in a row this week,but it's hard to ignore the photos of the next incarnation of
Catwoman
for the upcoming Batman film
The Dark Knight Rises
.
As more and more glimpses of Anne Hathaway as Selina Kyle in her alter ego get-up appear in the media,concerns are rising as well. Yes,the outfit does have a feline feel to it but let's face the facts,folks;this look is pretty boring.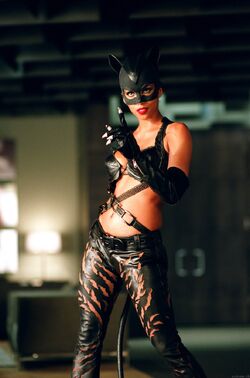 The judges on Project Runway would be openly yawning if she was doing her turn on the catwalk for them in this dreary number.
My suspicions are that this rather conservative appearance for Catwoman is due to the godawful trampy ensemble that they convinced Halle Berry to wear for her ill advised solo turn in the 2004 film that won her several Razzie awards.
While the wardrobe department's intentions are good,this basic black number with the cat ears and eye mask isn't that much better. In fact,it slightly resembles an early version of Berry's Catwoman costume that her character donned in her first outing against a pack of jewel thieves:
On the positive side,keeping Hathaway's hair uncovered does evoke a touch of Julie Newmar,who many fans of the Adam West Batman TV series agree was one of better versions(Eartha Kitt did have the best Catwoman voice,however).
While that outfit covered her up as much as the one for Hathaway does,it certainly looked a lot slinkier and sexier. Then again,that show wasn't the finest example of being fashion forward,retro or otherwise:
The Golden Age comic book rendition of Catwoman had her wearing a cowl that showcased her hair,plus a cape and a dress with a nice thigh high slit.
That look has been revived for the light hearted animated series Batman:The Brave and the Bold. It does have flair,you got to give it that but it's not very practical in terms of throwing down with the caped crusader there,if you ask me:
What it all comes down to is that while this Catwoman outfit isn't as hideous as the infamous Halle Berry one,it's nowhere near the cinematic standards set by
Michelle Pfeffier's
now iconic costume.
Like many superheroes/villains,Catwoman has gone thru a number of adjustments to her attire and still managed to remain a formidable force to be reckoned with.
I would suggest to the TDKR costume designers that they might want to tweak this cat suit a little bit more. Surely,they could get in touch with a top notch consultant in the field,particularly one that knows how to make it work within a limited time frame and has no quibbles about adding his input for a superhero related project: