With Halloween soon upon us,the next couple of months on our pop culture calendar will be taken up with lists of preparations for the holiday season,starting with Macy's Thanksgiving Day parade and ending on New Year's Eve,leaving us a little time to relax before that Mayan prophecy starts to kick in(just joking,folks!).
So, if you're looking for great gifts or simply wanting to settle in with a good read as the weather gets colder,here are a few of our best suggestions:
A DOUBLE DOSE OF CHRISTIE
For those mystery fans who happen to be Anglophiles as well,Agatha Christie is still the Queen of Crime and her literary legacy is explored in
John Curran's
Murder in the Making
.
As a follow-up to his well received book,
Agatha Christie's Secret Notebooks
,Curran reveals more information about Christie's creative process in writing many of her now classic mysteries from her stash of journals,letters and other saved papers,along with a never before published Miss Marple story and a deleted chapter from her first novel,The Mysterious Affair at Styles.
Even if you haven't read the previous book,this intriguing look at the inner mind of one of the most prolific authors of the twentieth century is definitely a good place to start and a good excuse to read the works either again or for the first time(
November
):
If you would also like to hear what the lady had to say for herself, the 1977 edition of Agatha Christie's
An Autobiography
is being reissued around the same time with the added bonus of a CD featuring her actual voice recordings.
I happen to be reading this book right now and while my copy doesn't have the CD,the book is fascinating enough, in and of itself.
Christie paints a portrait of her life and times in the leisurely manner of her celebrated books,with insights into the Upstairs,Downstairs childhood she had and her experiences as a WWII volunteer,becoming a published author and many notions people have had regarding her two most famous characters,Hercule Poirot and Miss Marple.
Later this week,I'll be hosting a giveaway of Agatha Christie swag,along with a look at the autobiography and a review of
The Mirror Crack'd From Side to Side
,so please stay tuned. In the meantime,do keep an eye and a ear out for this lovely new re-release(
November
):
THRILLS BY THE NUMBERS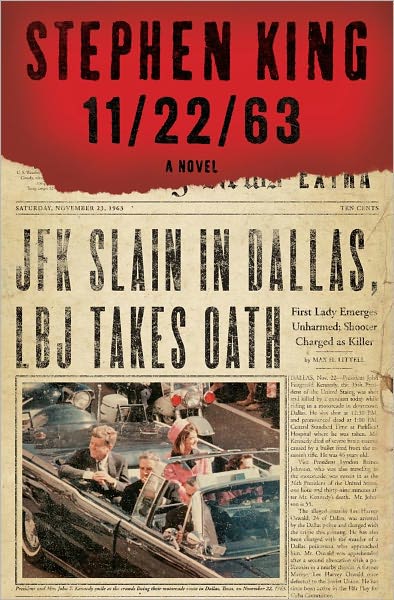 Stephen King has been known to take a flight of fancy or two but his latest work goes above and beyond in terms of reality vs. make-believe.
11/23/63
offers up a major "what if" opportunity for Jake Epping,a modern day high school teacher whose good buddy Al reveals a doorway to the past in the basement of his diner.
That particular time portal opens up to the year 1958,where Al believes is the perfect starting point to changing the course of history by preventing the assassination of JFK.
Jake is recruited for this mission and is willing to do what he can but other unexpected complications and emotional connections begin to block his way. This is quite an ambitious novel for King and one that even those who normally don't bother with him may want to explore for themselves(
November
):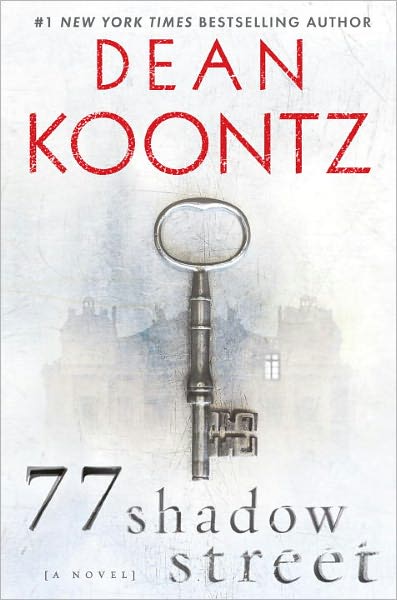 With haunted houses coming back into style,Dean Koontz's upcoming thriller couldn't have come at a better time.
77 Shadow Street
is the address of an apartment building converted from a former grand estate that already had it's fair share of skeletons in the closet before taking in a whole new set of trouble tenants.
The terrified occupants decide to band together to discover where the true horrors of their home are hidden. It's in their best interest to do so,since the malevolent spirits of the place are not even worried about the recently installed security cameras capturing their moves to reclaim the building for the dead.
Sounds like the chills in this story will give readers more shivers than a midwinter snowstorm,so wearing a good sweater is as essential as keeping the lights on while reading here(
December
):
GOODBYE,YELLOW BRICK ROAD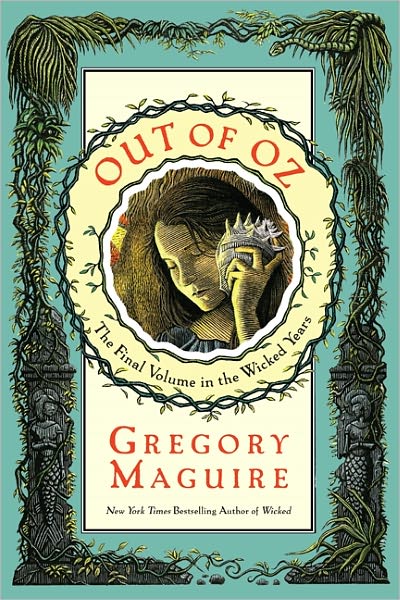 Gregory Maguire wraps up his take on the wonderful world of L. Frank Baum with the fourth and final book in the Wicked Years series,
Out of Oz
.
Things are not going well in the Emerald City,as an invasion of Munchkinland is in the works,Glinda is under house arrest and the Cowardly Lion is an outlaw on the run. The situation promises to get more complicated,with the arrival of a former ally from Kansas and the rise of a young woman of destiny named Rain.
Maguire's vision of Oz and it's beloved characters have delighted fans of the original books and created new ones. With this last piece of the puzzle,Out of Oz should be able to be an out of this world read while completing the full fantasy picture for all of us(
November
):
THE THREE FACES OF AUSTEN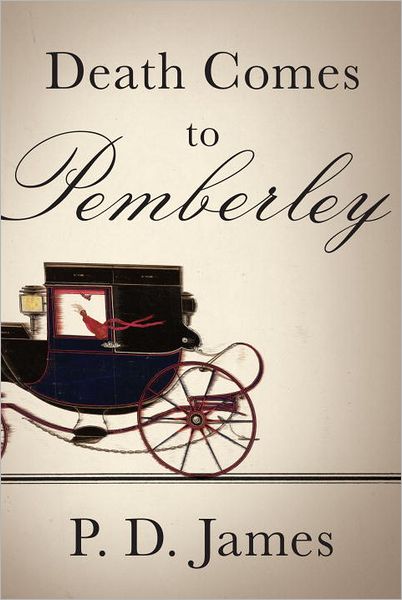 Renowned mystery writer P.D. James decides to step into Jane Austen inspired waters with
Death Comes to Pemberley
,which is set about six years after the events of Pride & Prejudice. Elizabeth and Darcy are happy at home,with a pair of boys and welcome visits from Jane and Bingley.
As usual,Lydia comes around to spoil some of this bliss by interrupting a ball at Pemberley to announce that her worthless husband Wickam has been murdered. What happens next,I do not know but my fingers are crossed for Lady Catherine to be put on the case(
December
):
A more offbeat approach to Jane Austen is taken with the release of
Bad Austen: The Worst Stories Jane Never Wrote.
This collection of entries for the online Bad Austen contest earlier this year is edited by Peter Archer and Jennifer Lawler,who wisely separated these mini tales into such categories as If Jane Could See Us Now and Superheroes,Vampires and Pemberley,Oh My!
Factoids about Jane Austen's life and times are featured in the book as well and if you turn to page 135,my share of the conversation can be seen in the brief teleplay,
Bennet Bridezillas
(and no,I don't receive any monies from this,as a runner-up my prize is two copies of the finished book and the glory of seeing my scribblings in print).
Bad Austen holds many awful delights of the season and is the perfect stocking stuffer for the less than stuffy Austen reader(
November
).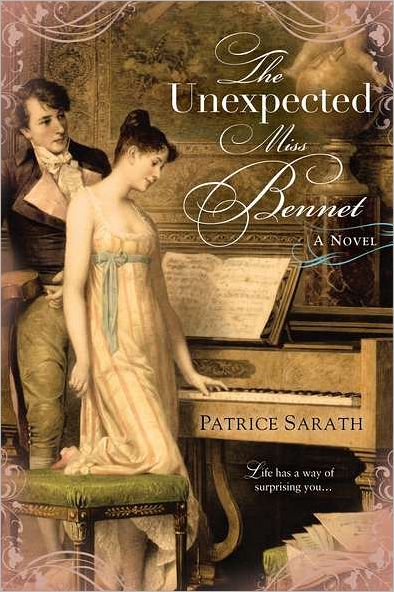 Speaking of stuffy,many are quick to overlook Mary Bennet,the prim and proper middle sister of the celebrated Lizzy and Jane in P&P,yet even she has a story to be told.
Patrice Sarath sets out to do just that in
The Unexpected Miss Bennet
,where Mrs. Bennet is satisfied enough with settling most of her other girls into suitable matches and is content to keep Mary at home with her.
Elizabeth and Jane think otherwise,giving Mary a chance to widen her social circle at Pemberley. She takes them up on the challenge and eventually strikes out on her own,with rather surprising results. It's nice to see a lesser known side character be granted her time to truly exhibit her talents and let's give Miss Mary a hand and a read to encourage her(
December
):
I hope that many of you will join me on Wednesday for the start of our LRG Agatha Christie giveaway and that some of these books will make their way to your holiday shopping cart soon.
One word of advice about gift giving for any holiday occasion;it is the thought that counts and making that special someone happy with their present is far more important than taking credit for it. If you insist on making your input known,a messy can of worms may open up that makes coal in your stocking seem much more palatable: