Yesterday,my sister Stephanie and I attended Professional's Day at the 2011
New York Comic Con
which was available for folks in the media and the biz,along with those eager fans who brought four day passes to the show.
Our goals were partly to see the latest in comics,movies and other pop culture related topics and also to promote my debut ebook novella,
The Hench Woman's Handbook
. That went well but more about me and mine later. For now,let's concentrate on some of the highlights of Thursday's early bird special edition of the con:
BEHOLD THE SUCKLORD!
It was an unexpected delight to come across one of the rising stars of season two's Work of Art,
The Sucklord
himself. He was on hand to promote a
new edition of trading cards
which profiles his offbeat toy creations and yes,he is exactly as he appears to be on TV,which is why I'm rooting for him to win it all on WOA.
While his 3-D rendition of Gandalf(based on the velvet painting version he chose for the opening challenge)may not have been what some of the judges were looking for,his unabashed adoration of the LOTR saga is a cheer worthy shout-out to all the geek boys and girls everywhere.
He was cool to talk to and nice enough to have his picture taken with my sis,so best of luck to you,sir,on your quest to success in this and other realms:
AVAST,YE AVENGERS!
Naturally,there was a huge display for the upcoming 2012 movie
The Avengers
,that had Captain America's suit in a showcase and a replica of what I assume is the main control room for this team to assemble in.
With the release of the first major trailer for The Avengers,interest along with coverage has increased more than tenfold. Personally,my main reason for wanting to check it out is due to Joss Whedon being in the director's chair here. Even during the most troublesome plot lines of Buffy The Vampire Slayer,my mantra was always was "Trust Joss."
Unlike Bryan Singer's ill-fated but well meaning attempt to revive Superman on screen, Whedon's fan love won't be a hindrance. I don't want to jinx it but this Marvel movie could give the new Dark Knight film a real run for it's money:
A BEVY OF BOOKS,BOTH OLD AND NEW
Many of the sci-fi/fantasy imprints of several well known publishers were set up on the showroom floor to offer new titles and promote some of their back list offerings as well.
The folks at Tor were handing out copies of
The Eye of the World
,the first book in Robert Jordan's celebrated fantasy series The Wheel of Time. A
graphic novelization
has just been released and the last completed(with assistance from Brandon Sanderson) book in the epic saga,A Memory of Light,is due out next year.
Since I have seen many devoted fans of the WOT novels clamoring for more back in my book selling days and as I'm getting more invested into the fantasy genre these days,this was a welcome opportunity to discover this much talked about tome: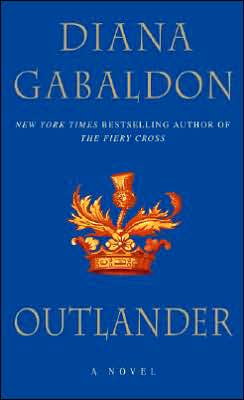 Meanwhile,at the booth for Random House's various sci-fi/fantasy titles ,complimentary copies of Diana Gabaldon's
Outlander
were being given out. This tale of a post WWII woman who accidentally travels through time and meets the love of her life back in Scotland of 1743 has a good strong following along with a hardy number of follow-up books.
With this year being the twentieth anniversary of the novel's debut,it's good to see how much this story is still beloved by it's fans. I remember trying to read it a long time ago and not finishing the book,sad to say. Seems that fate has decided to give me a second chance on this one:
One publisher that many wouldn't expect to see at Comic Con,Harlequin was on hand to promote their new lines of fantasy,paranormal romance and even
steampunk lit
,some of which is available mainly in ebook format from Carina Press. Nice to watch a publisher spread their artistic wings and expand their fictional horizons for their readers there:
In addition to all of that,we handed out promotional postcards for The Hench Woman's Handbook and sincerely hope that the people who do decide to download my free(did I mention it was free?)ebook really enjoy it and please pass the good word along for us.
According to the news today,NYC Comic Con is pretty much sold out. That bodes well for the industry and for it's devoted followers as well. Sure,cons of all sorts are hectic,overcrowded and filled with tons of commerical promos but that's all part of the fun of being there. If you're attending NYC CC,take care not to overexert yourself and to enjoy as much as you can within the time allotted.
I'm only done one day and it was tiring yet totally worth it. Going once is plenty for me but please don't ask me to break into a song and dance any time soon: