Today is
the 236th birthday
of one of my favorite classic authors,
Jane Austen
,and as a celebration of her life and legacy,I have assembled a series of clips that bridge the gap between Jane's world and ours.
While traditional adaptations of Austen's novels are still popular,her books and characters have undergone many radical changes over the past decades in order to keep the interest in her lively prose as fresh as it was during her day(or even more so).
A good number of these tweaks involve humor,something that this lady satirist would surely approve of and the post modern approach does have it's fair share of admirers,not to mention some due credit for introducing new comers to the delights of Jane Austen as well. Therefore,let us slice up this marvelous meta cake and pass around a piece of post modern Austen or two: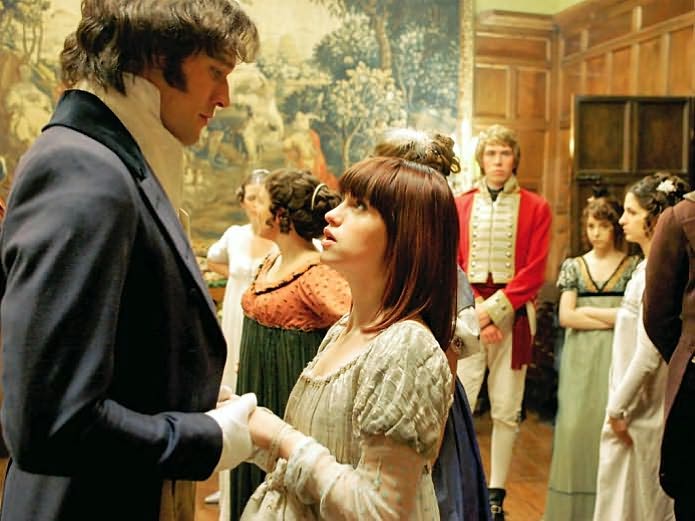 LOST IN LOVE AND IN THE LAKE
In the miniseries
Lost in Austen
,Pride and Prejudice fan Amanda is determined to preserve the intended story line of the book when she steps into it's pages. Yet,she cannot help but fall in love with Mr. Darcy and he with her.
At one point,she accepts his feelings but can't resist asking him to recreate a very Colin Firth moment for her. Not only does he oblige,I risk heresy in saying that the sight of this particular Darcy in the damp may rival the original:
READING HIS REGENCY RIGHTS
The British comedy show Impressions loves to have a good laugh with Jane Austen and many BBC shows and their blend of two resulted in
Ashes to Austen
,where Ashes to Ashes's Gene Hunt runs into Elizabeth and Darcy. Even if you haven't seen ATA,this time travel lark is truly giggle worthy:
BODY SWITCHING BEAUTY TIPS
Laurie Viera Rigler's Jane Austen Addict novels are the inspiration for the web series,
Sex and the Austen Girl
,that features her Freaky Friday situated heroines in a setting that allows them to compare and contrast their new realities.
One of the numerous differences that 21st century Courtney Stone and her Regency era soul mate Jane Mansfield find some agreement on is the abundance of makeup in the future.
While Courtney is relieved that she doesn't have to do as much beauty maintenance as she did back home,Jane's delight in the variety of products now available to her makes that modern miss a little green with envy there:
HENRY TILNEY,A RATHER SPICY FELLOW
In the verbal fashion of Old Spice's The Man Your Man Could Be,Northanger Abbey's romantic hero
Henry Tilney
states his case for serious heartthrob status. He does make several good points,especially regarding his taste in cravats:
Best wishes of the day to all of my fellow Austen fans and let us hope for better things in the new year to come. It is too bad that Our Dear Jane is not with us,particularly since these troublesome times call for such keen insight and clever observation of the follies going on about us that she possessed. At the very least,her opinion on who shall be our next leader of the country would be well worth listening(and perhaps laughing along with)to: