Today marks the 200th birthday of author
Charles Dickens
,the creator of such iconic characters as Ebeneezer Scrooge,The Artful Dodger and David Copperfield,known through the world. His works have never gone out of print and are the constant source of film adaptations for screens big and small.
While many of his books are either required reading for high school students or taken up as serious study by collegiate folks,Dickens was first and foremost an entertainer. Yes,he tackled many a strong subject and criticized social injustices in his day but his messages came across all the better with a touch of goodhearted humor,whether silly or satirical.
In that spirit,we present a lively look at the life and legacy of Dickens. After all,what's a party without a few laughs? Plus,mixing some fun into factiods adds real flavor for thought:
As mentioned earlier,many of Dickens' novels have become major motion pictures for both theaters and TV over the years,with numerous remakes and updates.
One of his most popular melodramas,
Great Expectations
,is now being relaunched on both fronts with Tim Burton making his own Hollywood production and a new miniseries set to debut on PBS Masterpiece Classic this spring.
With such dynamic actresses as Gillian Anderson and Helena Bonham Carter playing the ultimate Dickensian drama queen Miss Havisham,watching these takes on the darker side of bridezilla mania could be educational in more ways than one:
A real delight of any Dickens book is the elaborate names given to even the smallest member of his numerous cast of characters. While some were based upon
actual friends,family and acquaintances
,how many of them were truly flattered to have their surnames attached to the criminal types(Bill Sykes) or greedy business men(Jacob Marley)that routinely cropped up in the books.
Most of the more memorable names came straight out of Dickens' head,proving that his imagination was really boundless in this regard: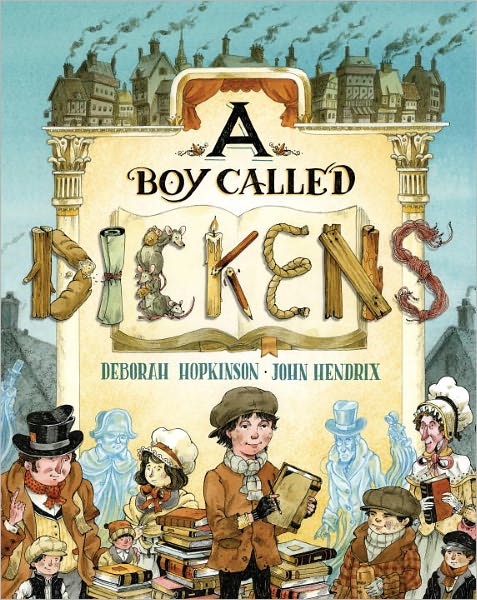 Dickens was a major fan of the theater and loved performing on stage whenever possible. From readings of his own work to appearances in stage productions,Dickens enjoyed being in the spotlight and no doubt would approve of any and all adaptations based upon his writings.
A few years back,a comedy troupe called The Reduced Shakespeare Company did an offbeat musical tribute to Dickens and his literary legacy. Their show,
Dickens Unplugged
, is not for the rigid minded but I suspect that C.D. himself would have been laughing it up in the front row:
With that,I wish Charles Dickens a very happy birthday and long life to the wonderful stories that he gave us all,a gift that does keep on giving. Many of Dickens' themes are still relevant,especially with these times of strife before us,but we should take away one positive point from his books and that is despite our struggles,it can be a fine life: