With Academy Award weekend upon us,the time for placing some serious bets on who will win is now. Granted,I'm no gambler and I wouldn't use any actual money to wager on this year's Oscar winners but as someone who has been watching this show for most of my life,my track record is rather decent.
For the rest of us playing at home,I'll only be focusing on a handful of categories up for contention. After all,when there's just two nominees for one award in a certain instance*cough*Best Song BS*cough*,it's not too sporting to guess who'll win that.
Plus,some sections appear to be either locked in by shoo-ins(Christopher Plummer for Best Supporting Actor) or completely up for grabs(mostly the technical categories). Therefore,without further ado,let's get this Oscar party started: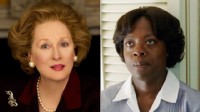 BEST ACTRESS:DAVIS VS. STREEP
This category is pretty much a two woman race,as Rooney Mara is meant to be one of those "just happy to be nominated" types,while Glen Close's Albert Nobbs is a pet project with limited appeal and Michelle Williams as Marilyn Monroe was good but not golden.
Meryl Streep has been nominated so many times in this category that she's practically the Susan Lucci of the Oscars(except that she has won twice). Some of the ads for her film
The Iron Lady
emphasized that length of time since her last win and she has garnered a few trophies already from the likes of the Golden Globes and BAFTA(the British equivalent of the Oscars).
However,Viola Davis has been slowly but surely building a sweet consensus amongst her fellow actors,with a SAG award for her leading lady performance in
The Help
,plus this is her second nomination(the first was for Best Supporting Actress in Doubt)and would be her first win,something that Oscar voters can find hard to resist.
So,my pick would be Viola Davis and she certainly has plenty of great moments from The Help to showcase her remarkable talents:
BEST ACTOR:A CLOONEY CONQUEST?
The main contenders for this award are George Clooney for
The Descendants
and Jean Dujardin for
The Artist
because,let's face it,no matter how polished Brad Pitt or Gary Oldman or Demian Bichar's performances were in their respective films,they are not considered the heavy hitters in this part of the game.
Now,Dujardin has won praise and honors from award shows and critics alike and could be rightly seen as the front runner. Yet,the Clooney fan club has been rather persistent with getting the word out about their guy. For example,in January of this year,commercials for The Descendants have been running during Jeopardy on ABC,not just once but twice within the half hour time period allotted for that game show.
Since I'm a regular Jeopardy watcher,this gave me pause. Why double up on the ads for this movie like that,in such a short time frame? Perhaps it was aimed more at Oscar voters than the usual fans of Jeopardy(who would be the proper target audience here). That,and the certainty that The Artist is destined to make a big sweep on Oscar night might be the tipping point for Clooney to claim another Academy Award for his mantelpiece:
BEST SUPPORTING ACTRESS:A SPENCER SHUT OUT
At this point,it's pretty safe to say that Octavia Spencer will be taking home an Oscar on Sunday night. This has been her year to shine,much like Sandra Bullock with The Blind Side or Colin Firth for The King's Speech last time.
Even with another actress from the same movie(Jessica Chastain) sharing a spot with her in this category,that isn't a hindrance to Spencer's odds. Her only real competition here is Melissa McCarthy but honestly,I think that if the Academy voters want to throw Bridesmaids a bone here,it'll be for Best Original Screenplay. Sadly,I didn't get to see Octavia Spencer give her Golden Globes acceptance speech live but no way in hell am I missing her take her bow on Oscar night:
BEST PICTURE BREAKDOWN
There's a lot of ground to cover with this one,so let's pair up a few of the nominees to rate their chances:
The Help/War Horse
:sentimental films set in historical time frames which may have audience love but not so much from the critics. Most of War Horse's noms are in the technical categories while The Help didn't get critical placement in such categories as Best Adapted Screenplay or Best Director,that could have boosted it's chances for a major win.
Midnight In Paris/Extremely Loud & Incredibly Close/Tree of Life:
a triple play of pretentiousness for the most part. Even those who love Tree of Life have trouble explaining the film to you,Woody Allen's ode to old school Paris doesn't travel that well and folks even openly hate the cute little kid that stars in EL&IC.
Moneyball
:a baseball movie that(spoiler alert!) doesn't have an automatic happy ending,which doesn't bold too well for one in this section of the cinematic stadium.
The Descendants:
in a less crowded field,this fractured family drama would stand heads and shoulders over the rest but it's basic theme of appreciating your loved ones before it's too late will be drowned out by other big noises,ironically enough from the film that is a tribute to the silent era.
Yep,it's
The Artist
for the win. While
Hugo
takes on similar territory,it will be seen as more of a children's movie despite the pedigree of Martin Scorsese in the director's chair(not to mention the 3D aspect of the film doesn't help to make it more palatable for grown up Academy members). This tribute to the glory days of Hollywood should be dancing all the way down the red carpet that night indeed:
Well,on Monday,we'll be looking over the good,the bad and the "What just happened?" of the 2012 Academy Awards and the one sure thing that everybody will agree on is how wonderful Billy Crystal is as host yet again.
With ten Best Picture nominations on deck this time,Billy might want to have some assistance on stage if he goes for his trademark opening melody(
Hugh Jackman would be great
,just a suggestion!):