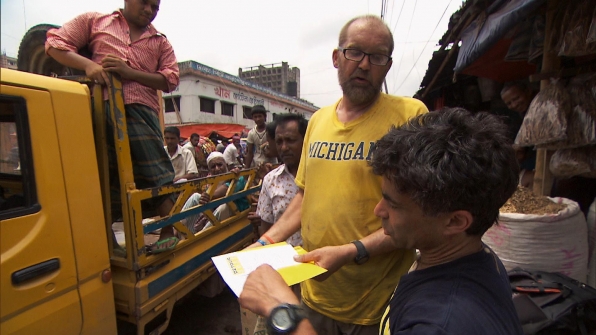 The remaining teams on
The Amazing Race
went to Dhaka, Bangladesh,where most of them turned down the Fast Forward due to the task being
collecting dead rats
(James and Abba,Team Rock N' Roll ,completed it and were the first ones at the Pit Stop for their trouble).
The others went through the Road Block and Detours to finish up this leg but a couple of them didn't take the time to read the instructions on how to travel to the Pit Stop and had to go back.
That didn't hurt
Team Monster Truck
,although it would've been better to not blame the boat pilot for their own mistake, Rob! However,Gary and Will,aka the Super Fans,wound up last. Sorry,guys-you did your best but this just wasn't your game here:
The sequel to Ken Follett's Pillars of the Earth miniseries,
World Without End
,has been airing on the Reelz channel for the past couple of weeks and so far,it's pretty good.
The story is set in the fictional version of Kingsbridge,England and follows the lives of some of the descendants of the previous residents that were featured in POTE. A war is under way with France,due to the manipulations of the new King's mother,and that,along with the collapse of the town's bridge that killed quite a few people,is affecting even the smallest players on this chessboard of history.
The most lovelorn pair in this series of subplots is Caris(Charlotte Riley),the daughter of a wooler who would prefer to be a medicine woman on her own terms and Merthin(Tom Weston-Jones),the son of a disgraced nobleman who now seeks his fortune upon his own merits and knowledge of architecture.
They have a lot of obstacles in their way; Caris was made to marry a man she didn't love(and who happens to be the lead architect in the area who also hates Merthin)and with much suspicion cast over her apprenticeship with a woman condemned as a a witch,Caris' desire to help others is nearly stronger than her desire for Merthin. Whether or not these two crazy kids can make this work out,they are certainly compelling to watch:
The AMC series
Comic Book Men
is back for a second season and if you're not familiar with the show,it's basically about the antics at Jay and Silent Bob's Secret Stash,a comic book shop in New Jersey owned by director Kevin Smith and operated by some of his friends.
Yes,there's plenty of geek talk but there is also plenty of fun for all as the guys bargain for merchandise brought in by customers,scheme to find bargains at sales and try out new promotional ideas to expand the business(a children's birthday party at the store,for example,was as hectic as you would imagine and more so). I really enjoy the walk-in sales,especially since Walt loves to negotiate:
This being an all boys' club for the most part,pranks abound and bets are paid for with such doings as reenacting the wedding of Fantastic Four couple Reed Richards and Susan Storm. The show airs after The Walking Dead on Sundays and even if you don't watch TWD(had to give up on it myself,I just got zombied out),Comic Book Men is definitely something to catch at that hour:
RANDOM NOTES:
MOCKINGBIRD LANE:
The revamped version of The Munsters gets a preview this Friday and it appears that they're embarking on a much more fanciful rendition than the original,particularly with the special effects. Let's hope this plays better with monster mash fans than Johnny Depp's Dark Shadows movie did over the summer: