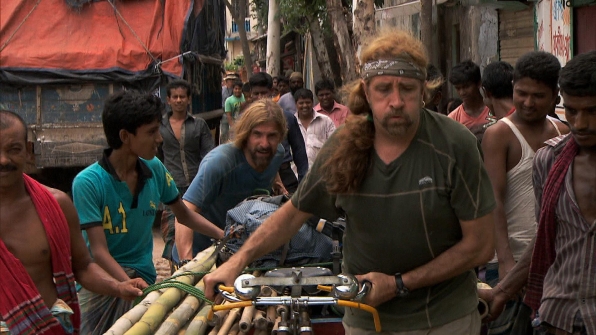 The teams on
The Amazing Race
were still in Bangladesh for this last leg where they had to construct a large sized scale and then chose between transporting bamboo stalks or preparing jute for spinning into cloth.
James and Abba(Team Rock N' Roll)had an additional burden to bear as James heard from his family that his father has been diagnosed with stage 4 cancer and no chance of remission. That didn't stop him and Abba from winning their second leg in a row but it's such sad news to be given at any time. My good thoughts and wishes go out to James and his family here and best of luck on the race as well: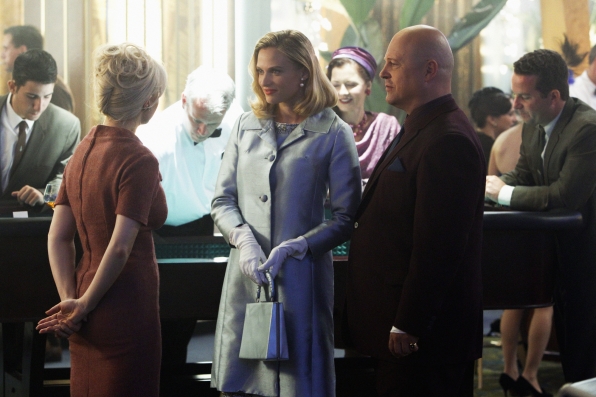 A new character has been introduced on
Vegas
this week and she happens to be Vincent Savino's wife,Laura(Vinessa Shaw). She flew out from Chicago not only to visit her husband but to be persuaded into moving to Nevada for good.
Apparently,Laura is no stranger to Vincent's real business dealings and would rather not be around for them. However,he does seem to really love her,plus it would help his image with his legitimate investors to have his wife by his side.
It'll be a couple of weeks before we get a new episode(Election night and whatnot) until we see if Mrs. Savino will stay in town and I hope she does,the lady looks as if she'll make things interesting:
Debuting this weekend is a new season of
The Next Iron Chef
and this time,the theme is "Redemption" as all of the chefs are former contenders back for another shot at Kitchen Stadium glory.
Amongst the pack here are two Top Chef competitors Spike and Marcel,Chopped judges Amanda Freitag and Alex Guarnaschelli and celebrated pastry chef Elizabeth Faulkner.
Personally,I would like to see a woman win since we haven't had a female Iron Chef for some time now,with Cat Cora gone and my first pick would be Alex.
Don't get me wrong,I dig Amanda and Elizabeth but Alex has that way of the warrior vibe about her that makes me want to cheer her on. Whoever ultimately wins,this should be a nice spot on the TV schedule to warm up to on Sunday nights:
RANDOM NOTES:
TOP CHEF:
Season ten kicks off in Seattle on November 7 and it looks like another lively bunch is on board here. Hope they do a Thanksgiving challenge,that would be perfect pre-Turkey day viewing indeed: